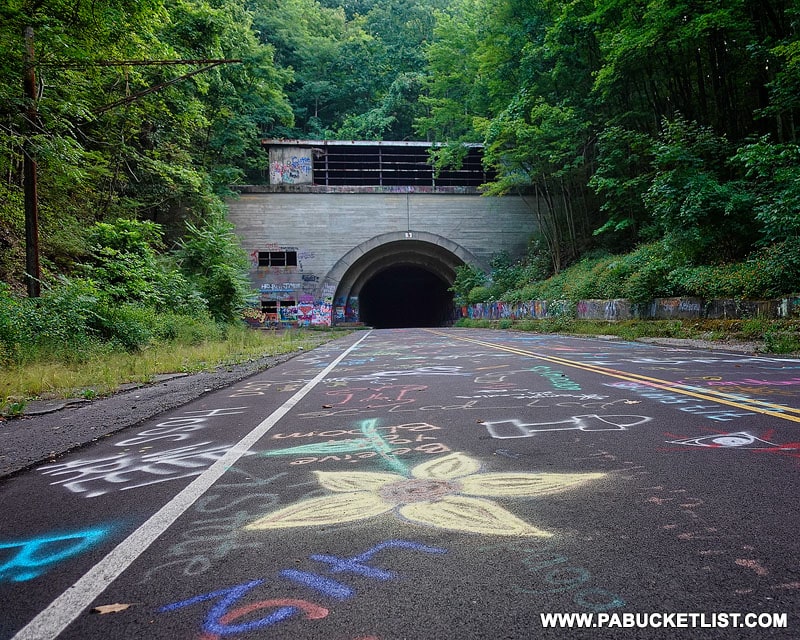 Pennsylvania is home to a wide array of awesomely abandoned places you can legally explore!
Some of these sites were abandoned due to technological shifts that left them obsolete.
Others were abandoned after natural disasters.
Some of them have been, in more recent times, repurposed for new uses.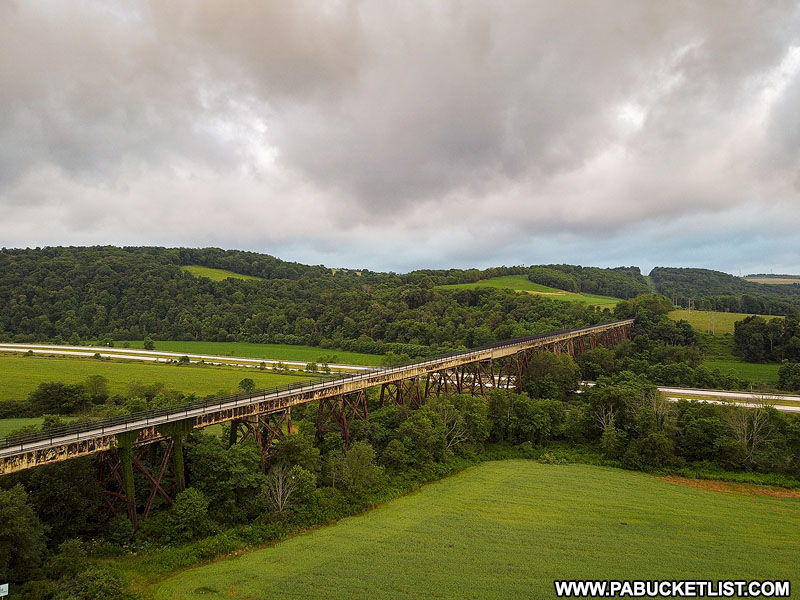 But one thing all of them have in common is that the Earth is slowly reclaiming them, and one day they will all be but distant memories.
But before they are gone, I'll share with you a few of the more interesting abandoned places in Pennsylvania I have explored in recent years.
All of these abandoned places in PA were legal to explore at the time I visited them – but that may not always be the case in the future, so please heed any "no trespassing" signs or the like should they pop up in the future.
For each destination below, be sure to click on the blue text link to view detailed directions and in-depth information about it.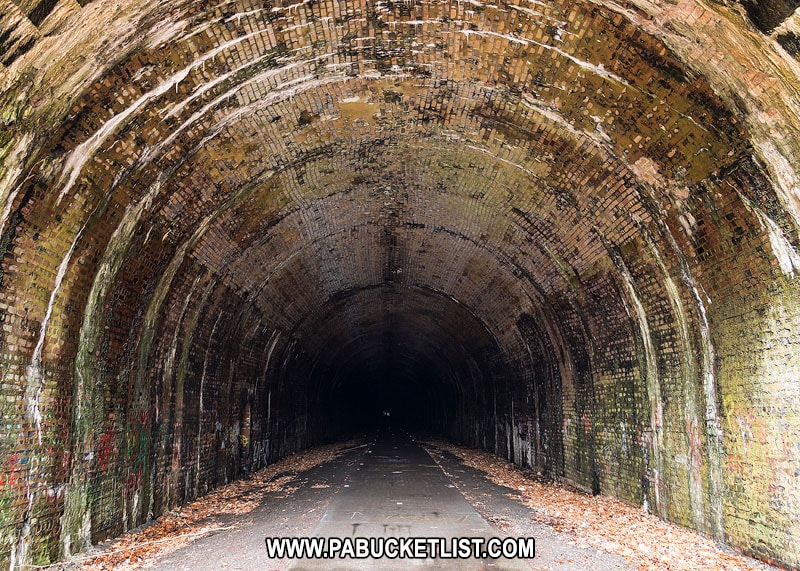 Legal Disclaimer
Many of these properties are not maintained or monitored for safety conditions, and therefore these are all strictly VISIT AT YOUR OWN RISK DESTINATIONS!
By voluntarily exploring any of these locations, YOU assume the risk of any personal injury or damage to personal property, and shall not hold the author liable for any injuries, losses, or damages that may occur while visiting any of these locations.
---
1. The Abandoned PA Turnpike
Let's start with the biggest, and some would say best, abandoned place in PA – the Abandoned Pennsylvania Turnpike!
Thirteen miles of abandoned superhighway, last open to normal vehicle traffic in 1968.
The highlights of this abandoned superhighway are two tunnels, both roughly a mile long.
Today the Abandoned PA Turnpike is a non-maintained hiking/biking trail, but how long it remains a viable destination for those activities is anyone's guess.
---
2. Concrete City
Concrete City lies tucked away in an overgrown, city-owned plot of land on the outskirts of Nanticoke, in Luzerne County.
At the time of its construction Concrete City was considered to be a "community of the future", but it was abandoned a mere 11 years after the first residents moved in.
Despite occasional reports of efforts being made to preserve Concrete City for its historic merits, you'd be hard pressed to find any evidence of that when visiting today.
And due to the deteriorating condition of the buildings, it's certainly possible that at some point Concrete City will simply become off-limits for liability reasons.
---
3. Abandoned Alvira Munitions Bunkers
The abandoned Alvira munitions bunkers are remnants of the American WWII war effort, as well as reminders of what lengths the federal government will go to to seize private property for "the greater good".
In the case of Alvira (originally founded as Wisetown in 1825), the federal government used the courts and eminent domain to force residents to accept buyouts of their homes, so that their entire town could be leveled and turned into a TNT manufacturing plant and storage facility known as the Pennsylvania Ordnance Works.
Today, the Alvira bunkers, as well as remnants of Wisetown, are located in the Union County portion of State Game Lands 252, approximately 7 miles south of Williamsport.
---
4. The Abandoned Bayless Paper Mill
The abandoned Bayless Paper Mill will be forever linked to Pennsylvania's second-deadliest flood on record, the Austin Dam Flood of 1911.
Construction on the Bayless Paper Mill in Potter County began in 1900, and the dam which provided the large volumes of water the mill required (and which ultimately failed and caused the flood) was built not long after that.
The Bayless Paper Mill was rebuilt after the flood in 1911, but ultimately succumbed to a massive fire in 1944 and was abandoned after that.
Today the abandoned Bayless Paper Mill is part of the Austin Dam Memorial Park in Potter County.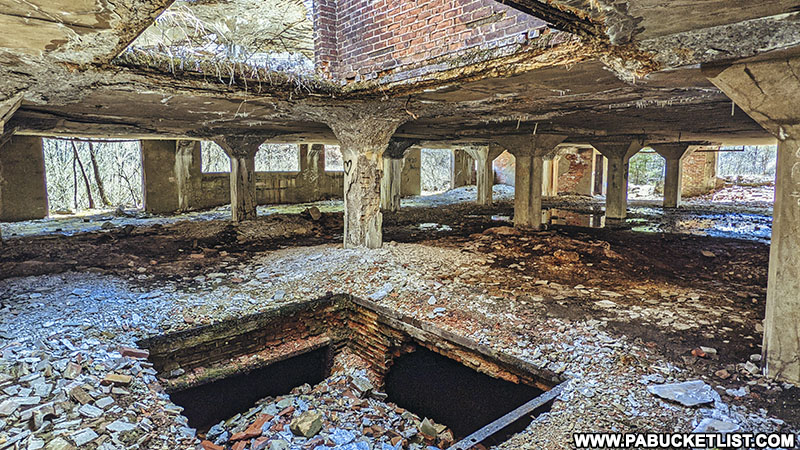 ---
5. Austin Dam Ruins
Austin Dam in Potter County was billed as "the dam that could not break" at the time of its construction in 1909.
Yet two years later it broke, with catastrophic consequences.
Today the ruins of Austin Dam are part of a memorial park dedicated to the 78 people who lost their lives in the flood of 1911.
---
6. Abandoned Nuclear Jet Engine Testing Bunkers
The abandoned nuclear jet engine testing bunkers in the Quehanna Wild Area are a fascinating Cold War-era remnant of Pennsylvania history, now slowly being reabsorbed by the surrounding forest of Cameron County.
The goal of the work done at this once-secretive site was to develop nuclear-powered jet engines for the United States Air Force, so that fighter planes and bombers could stay airborne indefinitely, without refueling.
By 1960 the project was scrapped, and all that remains today are the nuclear jet engine testing bunkers themselves – large boxes of concrete and steel with tiny slit windows once covered by thick layers of blast-resistant glass, where engineers and technicians would have monitored the engines undergoing testing.
---
7. The Abandoned Kunes Camp
When the previously mentioned nuclear jet engine testing bunkers were built in Cameron County, local hunting camp owners were forced to abandoned their properties, and the abandoned Kunes Camp is one such property.
This ingeniously constructed camp has survived in part because two of the four walls are actually massive boulders that were incorporated into the camp structure itself.
Today the abandoned Kunes Camp is part of the yellow-blazed Kunes Camp Trail in the Quehanna Wild Area.
---
8. The Abandoned Dinkey Shed at the 1000 Steps
The Dinkey Shed was built in 1938 as a maintenance facility for the "dinkey trains" that pulled rail cars of ganister (sandstone) from the nearby Ledge Quarry in Huntingdon County.
Abandoned when the quarry closed in 1952, the Dinkey Shed has since been incorporated into the 1000 Steps, part of the Standing Stone Trail and one of the most popular hikes in central Pennsylvania.
---
9. The Ghost Town of Scotia
Driving along Scotia Range Road through State Game Lands 176 near State College now, you'd never guess that you are passing right by the location of a once-thriving iron mining boomtown.
But in the late 1800s, the company town of Scotia, built by one of the richest men in the world at the time, served as home to employees of Andrew Carnegie's Scotia Mines and Iron Works.
Now, Scotia is but a ghost town (and some say still inhabited by ghosts!), and the few remaining structures are being slowly swallowed up by the Earth.
---
10. Turn Hole Tunnel at Lehigh Gorge State Park
Turn Hole Tunnel is an abandoned railroad tunnel built in 1866 and in use until 1956.
And while the tunnel is still open to park visitors, the popular and nearby Glen Onoko Falls Trail is no longer, closed by the PA Game Commission in 2019 after nearly 150 years of attracting tourists to the Jim Thorpe area.
---
11. The Abandoned Blair Lime Kilns
The abandoned Blair Lime Kilns are remnants of a thriving limestone-processing facility that once operated around the clock in a now-tranquil corner of Blair County.
As with many similar operations, once the local limestone was exhausted, the kilns were abandoned, and their remnants are now part of Canoe Creek State Park.
---
12. The Kinzua Viaduct
The Kinzua Viaduct was once the longest and tallest railway bridge in the entire world!
On July 21, 2003 , a tornado struck the bridge, destroying 11 of the 20 support structures.
The remains of the Kinzua Viaduct have been resurrected as the Kinzua Skywalk and are part of Kinzua Bridge State Park.
---
13. The Salisbury Viaduct
Abandoned as a railroad bridge in the mid-Seventies, the Salisbury Viaduct has in more recent times been reborn as part of the Great Allegheny Passage rail trail in western PA.
Explorers can hike or bike across this 101 foot-high, 1,908 foot-long former railroad bridge and experience exceptional views of the surrounding countryside.
---
14. The Big Savage Tunnel
The Big Savage Tunnel, also located in Somerset County, is a formerly abandoned railroad tunnel that has been incorporated into the Great Allegheny Passage rail trail.
Today you can hike or bike through this 3,294 foot long tunnel which was a critical link in the Western Maryland Railway, until the entire line was abandoned in 1975.
---
15. Rockland Tunnel
Completed in 1916, the Rockland Tunnel in Venango County was constructed by the Pennsylvania Railroad to expedite the transportation of oil out of the region.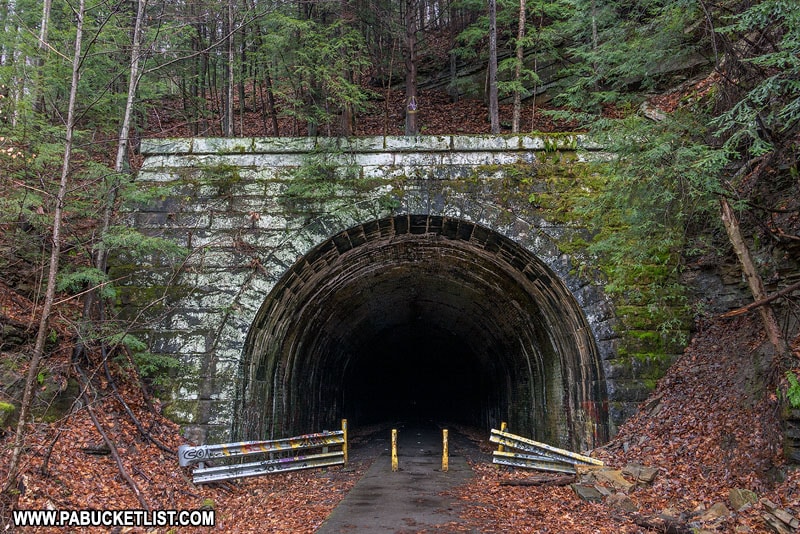 Now part of the Allegheny River Rail Trail, explorers can hike or bike through this unlit, 2,868 foot-long tunnel.
---
16. Rockland Furnace
Rockland Furnace, located just minutes from the Rockland Tunnel, was used to produce iron ore starting in 1832, before being abandoned in 1854.
Rockland Furnace was powered by a dam and water wheel on Shull Run, where today you'll find the beautiful Freedom Falls.
---
17. Greenwood Furnace
From 1834 to 1904, the furnaces of Greenwood in Huntingdon County produced charcoal-fired iron in great abundance, and a thriving company town that included nearly 130 buildings evolved around that industry.
Today, the ghost town of Greenwood and the abandoned remains of the furnaces are part of the larger Greenwood Furnace State Park.
---
So there you have it – 17 awesomely abandoned places in Pennsylvania you can LEGALLY visit!
---
Honorable Mention
Although it is a privately-operated attraction and open by invitation only, the Windber Trolley Graveyard deserves an honorable mention on any list of amazing abandoned places in Pennsylvania.
This sprawling collection of trolleys, trains, and buses is tucked away on a dead-end street (fittingly) in the PA Laurel Highlands.
The Vintage Electric Streetcar Company, as it is officially known, is located in the formerly abandoned Berwind Coal Company Railroad Shop in Windber, PA.
Occasionally open for tours operated by photographers specializing in abandoned places (and no I am NOT one of them!), the Windber Trolley Graveyard is a fascinating destination, should you be lucky enough to score a visit.
---
Want to make your exploration of PA's abandoned places even MORE epic?
Rent a one-of-a-kind-house, cabin, or cottage in Pennsylvania through Vrbo!
Browse HUNDREDS of Pennsylvania's most unique vacation rentals by clicking on the Vrbo logo below.
---
Did you enjoy this article?
If so, be sure to like and follow PA Bucket List on Facebook, Instagram, and/or Pinterest to stay up-to-date on my latest write-ups about the best things to see and do in Pennsylvania.
Click on any of the icons below to get connected to PA Bucket List on social media!
---
Pennsylvania's Best Travel Blog!