If you're looking for directions to Cole Run Falls in Somerset County, you're in the right place!
Cole Run Falls is a beautiful two-tiered waterfall in the Forbes State Forest, located less than 100 yards from a parking area along Cole Run Road.
---
Directions to Cole Run Falls
How to Find Cole Run Falls
Turn off of Gary Road in the Forbes State Forest onto Cole Run Road and proceed 0.3 miles.

Note: Cole Run Road is a "No Winter Maintenance" state forest road.

Look for the parking lot on the left hand side of the road, next to the bridge over Cole Run.

GPS coordinates for the Cole Run parking lot are: 39.972979, -79.284007.
The parking lot is large enough to hold 6-8 vehicles.

Walk approximately 100 yards from the back of the parking lot to the top of Cole Run Falls.

To see the falls from below, follow the footpath down the right side of the falls (as you face downstream).
---
Viewing the Falls
One of the great things about Cole Run Falls is the number of angles you can view and photograph it from.
If you don't mind getting down low (and possibly a little wet), you can create some extraordinary images.
An arched tree trunk that creates a natural "frame within a frame" is a favorite vantage point for visiting photographers.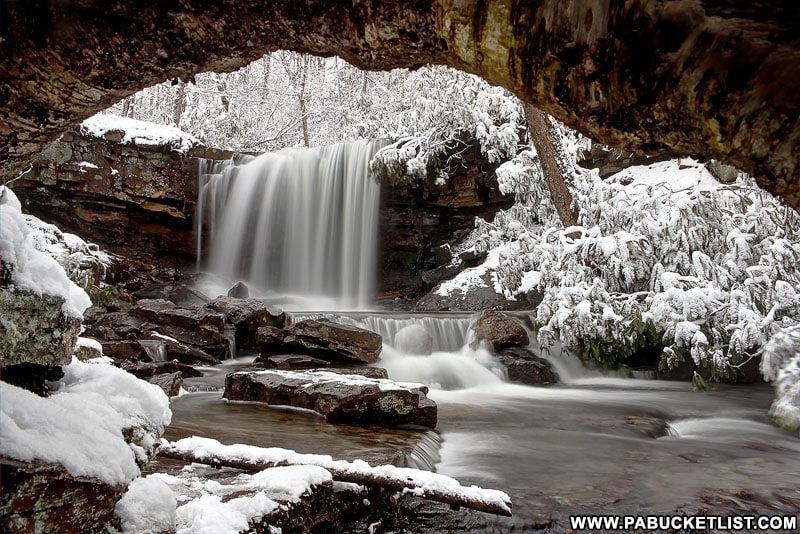 Another natural frame of sorts is created by surrounding trees when Cole Run Falls is viewed from above along the Cole Run Trail.
A dirt path leads down the streambank to a spot just beneath the lower tier of the falls.
The flow can be quite low at Cole Run Falls in late September and October.
Fortunately, the fall foliage makes up for that.
And when the colorful foliage gives way to monotone ice formations, Cole Run Falls presents itself in an entirely new way.
---
More Waterfalls to See along Cole Run
If you're the adventurous type, there are several smaller waterfalls and cascades downstream from Cole Run Falls.
But rather than making your way directly down the stream from Cole Run Falls (which involves navigating through some dense areas of blown-down trees), the easier/smarter way to see these additional waterfalls is to return to the top of Cole Run Falls and then follow the Cole Run Trail down the right side of Cole Run approximately 1/4 of a mile until you find a spot you feel safe descending the bank.
From there you can hike back upstream, in the direction of the smaller waterfalls (refer to the map at the top of this write-up if you need clarification).
One of the first great photo-ops you'll encounter as you make your way upstream on Cole Run is what I refer as the Cascades on Cole Run.
Continue upstream to Cave Falls, a 6 foot waterfall with a small, cave-like opening in the rocks to the left of the falls.
While not as tall as Cole Run Falls, Cave Falls is quite photogenic after heavy rains.
---
Final Thoughts
For many years Cole Run Falls has been a favorite spot for local hikers, nature lovers, senior portrait photographers, and those looking for a romantic spot to "pop the question".
Easy to get to and a delight to see – put Cole Run Falls on your PA Bucket List!
Still not convinced you need to see Cole Run Falls?
Then check out this video!
---
Nearby Attractions
Kooser State Park occupies 250 wooded acres along Route 31 in Somerset County.
---
Laurel Hill State Park is comprised of 4,062 acres of mountainous, wooded terrain in central Somerset County.
---
The Barronvale Covered Bridge is a mere 10 minute drive from Cole Run Falls.
---
Kings Covered Bridge is located one mile from the Barronvale Covered Bridge.
---
24 Must-See Waterfalls in the PA Laurel Highlands is your guide to even more great waterfalls in the region.
---
Laurel Run Overlook is located 5 miles from Cole Run Falls, along the Laurel Highlands Hiking Trail.
---
Did you enjoy this article?
If so, be sure to like and follow PA Bucket List on Facebook, Instagram, and/or Pinterest to stay up-to-date on my latest write-ups about the best things to see and do in Pennsylvania!
Click on any of the icons below to get connected to PA Bucket List on social media.
---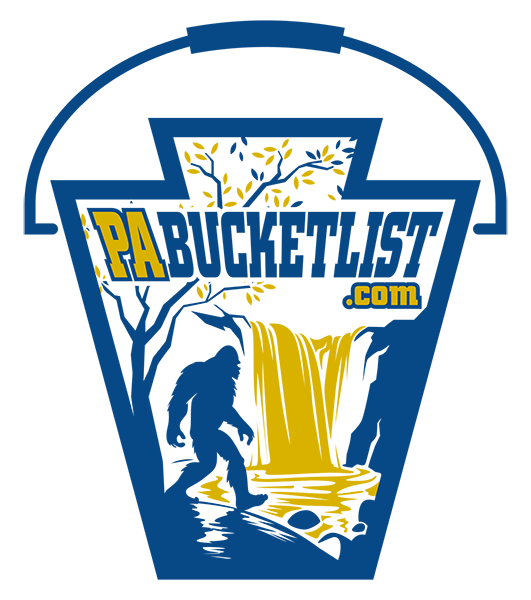 Pennsylvania's Best Travel Blog!