Welcome to the finest guide to Pennsylvania waterfalls you'll find anywhere on the web!
The best maps, directions, photos, and videos of Pennsylvania's most amazing waterfalls, all well-organized in easy to search categories.
All 100% free to use, with no advertisements, no e-mail sign-ups, and no sales pitches!
Pick a category below and begin exploring the "best of the best" Pennsylvania waterfalls!
20 Must-See Pennsylvania Waterfalls
20 of the Most Incredible Waterfalls in the Keystone State
32 Must-See Roadside Waterfalls in Pennsylvania
32 of the Most Accessible Waterfalls in PA.
6 Pennsylvania Waterfalls You Can Stand Behind
Experience the Thrill of a Lifetime at These 6 Incredible Waterfalls!
35 PA Waterfalls for Fall Foliage Lovers
View Brilliant Fall Foliage at these 35 Waterfalls!
The 50 Best Winter Waterfalls in Pennsylvania
50 of the Best Frozen Falls in PA!
10 Must-See Pennsylvania State Parks for Waterfall Lovers
The 10 Best PA State Parks for Exploring Waterfalls
The 15 Best Waterfall Streams in Pennsylvania
Directions to 15 of the best waterfall streams in PA.
Exploring the Falls Trail at Ricketts Glen State Park
21 Named Waterfalls Along Pennsylvania's Most Famous Waterfall Trail.
10 Must-See Waterfalls Near Worlds End State Park
10 Must-See Waterfalls Near One of PA's Most Popular State Parks
10 Must-See Waterfalls at Ohiopyle State Park
10 Incredible Waterfalls at Western PA's Best Waterfall Park!
25 Must-See Waterfalls in the Poconos
25 of the Finest Waterfalls in Northeastern Pennsylvania.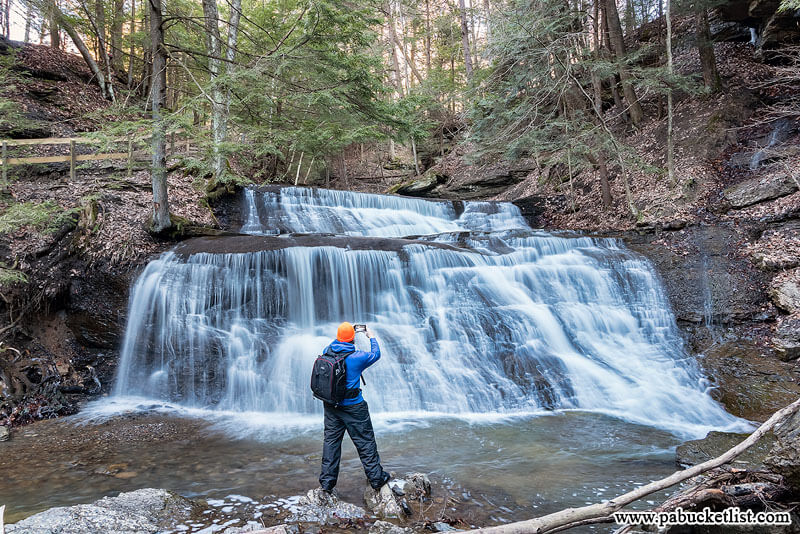 7 Must-See Waterfalls in Western Pennsylvania
7 Amazing Waterfalls Within 90 Minutes of Pittsburgh.
23 Must-See Waterfalls in the Laurel Highlands
23 Spectacular Waterfalls in the Mountains of Southwestern Pennsylvania.
8 Must-See Central Pennsylvania Waterfalls
8 Magnificent Waterfalls in the Heart of Pennsylvania.
33 Must-See Waterfalls in Tioga County
33 Breathtaking Waterfalls in the PA Grand Canyon Region.
25 Must-See Waterfalls in Sullivan County.
25 Outstanding Falls in Pennsylvania's "Waterfall Wonderland".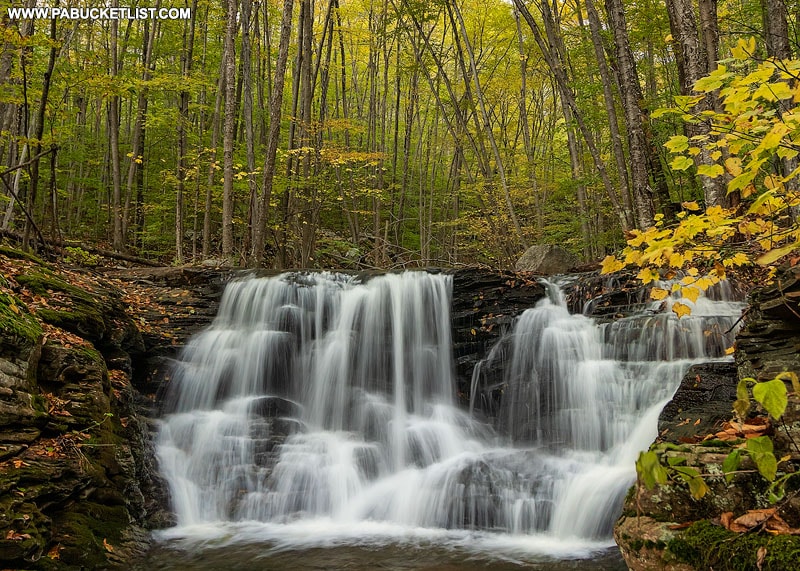 The 5 Best Waterfall Hikes in Lycoming County
5 Unforgettable Waterfall Hikes to Dozens of Fantastic Waterfalls.
The 23 Best Waterfalls in the Loyalsock State Forest
23 Extraordinary Waterfalls in the Loyalsock State Forest.
The 10 Best Waterfalls on State Game Lands 13
10 Must-See Sights in this Waterfall Hunter's Paradise!
Did You Find this Waterfall Guide to be Valuable?
A "typical" waterfall guidebook would cost you $15 or more, and it wouldn't contain 1/2 the information you found here for free! If you want to "pay it forward", please consider making a donation to Centre Wildlife Care, a non-profit organization dedicated to caring for injured, orphaned, sick, and displaced wild animals for the purpose of releasing them back into the wild. If you want to thank me for putting this guide together, this is how I'd prefer you do it!
LATEST PA WATERFALLS POSTS