Rosecrans Falls is an exquisite 20-foot tall waterfall located just off of Route 80 near Loganton, Clinton County.
Rosecrans Falls is situated on land owned by the Lock Haven Water Authority, but managed by the Pennsylvania Game Commission.
As such, the typical State Game Lands rules apply – hiking and hunting are permitted, and you should wear an article of blaze orange clothing if visiting during hunting season.
---
How to Find Rosecrans Falls in Clinton County
From the Loganton exit of Route 80, you'll head north on Route 477, hang a right on Brungard Road, and then another right on Spruce Run Road.
Park near the intersection of Spruce Run Road and Nittany Ridge Road (a State Forest Road).
GPS coordinates for the parking area are 41.07409, -77.32858.
Total distance from Route 80 exit to the parking area is 2.6 miles.
DO NOT block the gated roads near the intersection when you park!
---
Hiking to Rosecrans Falls
The hike from the parking area to Rosecrans Falls covers approximately 0.3 miles, alongside Spruce Run, the stream that the waterfall resides on.
You'll see on the map above that there is a small, landlocked parcel of private land near Rosecrans Falls.
Be sure to hike in on the left side of the stream to avoid trespassing.
An easy landmark on where to start your hike is this sign.
Stay to the left of this sign, descend the bank of the stream, and cross over to the left side of stream as soon as feasible.
The stream is narrow and shallow at this point, so rock-hopping across it is an easy affair.
From the left side, simply follow the stream towards the falls, hiking through a mostly-open hemlock forest.
---
Viewing Rosecrans Falls
Find a spot where you feel most comfortable descending the bank to get below Rosecrans Falls, for the best views and photos.
GPS coordinates for Rosecrans Falls are 41.07554, -77.32358.
I've visited this waterfall in all seasons, and I enjoy comparing photos from the same angle taken in summer and winter.
Summer…
Winter…
Summer…
Winter…
Winter in particular is probably my favorite season to visit, simply because of the intricate ice formations that come to life when the temperatures drop at Rosecrans Falls.
Sometimes the snow and ice form giant sheets around and over the falls.
Because of this, I'd strongly recommend the use of microspikes or crampons for better traction if visiting in the winter.
---
Viewing McElhattan Falls
Unless you hiked in with blinders on, you'll also notice another waterfall off to the side of Rosecrans Falls.
This is known as McElhattan Falls, and it is located on the landlocked parcel of private land I referred to earlier (look back at the map if need be).
So while you can VIEW McElhattan Falls from the land managed by the Game Commission, you cannot CLIMB on McElhattan Falls or stand at the base – please DO NOT TRESPASS on the private parcel of land.
---
Still not convinced you need to visit Rosecrans Falls?
Then check out this video!
---
Nearby Attractions
The Choke and Puke Diner is an authentic, old-school American diner located less than 10 minutes from Rosecrans Falls!
---
Located on the opposite side of Clinton County, Round Island Run Falls is located in a remote corner of the Sproul State Forest.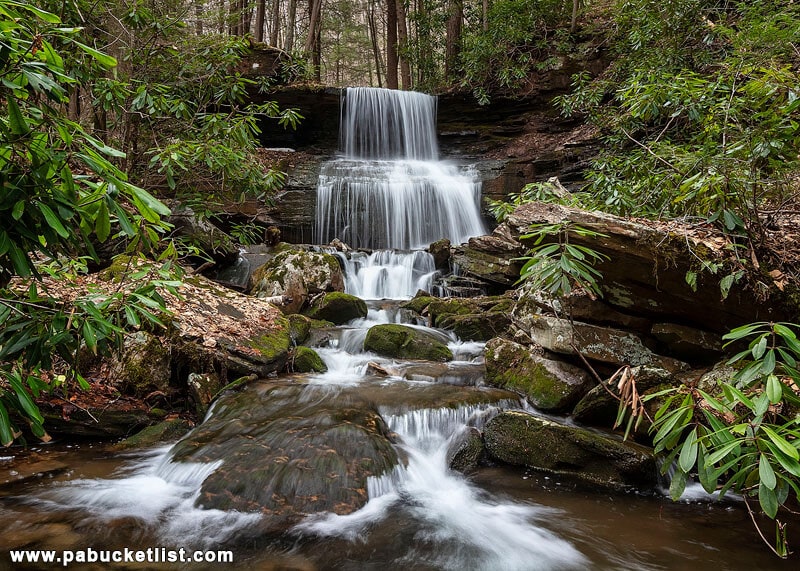 ---
Located near the Clinton / Centre county line, Yost Run Falls is located along the Chuck Keiper Trail in the Sproul State Forest.
---
Located just downstream from Yost Run Falls, Kyler Fork Falls is another gem of a waterfall in the Sproul State Forest.
Just a few miles from Rosecrans Falls you'll find Logan Mills Covered Bridge, the last remaining covered bridge in Clinton County.
---
Looking for ALL the best waterfalls in Pennsylvania?
Then you need to check out The Ultimate Pennsylvania Waterfalls Guide, with directions to HUNDREDS of the finest waterfalls in PA!
---
Did you enjoy this article?
If so, be sure to like and follow PA Bucket List on Facebook, Instagram, and/or Pinterest to stay up-to-date on my latest write-ups about the best things to see and do in Pennsylvania!
Click on any of the icons below to get connected to PA Bucket List on social media!
---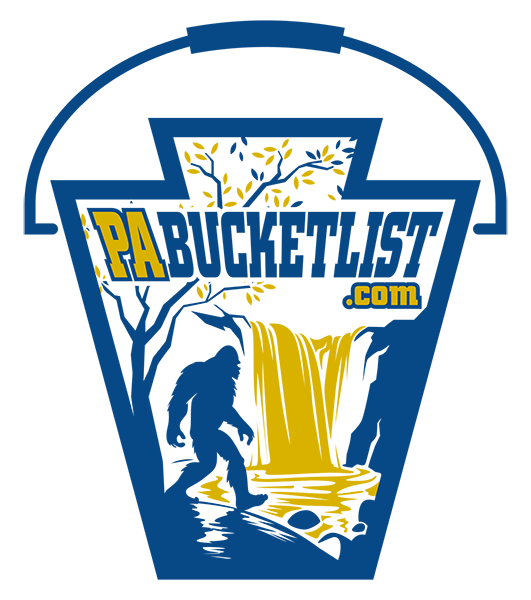 Pennsylvania's Best Travel Blog!