Buttermilk Falls in Armstrong County is short in stature but long on beauty, located along a rail trail that parallels Cowanshannock Creek, a tributary of the Allegheny River.
The falls are located along the Cowanshannock Trail, a recently-renovated rail trail and spur of the much longer Armstrong Trail.
Don't confuse this waterfall with Buttermilk Falls in Beaver County.
Or Buttermilk Falls in Indiana County.
Or even Buttermilk Falls in Carbon County!
THIS Buttermilk Falls is named after a nearby mining village called "Buttermilk" (now long gone), and is located approximately 3 miles northeast of downtown Kittanning.
---
How to Find Buttermilk Falls in Armstrong County
The trailhead and parking lot for the hike to Buttermilk Falls is located along Johnson Avenue at GPS coordinates 40.85082, -79.50725.
The parking area is located on the south side of Johnson Avenue, opposite the Allegheny River and the Armstrong Trail.
The Cowanshannock Trail follows the eastern bank of Cowanshannock Creek upstream, away from the Allegheny River, for approximately one mile to Buttermilk Falls.
The trail follows a former spur of the Pennsylvania Railroad, which was used to haul coal mined by the Kittanning Iron and Steel Manufacturing Company, as well as bricks made by the Cowanshannock Brick and Manufacturing Company and the Willard Brick Company.
Approximately 0.7 miles into the hike (or bike ride), you'll cross a newly-installed bridge over a small tributary stream.
Just beyond the bridge you'll come to an old parking area along the Cowanshannock Creek – this is NOT Buttermilk Falls!
Rather, it is the site of some picturesque rapids along Cowanshannock Creek, worth a few minutes of your time and a few photos to be sure.
Continuing upstream along the rail trail, you'll pass an erosion control project on Cowanshannock Creek.
And just beyond the erosion control project, you'll come to Buttermilk Falls, a little over a mile from where your trip began near the Allegheny River.
Buttermilk Falls has been attracting visitors for a long time, as evidenced from some of the rock carvings near the falls.
It's also a popular swimming hole, as evidenced by the rope swing dangling over the falls.
The return hike (or bike ride) is a simple matter of retracing your one-mile route, and if you have time be sure to check out the Armstrong Trail along the banks of the Allegheny River.
---
---
Related Attractions
12 Must-See Waterfalls in Western Pennsylvania is your guide to even more waterfalls on the "west coast" of PA!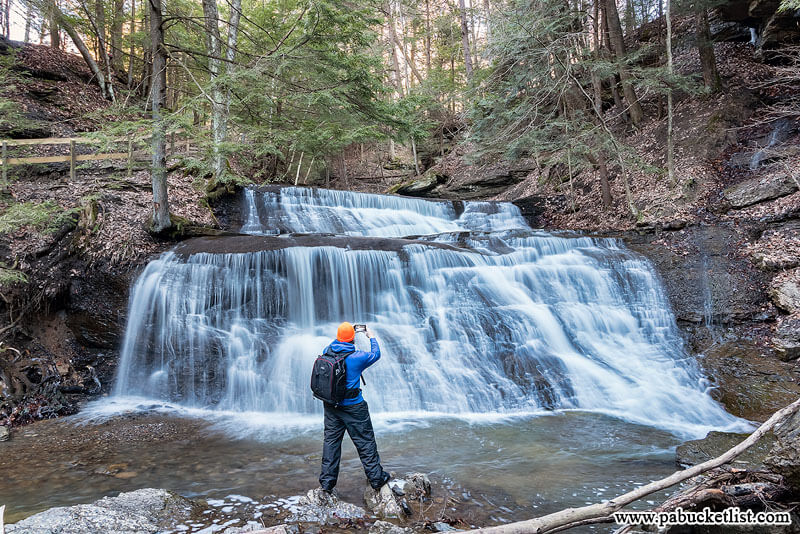 ---
Did you enjoy this article?
If so, be sure to like and follow PA Bucket List on Facebook, Instagram, and/or Pinterest to learn more about the best things to see and do in Pennsylvania!
Click on any of the icons below to get connected to PA Bucket List on social media.
---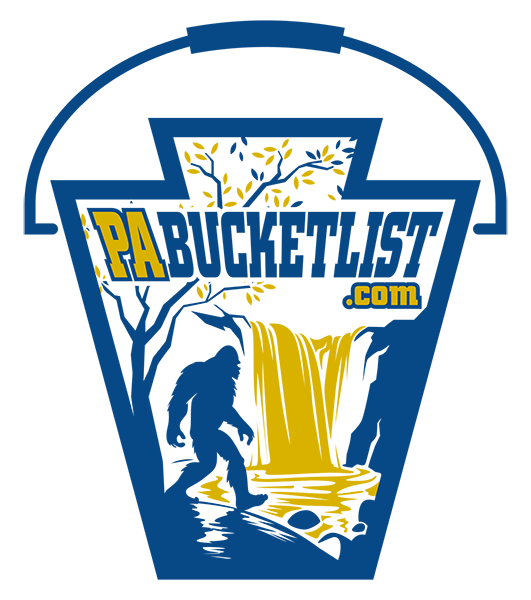 Pennsylvania's Best Travel Blog!