Buttermilk Falls in Beaver County is a magnificent waterfall in a picturesque park setting, just a few hundred yards from the Beaver Falls exit of the Pennsylvania Turnpike.
One of the best features of this Buttermilk Falls is that it is one a handful of waterfalls in Pennsylvania you can stand behind!
---
Directions to Buttermilk Falls in Beaver County
Buttermilk Falls is situated in the Buttermilk Falls Natural Area, a Beaver County park that is also home to a historic stone quarry.
If navigating by GPS, use coordinates 40.81316, -80.32576 to find the entrance to the Buttermilk Falls Natural Area along Route 18, just south of the Turnpike exit.
The lower parking lot is located on your left as you first turn off of Route 18 and into the park.
The upper parking lot is located 200 yards further up 1st Avenue, on your right across from a church.
---
Hiking to Buttermilk Falls
The hike to the falls from the lower parking area covers only 250 yards, and it follows an undulating and easy-to-navigate footpath.
There are a few slight inclines and declines where what look like old railroad ties are used as steps.
Near the midpoint of the trail you'll pass the ruins of the Homewood Quarry, an old sandstone quarry.
An informational display next to the trail goes more into detail about the history of the Homewood Quarry.
---
Viewing the Falls
On your initial approach from the lower parking area, the trail brings you up the right side of Clarks Run, and from there you can work yourself behind and around the falls in a counterclockwise motion.
Use an abundance of caution when going behind Buttermilk Falls, as the rocks can be very slippery.
Standing behind Buttermilk Falls, you can almost forget that you are looking in the direction of the busy PA Turnpike just a few hundred yards away.
Continuing around to the bank opposite the trail, you'll find what I think are some of the most outstanding views of Buttermilk Falls.
In fact, from that angle Buttermilk Falls reminds me of Cucumber Falls at Ohiopyle State Park, what I consider to be THE most photogenic waterfall in western PA.
---
Viewing Buttermilk Falls from Above
From the upper parking lot across from the church, follow the sign to the short (less than 50 yards) trail leading to the top of Buttermilk Falls.
Just before you reach the falls view, you'll see this "Swim At Your Own Risk" sign.
The upper view also gives you a clear view of the railroad bridge that passes over Clarks Run just upstream from Buttermilk Falls.
The trail continues to a spot literally at the top of Buttermilk Falls – use EXTREME caution if you venture out to the edge for a peak.
---
Still not convinced you need to visit Buttermilk Falls in Beaver County?
Then check out this video!
---
Related Attractions
Frankfort Mineral Springs Falls is a 10-foot tall waterfall located just off of Route 18 at Raccoon Creek State Park.
---
9 Pennsylvania Waterfalls You Can Stand Behind will introduce you to several more waterfalls in PA that you can literally stand behind!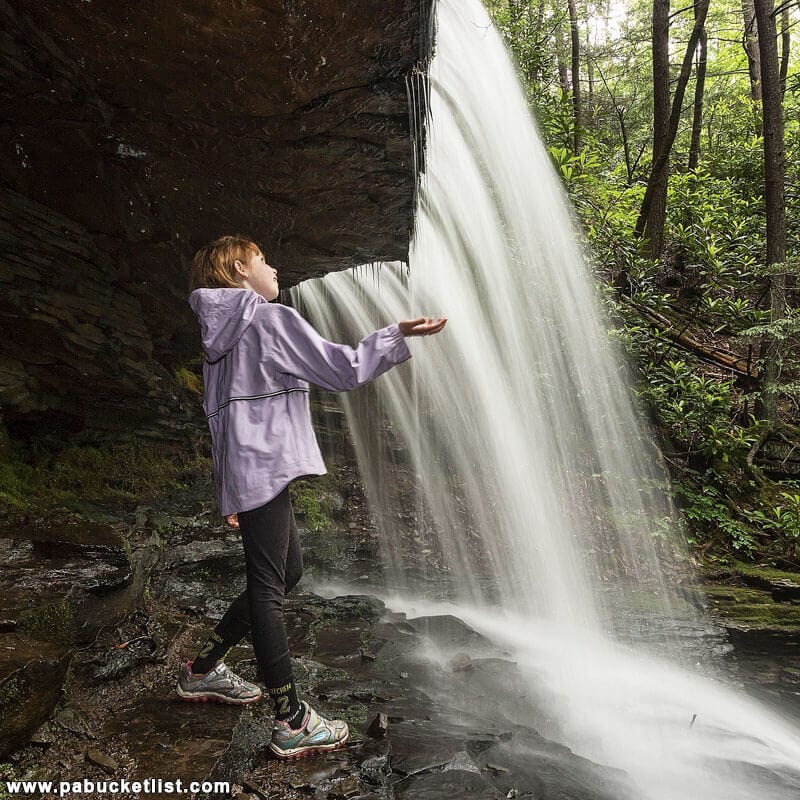 ---
McConnells Mill State Park in neighboring Lawrence County is home to several waterfalls, a covered bridge, and a historic mill from which the park takes its name.
---
Moraine State Park is a 16,725-acre recreational area located in nearby Butler County.
---
Big Run Falls in nearby New Castle is a 20 foot tall waterfall at the heart of an abandoned amusement park turned nature park.
---
Quaker Falls in neighboring Lawrence County is a 50 foot-tall waterfall in the newly-created Quaker Falls Recreation Area.
---
Springfield Falls is a beautiful roadside waterfall in Mercer County.
---
The Ultimate Pennsylvania Waterfalls Guide will provide you with directions to HUNDREDS of PA's best waterfalls, from all corners of the Keystone State.
---
The Best Waterfalls Near Pittsburgh Road Trip is an epic 358 mile round-trip adventure of a lifetime!
---
The Fountain of Youth really does exist, and you can find it in a public park just north of Pittsburgh!
---
Did you enjoy this article?
If so, be sure to like and follow PA Bucket List on Facebook, Instagram, and/or Pinterest to stay up-to-date on my latest write-ups about the best things to see and do in Pennsylvania!
Click on any of the icons below to get connected to PA Bucket List on social media.
---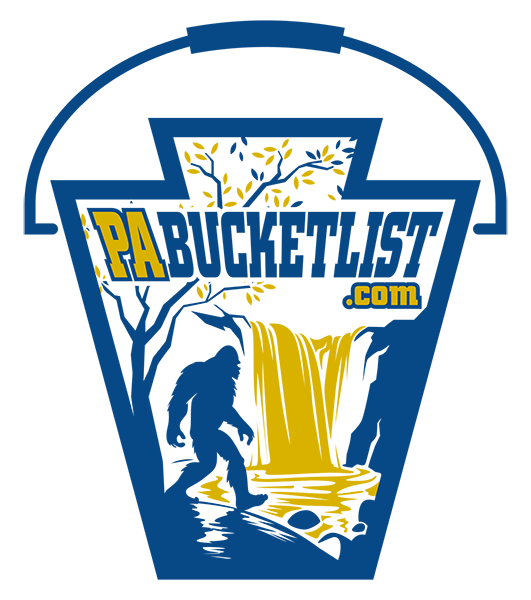 Pennsylvania's Best Travel Blog!