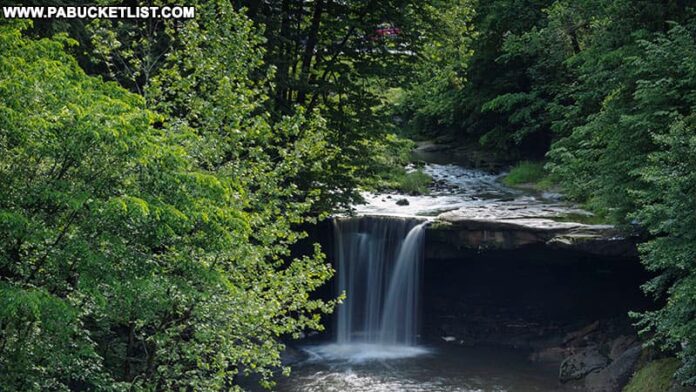 Big Run Falls is located at the center of Cascade Park in New Castle, the county seat of Lawrence County.
Or to put it another way, roughly 50 miles northwest of Pittsburgh, near the Pennsylvania – Ohio border.
---
How to Find Big Run Falls in New Castle
The entrance to Cascade Park is located along Route 65, so depending on which direction you are coming from, it will be either a left or right hand turn into the park.
Upon entering the park, bear to the LEFT and follow the road over a bridge and past a maintenance shed to a large parking area on your left.
If navigating by GPS, use coordinates 40.97654, -80.32007 to find the parking area for Big Run Falls.
You'll see a picnic table directly across the road from the parking area, from which Big Run Falls is plainly visible.
---
Exploring Big Run Falls in New Castle
Big Run Falls in Cascade Park is essentially a roadside waterfall, with the best vantage point for viewing the falls being the overlook directly across from the parking area.
The area immediately in front of the overlook was awash in wildflowers when I visited recently, making for an exquisite scene.
I've seen reference on other websites to walking up to the base of the falls from downstream, which I cannot recommend.
The area immediately below the falls is strewn with the remains of an old roller coaster that once dipped down through the gorge below the falls (more on that in a minute), meaning you'd have to negotiate the twisted metal and risk injury for a view that most likely won't be much better than the view you get from the overlook.
---
History of Cascade Park in New Castle
Cascade Park opened May 29, 1897, and it quickly became a popular amusement park for people living in western Pennsylvania and eastern Ohio.
The park was operated by New Castle Traction Company, which later became Pennsylvania Power Company.
The midway featured 17 rides and numerous eating places.
A carousel 75 feet in diameter was one of the more popular attractions, and the building that housed it is still intact today.
Cascade Park also featured what was at the time the largest dance hall in Pennsylvania, and that too is still standing today.
In 1934, The Pennsylvania Power Company turned the park over to the City of New Castle to be used as a public recreation area.
Eventually attendance declined, the park fell into disrepair, and the rides were removed, leaving only the shells of some of the structures intact.
Cascade Park in New Castle Today
Today, Cascade Park more closely resembles a nature park than it does the amusement park that gave birth to it, although many relics of the amusement park still remain along the various walking trails around the park.
A large, abandoned swimming pool is situated just down the hill from the Big Run Falls parking area.
A dog-walker I happened to strike up a conversation with while visiting the park told me that an attempt had been made and then abandoned to reopen the pool, apparently because of financial issues.
One thing that is well-maintained and well-represented at Cascade Park are numerous monuments and tributes to our troops, which is a very welcome sight to see.
As pretty and "natural" as Cascade Park is now, I couldn't help but wonder as I explored it what it must have been like in its heyday.
So in summary – if you're looking for an easy-to-reach waterfall in a beautiful setting not far from Pittsburgh, make sure to check out Big Run Falls in New Castle, Lawrence County!
---
Related Articles
Does the thought of taking an epic cross-state road trip to see the best roadside waterfalls in Pennsylvania intrigue you?
If so, be sure to check out Road Tripping to the Best Roadside Waterfalls in PA!
---
Nearby Attractions
Quaker Falls is a 50 foot-tall waterfall located in the newly-created Quaker Falls Recreation Area in Lawrence County.
---
McConnells Mill State Park, also in Lawrence County, is home to numerous waterfalls, hiking trails, the namesake mill, and McConnells Mill Covered Bridge.
---
Alpha Falls at McConnells Mill State Park is the tallest waterfall in the park.
---
Hell's Hollow Falls at McConnells Mill State Park is probably the most scenic waterfall in the park.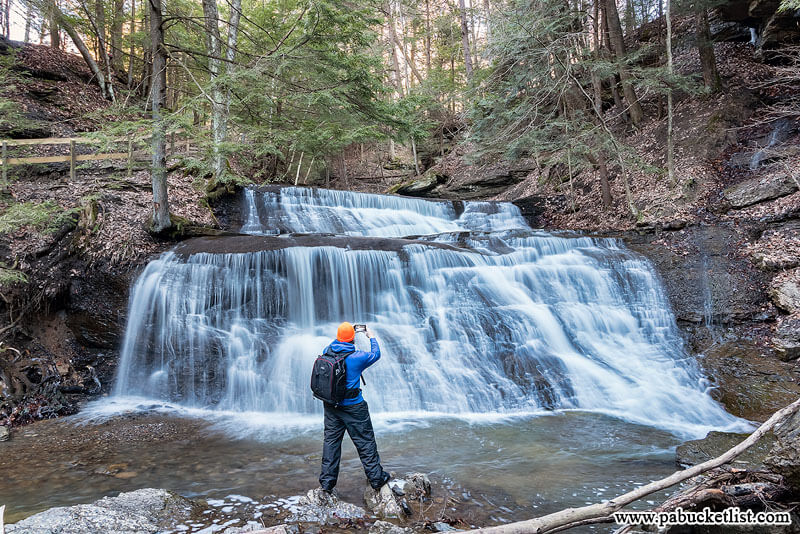 ---
And Grindstone Falls is probably the most remote waterfall at McConnells Mill State Park – so remote that it isn't even featured on the park map!
---
Springfield Falls is a beautiful roadside waterfall in neighboring Mercer County.
---
Buttermilk Falls in Beaver County is an easy-to-reach waterfall in a county park just minutes from the PA Turnpike.
One of the more unique aspects of Buttermilk Falls in Beaver County is that you can stand behind it!
---
And if you're REALLY into waterfalls, The Ultimate Pennsylvania Waterfalls Guide will provide you with directions to HUNDREDS of PA's best waterfalls, from all corners of the Keystone State!
---
The Fountain of Youth really does exist, and you can find it in a public park just north of Pittsburgh!
---
Did you enjoy this article?
If so, be sure to like and follow PA Bucket List on Facebook, Instagram, and/or Pinterest to stay up-to-date on my latest write-ups about the best things to see and do in Pennsylvania!
Click on any of the icons below to get connected to PA Bucket List on social media.
---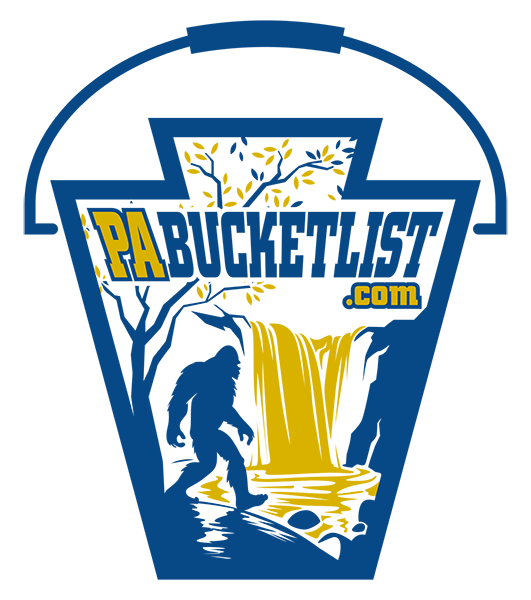 Pennsylvania's Best Travel Blog!