If you're looking for directions to Hell's Hollow Falls at McConnell's Mill State Park, you're in the right place!
Hell's Hollow Falls is a magnificent 15-foot tall waterfall along Hell Run in Lawrence County.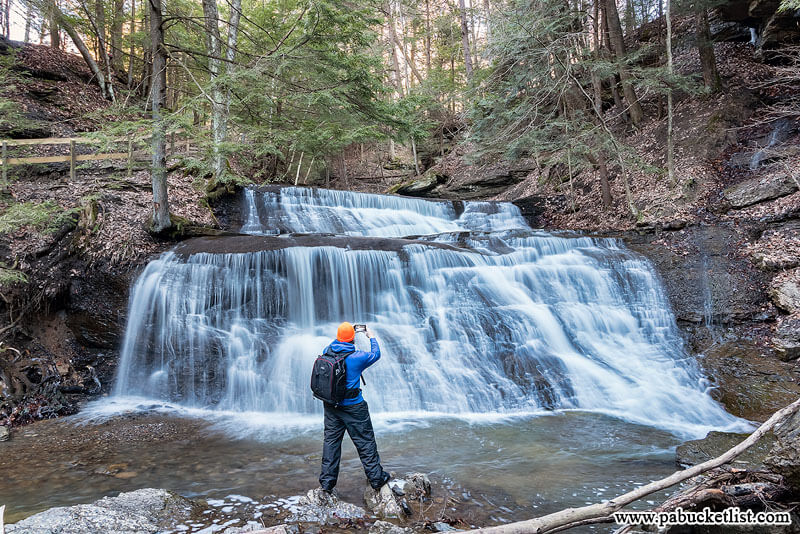 Despite the name, the hike to Hell's Hollow Falls is relatively short, flat, and pleasant.
So follow along and discover everything you ever wanted to know about Hell's Hollow Falls at McConnell's Mill State Park!
---
How Did Hell's Hollow Falls Get Its Name?
To understand how Hell's Hollow Falls got its name, it is important to understand the history and geology of the area.
The Greater Slippery Rock Creek Gorge (of which Hell's Hollow is a part) is an area rich in limestone, and in the 1850's a lime kiln was built next to the falls, for the purpose of extracting lime from limestone.
Among other things, lime was/is used as a component in fertilizer, mortar, and plaster.
Limestone was dumped into the lime kiln (a large brick-lined pit dug into the hillside, with openings at top and bottom) and then heated by burning wood/charcoal on top of it.
As the "stone" component burned off, the lime was left behind and removed from the opening at the bottom/side of the pit.
This burning of limestone and fuel gave off a lot of smoke, odor, and a red glow that certainly would have given the hollow a "hellish" appearance and smell (especially at night) – thus the name "Hell's Hollow"!
---
How to Find Hell's Hollow Falls
Hell's Hollow Falls is located in the northwestern corner of McConnell's Mill State Park, just off of Shaffer Road (see map below).
The parking lot for Hell's Hollow Falls can be found at the following GPS coordinates: 40.931363, -80.239991.
The parking area is large enough for roughly two dozen vehicles, there's a porta-potty on the left side of the parking lot, and a few informational kiosks near the trailhead on the right side of the lot.
---
Hiking to Hell's Hollow Falls
The hike to Hell's Hollow Falls is a half-mile in length (one way), and changes very little in elevation (51 feet – the majority of that being at the falls itself).
Leaving the parking lot you'll cross a footbridge over Hell Run and hike approximately 1/10th of a mile before coming to a "Y" intersection.
This is really the only place you could possibly screw up this hike – make sure you stay to the right and follow the arrow towards the falls.
You'll pass some beautiful cascades on Hell Run along the way.
A few minutes further down the trail (approximately 4/10ths of a mile) you'll encounter these stairs.
The lime kiln will be immediately to your right when standing at he top of this staircase, and you'll have a partial view of the top of the falls.
---
Best Views of Hell's Hollow Falls
To fully appreciate Hell's Hollow Falls it is best to rock-hop across the shallow pool at the bottom of the falls and view it from the rocks on the hill directly across from the stairs.
Hell's Hollow Falls comes in at around 15 feet tall, and easily twice as wide.
The falls look magnificent after a heavy summer rain.
In the zoomed-out view below, you can see the grate covering the opening of the lime kiln at the top of the stairs.
After you've satisfied your waterfall craving, simply retrace your steps back to your vehicle.
---
Final Thoughts
Hell's Hollow Falls makes for an excellent waterfall outing for hiking enthusiasts of all ages, any time of the year.
It is relatively short, flat hike and features some marvelous scenery on your way to an elegant waterfall and a historic lime kiln.
I can say without reservation that visiting Hell's Hollow Falls at least once deserves a spot on your PA Bucket List!
---
Nearby Attractions
Grindstone Falls, located on a tributary of Slippery Rock Creek, is located a mere 10 minute drive from the Hell's Hollow Falls parking area.
---
Alpha Falls, at approximately 35 feet, is the tallest waterfall at McConnell's Mill State Park.
---
Breakneck Falls is a 25 foot-tall, multi-tiered waterfall located along Cheeseman Run at McConnell's Mill State Park.
---
Exploring McConnell's Mill State Park in Lawrence County is your guide to even more things to see and do at the park.
---
Buttermilk Falls is located in neighboring Beaver County, and is one of a handful of Pennsylvania waterfalls that you can stand BEHIND!
---
Big Run Falls in nearby New Castle is a 20 foot tall waterfall at the heart of an abandoned amusement park turned nature park.
---
Moraine State Park is a 16,725-acre recreational area located in neighboring Butler County.
---
Did you enjoy this article?
If so, be sure to like and follow PA Bucket List on Facebook, Instagram, and/or Pinterest to stay up-to-date on my latest write-ups about the best things to see and do in Pennsylvania!
Click on any of the icons below to get connected to PA Bucket List on social media.
---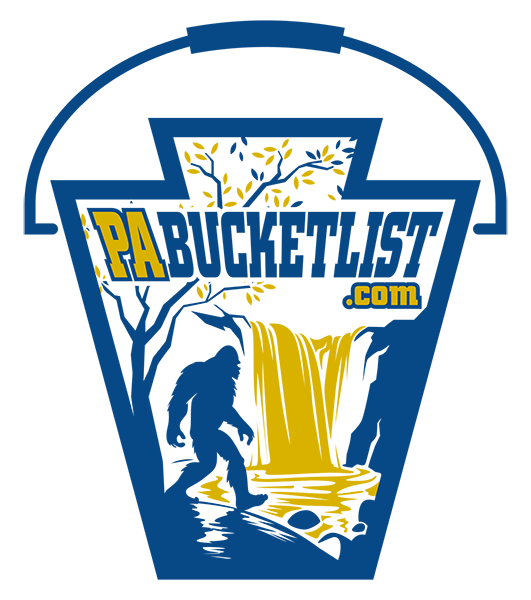 Pennsylvania's Best Travel Blog!