Moraine State Park is a 16,725-acre recreational area located about an hour north of Pittsburgh in Butler County.
Moraine State Park is named for its hilly deposits of gravel, sand and clay (moraines) that were deposited at the end of the last glacial period (about 12,500 years ago).
The centerpiece of Moraine State Park is 3,225 acre Lake Arthur, a man-made version of an even larger glacial lake that once existed in this same area thousands of years ago.
Lake Arthur features 42 miles of shoreline, as well as numerous boat launches, fishing jetties, and swimming areas.
Lake Arthur was even cast in a feature film, used to portray the Hudson River in The Pale Blue Eye starring Christian Bale.
---
Swimming at Moraine State Park
There are two "swim at your own risk" (no lifeguards) beaches along the shore of Lake Arthur – Lakeview Beach on the North Shore and Pleasant Valley Beach on the South Shore.
---
Fishing at Moraine State Park
Lake Arthur is a warmwater fishery, stocked with muskellunge, walleye, channel catfish, and hybrid striped bass, in addition to northern pike, largemouth bass, bluegills, and crappies.
---
Boating at Moraine State Park
Lake Arthur has nine public boat launches, and up to 20 horsepower motors are permitted.
There is also a privately-owned/operated boat rental operation on the South Shore, featuring everything from kayaks to motorized pontoon boats.
---
Hiking at Moraine State Park
Moraine State Park features 71 miles of hiking trails.
The Glacier Ridge Trail is one of my favorite trails at Moraine State Park.
If you choose to hike this trail, you'll be following in the footsteps of a young George Washington, who passed through present day Moraine State Park in December 1753.
The Glacier Ridge Trail is even believed to have been a pathway for mastodons that inhabited Pennsylvania thousands of years ago!
---
Picnicking at Moraine State Park
There are 7 picnic pavilions and 705 picnic tables located throughout Moraine State Park.
---
Directions to Moraine State Park
The Moraine State Park office is located on the South Shore of Lake Arthur, at 225 Pleasant Valley Road Portersville, PA 16051.
If navigating by GPS, use coordinates 40.939483, -80.097155 to find the park office.
---
Nearby Attractions
McConnells Mill State Park, in neighboring Lawrence County, encompasses 2,546 acres of the spectacular Slippery Rock Creek Gorge, which is a National Natural Landmark.
The park is home to a historic gristmill and covered bridge built in the 1800s.
---
The Snowman is a one-of-a-kind, 13 foot-tall concession stand in Butler County that dispenses delicious frozen treats from his round white belly!
---
Quaker Falls is a 50 foot-tall waterfall in the newly-created Quaker Falls Recreation Area in Lawrence County.
---
Playthings Etc. is a stealth bomber-shaped toy store along Route 8 in Butler County, billed by the owners as "The World's Coolest Toy Store"!
---
The Maridon Museum in downtown Butler is the only museum in Western Pennsylvania specifically focused on Asian art and culture.
---
Buttermilk Falls in Beaver County is one of a handful of Pennsylvania waterfalls that you can stand BEHIND!
---
The Fountain of Youth really does exist, and you can find it in a public park just north of Pittsburgh!
---
Did you enjoy this article?
If so, be sure to like and follow PA Bucket List on Facebook, Instagram, and/or Pinterest to stay up-to-date on my latest write-ups about the best things to see and do in Pennsylvania!
Click on any of the icons below to get connected to PA Bucket List on social media.
---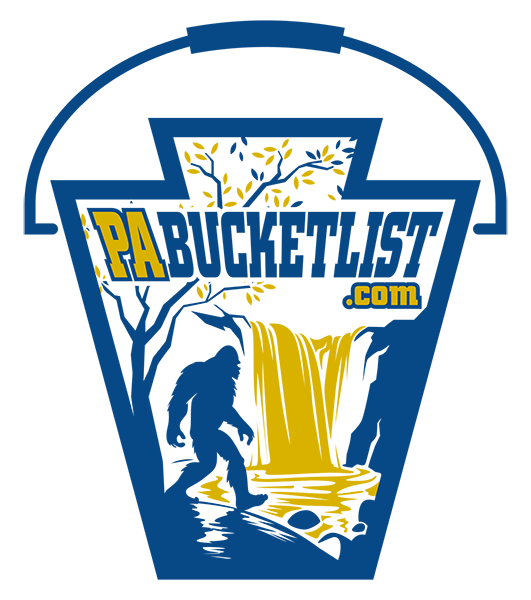 Pennsylvania's Best Travel Blog!