If you're looking for information about The Snowman in Butler County, you're in the right place.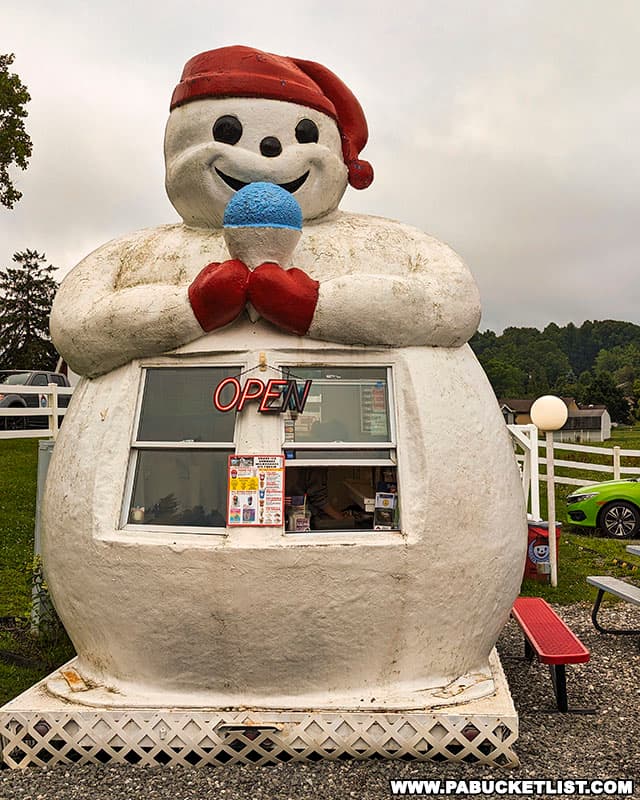 The Snowman is a one-of-a-kind, 13 foot-tall concession stand that dispenses delicious frozen treats from his round white belly!
The Snowman is believed to have been built as a one-off mobile concession stand in New Mexico in the 1970s, according to owner Brian LaChance.
Looking for a way to capitalize on the traffic driving past their property en route to Moraine State Park (which sees nearly 2 million visitors/year), Brian and his wife Debbie purchased the Snowman in Cincinnati in 2013 and set up shop on a plot of land next to their house.
Having experimented with a variety of flavors and concoctions over the past decade, the Snowman currently serves 24 flavors of shave ice, sundaes (the biggest seller), milkshakes, ice cream, and frappuccinos.
In the name of "research", I had a Red Velvet Cake milkshake (which like all Snowman milkshakes features an entire pint of ice cream) and it was delicious!
I took my milkshake "to go" as I was off to yet another Butler County destination, but visitors can take advantage of outdoor seating and free Wi-Fi at the Snowman if they choose.
---
Hours and Directions
The Snowman is open weekends in April and then daily from noon until 9 pm through Labor Day.
The Snowman is located along Route 488, just a quarter-mile east of the Portersville exit of I79.
The Snowman is conveniently located near both Moraine State Park to the east and McConnell's Mill State Park to the west.
For more information, check out the Snowman's OFFICIAL WEBSITE for the latest hours and menu options.
---
Nearby Attractions
The Mars Flying Saucer is a spaceship-themed roadside attraction in the small town of Mars in Butler County.
---
Moraine State Park is a 16,725-acre recreational area located about an hour north of Pittsburgh in Butler County.
---
McConnell's Mill State Park, roughly 30 miles north of Pittsburgh, is home to a slew of outstanding hikes, overlooks, waterfalls, and historic structures.
---
Playthings Etc. is a stealth bomber-shaped toy store along Route 8 in Butler County, billed by the owners as "The World's Coolest Toy Store!"
---
The Maridon Museum in downtown Butler is the only museum in Western Pennsylvania specifically focused on Asian art and culture.
---
Yellow Dog Village in neighboring Armstrong County is a former mining company town dating back to the early 1900s that now serves as a time capsule and tourist attraction.
---
Did you enjoy this article?
If so, be sure to like and follow PA Bucket List on Facebook, Instagram, and/or Pinterest to learn more about the best things to see and do in Pennsylvania!
Click on any of the icons below to get connected to PA Bucket List on social media.
---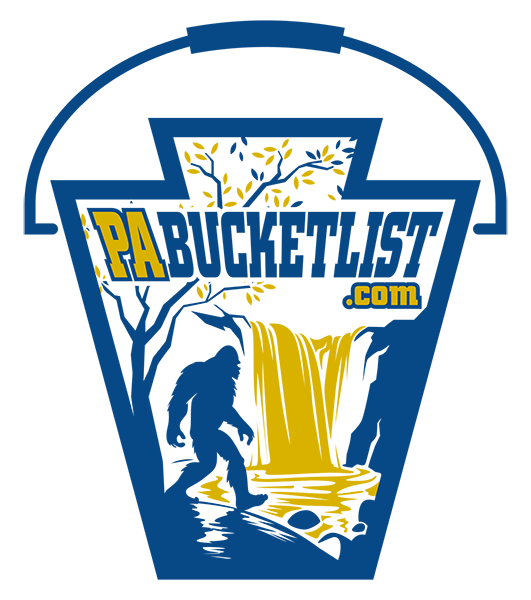 Pennsylvania's Best Travel Blog!