Does the thought of taking an epic cross-state road trip to see the best roadside waterfalls in Pennsylvania intrigue you?
If so, you're in the right place!
What follows is an east-west route I came up with that will take you to some of the most beautiful roadside waterfalls across Pennsylvania, while allowing for ample opportunity to improvise along the way.
While this IS NOT a turn-by-turn guide (that would make for incredibly dry reading), it is a nice framework off of which you can create your own tailor-made road trip.
So follow along as I take you on a 483 mile cross-state road trip to 10 of the best roadside waterfalls in Pennsylvania!
Simply click on the blue text link in each waterfall description to see more detailed maps/directions/GPS coordinates, to aid you in planning your own cross-state road trip.
---
1. Big Run Falls
We'll start off in Sullivan County at Big Run Falls along Sullivan Falls Road, just a few miles from Ricketts Glen State Park.
Big Run Falls is easily viewed from the road, or for the more adventurous you can scramble down to stream level along Big Run.
While you're in the vicinity, you can check out Sullivan Falls as well, although it does require a 100-yard walk from the parking area to an overlook above the falls.
---
2. Mineral Spring Falls
Mineral Spring Falls is next up, just one of the many waterfalls in and around Worlds End State Park.
Mineral Spring Falls is easily viewed from the road, with a smaller waterfall located just a few minutes hike upstream.
---
3. Dry Run Falls
Dry Run Falls is one of the most picturesque waterfalls in the Loyalsock State Forest, and you can literally drive right up to it!
This popular picnic spot along Dry Run Road is also a fantastic spot to catch the fall foliage in the Endless Mountains region.
---
4. Holcomb Falls
Holcomb Falls along Leroy Mountain Road in Bradford County is one of the tallest roadside waterfalls in PA.
Just how close is Holcomb Falls to the road?
This close!
---
5. Miners Run Falls
Miners Run in Lycoming County is one of the prettiest waterfall streams in all of PA.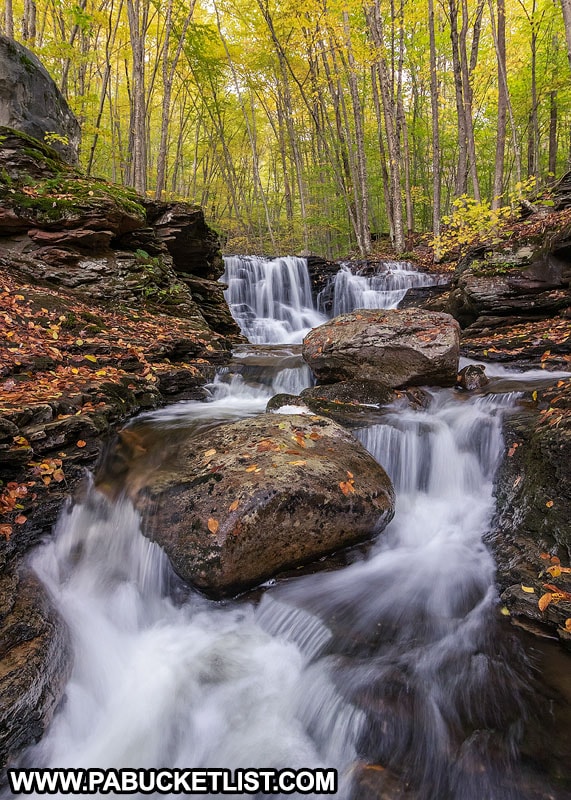 While many of the upstream waterfalls along Miners Run require a challenging off-trail hike, the First Falls on Miners Run are visible from Rock Run Road.
---
6. Wykoff Run Falls
Located in the heart of Pennsylvania Elk Country, Wykoff Run Falls is a charming roadside attraction, as well as a popular fishing hole.
What it lacks in height, Wykoff Run Falls makes up for in scenic surroundings, and you might just come face-to-face with an elk nearby!
---
7. Hinckston Run Falls
Hinckston Run Falls is a man-made waterfall formed by the outflow of the Hinckston Run Reservoir near Johnstown, Pennsylvania.
Fittingly located along Waterfall Drive in Cambria County, Hinckston Run Falls is readily visible from your vehicle.
---
8. Ohiopyle Falls
Sometimes referred to as the "Niagara Falls of Western Pennsylvania", Ohiopyle Falls is located near the center of Ohiopyle State Park in Fayette County.
With parking spots literally right next to several viewing areas, Ohiopyle Falls on the Youghiogheny River may be the largest roadside waterfall in Pennsylvania.
---
9. East Park Falls
East Park Falls is located in the heart of Connellsville in Fayette County.
Readily visible from your vehicle, a short trail leads up the left side of Connell Run should you want to get a closer look at East Park Falls.
---
10. Big Run Falls
We'll end things like we started them – at Big Run Falls!
This Big Run Falls happens to be in Lawrence County, while the Big Run Falls we started at was located a few hundred miles east in Sullivan County.
But just like the Big Run Falls in Sullivan County, the one in Lawrence County is readily visible from the road.
In fact, there is a roadside picnic table with a great view of Big Run Falls in Lawrence County.
---
Final Thoughts
Maybe you aren't as steady on your feet as you used to be, or maybe you just don't like to hike.
Whatever the reason, these 10 roadside waterfalls would make for an epic road trip across the Keystone State!
---
Related Articles
If you want to broaden your search to include even more roadside and almost-roadside waterfalls, then be sure to check out 34 Must-See Roadside Waterfalls in PA.
---
Looking for the tallest waterfalls in Pennsylvania?
Then be sure to check out Road Tripping to the Tallest Waterfalls in PA, with directions to 10 of the tallest waterfalls across Pennsylvania.
---
Looking for what I consider to be the 20 quintessential PA waterfalls?
Then be sure to check out 20 Must-See Pennsylvania Waterfalls!
---
And if you're positively obsessed with waterfalls, you'll find directions to literally hundreds more, broken down by regions of PA, in my Ultimate Pennsylvania Waterfalls Guide!
---
Did you enjoy this article?
If so, be sure to like and follow PA Bucket List on Facebook, Instagram, and/or Pinterest to stay up-to-date on my latest write-ups about the best things to see and do in Pennsylvania.
Click on any of the icons below to get connected to PA Bucket List on social media!
---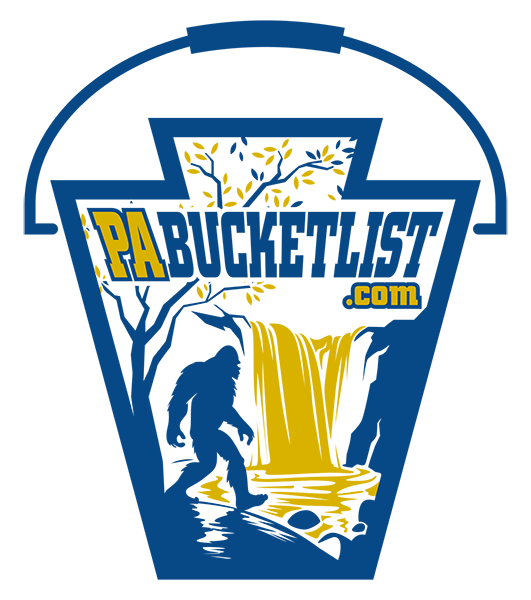 Pennsylvania's Best Travel Blog!