Nay Aug Falls is a rarity in Pennsylvania, in that it is located in and owned by a city.
In this case that city is Scranton, Lackawanna County.
The 6th largest city in Pennsylvania.
Nay Aug was the local Native American term for "noisy brook", and no doubt Roaring Brook (the stream Nay Aug Falls is located on) derived its name from that term as well.
---
How to Find Nay Aug Falls in Scranton
As you can see on the map below, Nay Aug Park and Nay Aug Falls are located on the southeast side of Scranton, right next to Interstate 81.
Navigate to the parking area shown on the Nay Aug Park map below, at GPS coordinates 41.39933, -75.64158.
From the parking area simply follow the Davis Trail for approximately 0.25 miles to the Nay Aug Falls Overlook.
---
Photographing Nay Aug Falls
All of the permissible views of Nay Aug Falls are from above.
So if Nay Aug Falls looks taller that the 15 feet it is commonly listed as, it's because the scale of the Roaring Brook Gorge makes everything feel larger.
When you are standing in front of Nay Aug Falls, it's hard to imagine that traffic on Interstate 81 is less than 150 yards away!
For folks that wonder aloud "why do you always write about these waterfalls in the middle of nowhere", here's a waterfall custom-made for you!
As you backtrack to the parking lot, take a minute and check out the view of the railroad bridge over Roaring Brook and the tunnel opposite the parking lot.
---
Nearby Attractions
Little Shickshinny Falls is located on State Game Lands 260 in neighboring Luzerne County.
---
Salt Springs State Park is located approximately 35 miles north of Nay Aug Falls in Susquehanna County.
Here you'll find 3 outstanding waterfalls in the Fall Brook Natural Area, a 32 acre parcel within Salt Springs State Park.
---
Tobyhanna Falls is located approximately 22 miles south of Scranton, in the Austin T. Blakeslee Natural Area in Monroe County.
Be sure to check out 25 Must-See Waterfalls in the Poconos for an in-depth look at many of eastern Pennsylvania's finest waterfalls.
---
Did you enjoy this article?
If so, be sure to like and follow PA Bucket List on Facebook, Instagram, and/or Pinterest to stay up-to-date on my latest write-ups about the best things to see and do in Pennsylvania!
Click on any of the icons below to get connected to PA Bucket List on social media!
---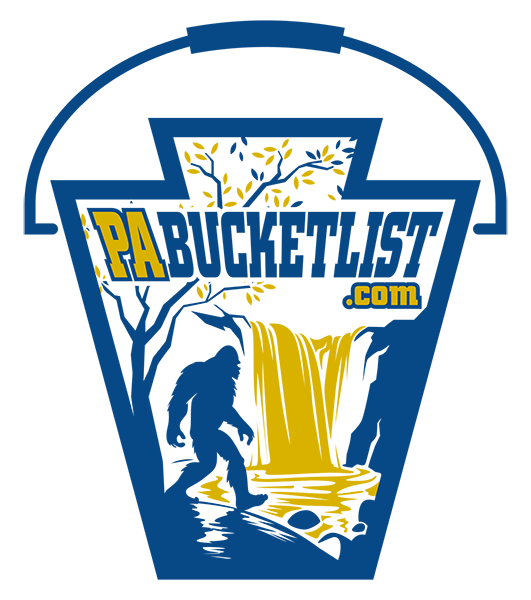 Pennsylvania's Best Travel Blog!