The Poconos region of Northeastern Pennsylvania is home to some of the tallest waterfalls in the Keystone State.
Long known as a honeymoon-haven and summer-home mecca for residents of New York City, Philadelphia, and northern New Jersey, it also offers up an exceptional array of waterfalls for photographers and nature lovers to discover and enjoy.
Here is my hand-picked list of 27 must-see waterfalls in the Poconos, complete with directions to each one.
Simply click on the link / blue text in each waterfall description to see maps, directions, and additional photos of that waterfall.
---
Raymondskill Falls
What better place to start a list of waterfalls in the Poconos than with Raymondskill Falls, the tallest waterfall in Pennsylvania.
Located in Pike County, this three-tiered waterfall is billed by the National Park Service as being 178 feet tall.
The upper and lower tiers of Raymondskill Falls are pictured above, the bottom tier is pictured below.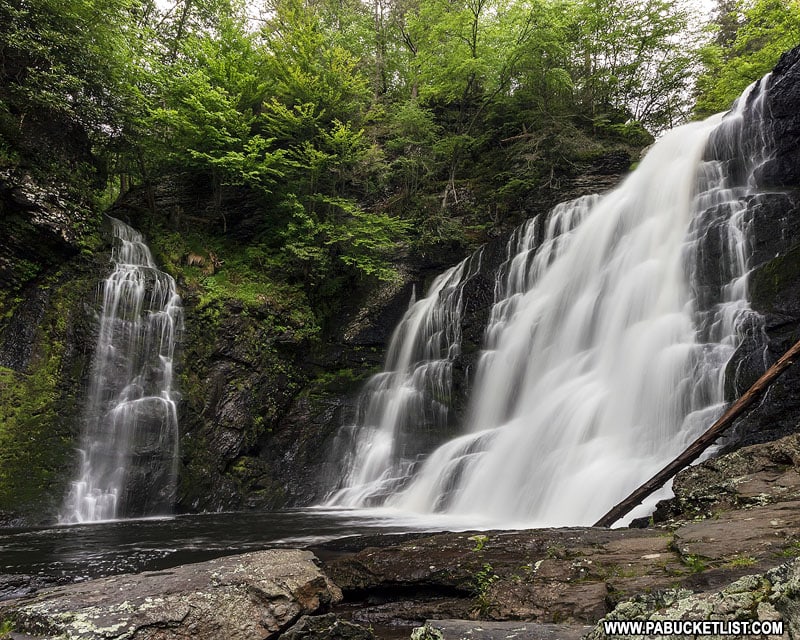 Just upstream from Raymondskill Falls is an unnamed (as far as I can tell) but outstanding waterfall I'll simply refer to here as Raymondskill Creek Falls, located along an obvious but unblazed trail.
---
Dingmans Falls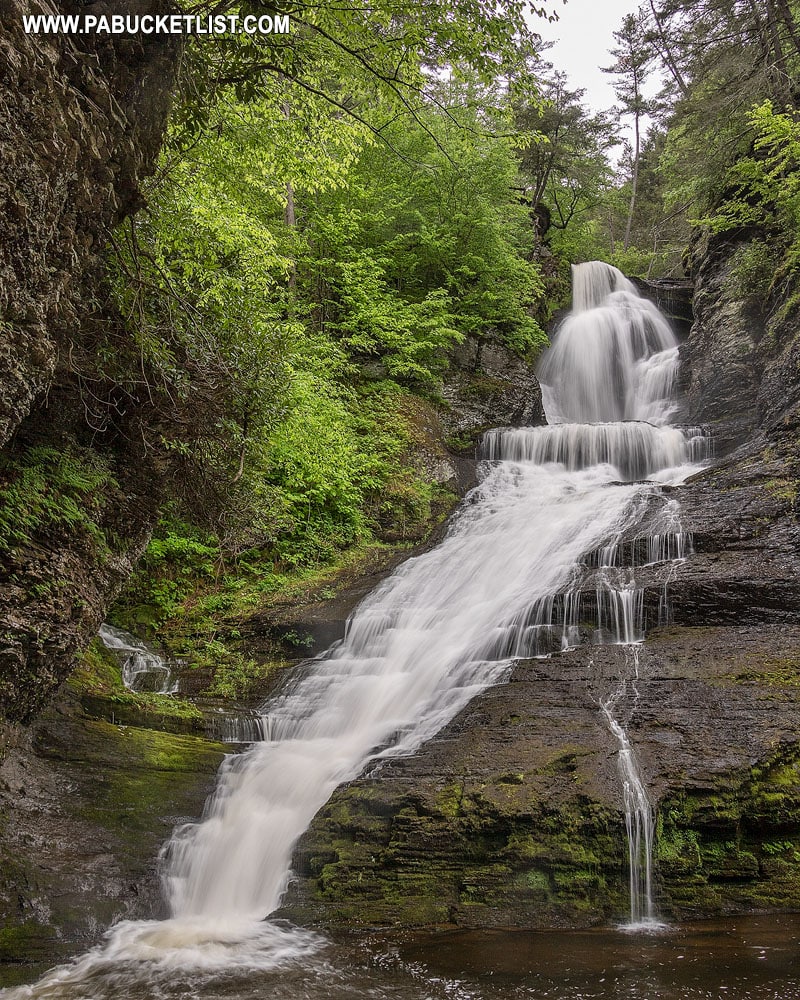 Dingmans Falls in Pike County is billed by the National Park Service as being the second tallest waterfall in Pennsylvania at 130 feet tall.
---
Silverthread Falls
Silverthread Falls is located 0.2 miles from Dingmans Falls in the Delaware Water Gap National Recreation Area and is listed as being 80 feet tall.
---
Shohola Falls
Shohola Falls is located just a short walk from a parking area on State Game Lands 180 in Pike County.
---
Upper Hornbecks Creek Waterfalls
Upper Hornbecks Creek in the Delaware Water Gap National Recreation Area is home to to an array of small, unnamed waterfalls, as well as one 40-footer locally known as Indian Ladder Falls.
The smallest waterfall located near the top of Hornbecks Creek is pictured below.
Another rather unique waterfall follows shortly after when hiking downstream.
Indian Ladder Falls is next, the largest waterfall on Upper Hornbecks Creek.
Downstream from Indian Ladder Falls is this magnificent specimen, nestled between two large rock formations.
And the fifth waterfall you'll encounter when hiking down along Upper Hornbecks Creek is this "sweeping beauty".
---
Nay Aug Falls
Nay Aug Falls is located in a city park in the heart of Scranton, Lackawanna County.
---
Tobyhanna Falls
Tobyhanna Falls is located just off of Interstate 80 in the Austin T. Blakeslee Natural Area in Monroe County.
---
Hawk Falls
Hawk Falls at Hickory Run State Park is a 25-foot tall waterfall located at the end of a short hike from Route 534 in Carbon County.
There are also two man-made waterfalls at Hickory Run State Park worth checking out.
Chapel Falls on Hickory Run is located right along Route 534.
Stametz Dam Falls is a man-made spillway located along the super-popular Shades of Death Trail at Hickory Run State Park.
---
Buttermilk Falls at Lehigh Gorge State Park
Buttermilk Falls at Lehigh Gorge State Park is a cascading waterfall along the Lehigh Gorge Rail Trail, 1/4 mile north of the Rockport Access to the park and rail trail.
---
Luke's Falls at Lehigh Gorge State Park
Luke's Falls at Lehigh Gorge State Park is an easy 1/4 mile hike/bike ride south of the Rockport Access along the Lehigh Gorge Rail Trail.
---
Fall Brook Falls
Fall Brook at Salt Springs State Park is home to three waterfalls in a glacially-carved gorge in Susquehanna County.
The first / lower falls on Fall Brook.
The second / middle falls on Fall Brook.
And the third / upper falls on Fall Brook.
All three falls are nestled away in a fantastic old-growth hemlock forest.
---
Childs Park Falls
Childs Park in the Delaware Water Gap region of Pike County is currently closed for repair due to winter storm damage back in 2018, but is supposed to reopen in 2022.
When it does, there are three outstanding waterfalls to see there.
Factory Falls is a beautiful 18-footer located near the ruins of an old woolen mill.
Fulmer Falls is a 56-footer just below Factory Falls.
Finally, Deer Leap Falls is a narrow 30-foot tall waterfall that seems to slice its way through an enormous rock formation.
---
Glen Onoko Falls
Glen Onoko, located on State Game Lands 141, adjacent to Lehigh Gorge State Park and Jim Thorpe, is currently closed due to safety concerns raised by the Pennsylvania Game Commission and local EMS providers.
If and when those concerns are addressed, there are four amazing waterfalls to be seen along the famous Glen Onoko Falls Trail, where visitors have been coming for nearly 150 years.
Chameleon Falls, checking in at 30 feet tall, is the first major waterfall on Glen Onoko Run when hiking up from the bottom.
Onoko Falls is the second (and tallest at 60 feet) waterfall you'd come to hiking up the Falls Trail.
Terrace Falls is the third set of waterfalls on Glen Onoko Run, no doubt named for the terraced look of the rock formation it flows over.
And finally, Cave Falls is near the top of Glen Onoko Run, and named so because there is a "cave", or depression behind the waterfall that a person can stand in.
---
Nearby Lodging
Looking for a unique place to stay when exploring waterfalls in the Poconos?
Then be sure to check out 10 of the Best Poconos Vacation Rentals!
---
Nearby Attractions
Located just west of the Poconos you'll find the Falls Trail at Ricketts Glen State Park, Pennsylvania's most-famous waterfall hike!
21 named waterfalls along a 4 mile loop hike.
---
And while it's not located along the Falls Trail, Adams Falls is the easiest waterfall to reach at Ricketts Glen State Park.
This 36-foot tall three-tiered beauty is located just off of Route 118 along the Evergreen Trail.
---
Hickory Run State Park is one of the prettiest state parks in the Poconos region.
Featuring more than 40 miles of hiking trails, picturesque waterfalls, unique natural areas, and spectacular scenic overlooks, Hickory Run State Park has a LOT to offer!
---
Did you enjoy this article?
If so, be sure to like and follow PA Bucket List on Facebook, Instagram, and/or Pinterest to learn more about the best things to see and do in Pennsylvania!
Click on any of the icons below to get connected to PA Bucket List on social media!
---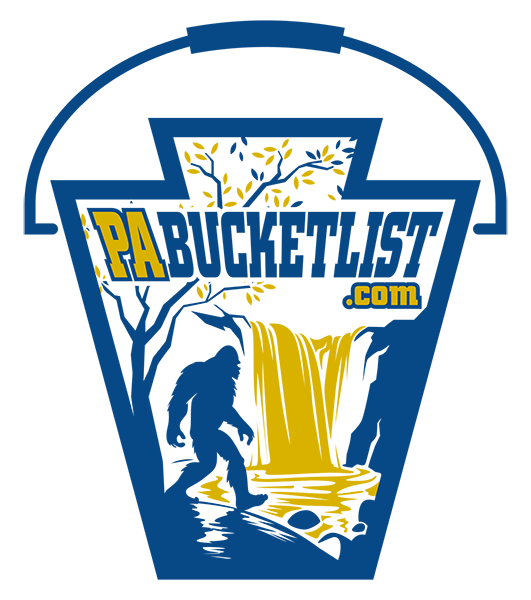 Pennsylvania's Best Travel Blog!