Raymondskill Falls is billed by the National Park Service as the "tallest waterfall in Pennsylvania" at 178 feet tall.
If this were anywhere else in Pennsylvania, the "three tiers" of Raymondskill Falls would most likely be considered 2 and possibly 3 separate waterfalls.
But since "tallest waterfall in Pennsylvania" makes for a great marketing gimmick, let's run with it!
---
Directions to Raymondskill Falls
How to Find Raymondskill Falls in the Delaware Water Gap National Recreation Area
From the town of Milford, head south on Route 209 for 2.8 miles.

Make a right on Raymondskill Road and follow that for 0.4 miles.

Park in Raymondskill Falls lot on the left hand side of the road.

GPS coordinates for parking area: 41.29016, -74.84120

Follow the trail from parking lot downhill 170 yards to the upper observation are at Raymondskill Falls.
---
Exploring Raymondskill Falls
The upper and middle tiers of Raymondskill Falls are quite photogenic, and accessible by a series of steep but well-maintained "official" trails.
The best view of the lower tier is via an obvious but "user-created" trail that splits off from the "official" trail.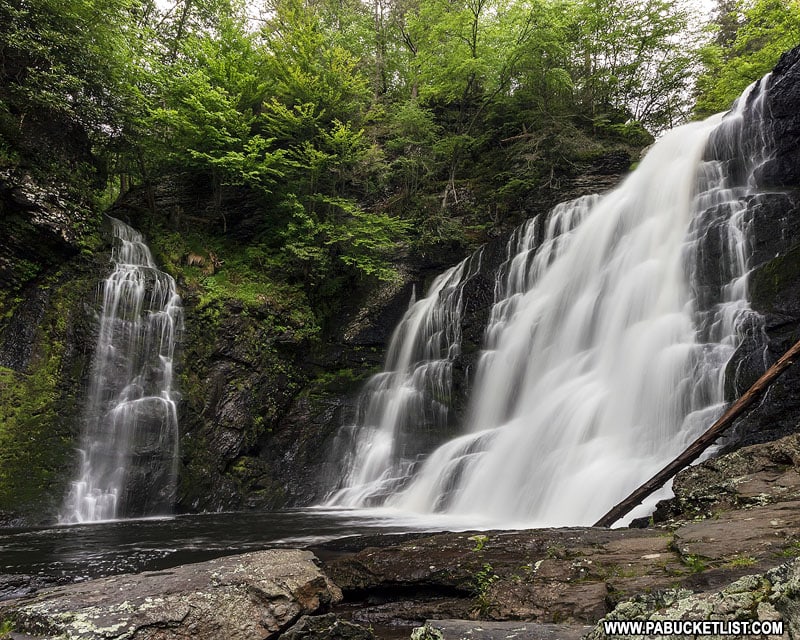 There is also, depending on precipitation levels, an unnamed tributary waterfall flowing into Raymondskill Creek next to the bottom tier of Raymondskill Falls.
If you're lucky and visit during a rainy period, you'll get to see it.
---
Other Waterfalls on Raymondskill Creek
Just above the upper tier observation area, an obvious trail breaks off from the trail to/from parking lot and takes you upstream on Raymondskill Creek (see trail map I shared earlier).
While there are several smaller waterfalls and cascades to be seen along this stretch of Raymondskill Creek, one unnamed waterfall in particular stands out as exceptional.
This 25-footer would normally be a popular destination in its own right.
The fact that it's upstream from "the tallest waterfall in Pennsylvania" seems to have relegated it to obscurity, but trust me – it's worth the short hike to see it.
---
Final Thoughts
Raymondskill Falls is billed as "the tallest waterfall in Pennsylvania" at 178 feet tall.
Whether you consider this one waterfall, or two, or even three, the fact remains that it IS one impressive display of raw power and natural beauty!
---
Nearby Attractions
You've seen the "tallest waterfall in Pennsylvania" – now take a short trip down Route 209 to see the "second tallest waterfall in Pennsylvania"!
Dingmans Falls checks in at 130 feet tall, good enough for the title of #2 tallest waterfall in PA.
Silverthread Falls is a "mere" 80 feet tall, and is located just 0.2 miles from Dingmans Falls, along the same boardwalk trail.
Nearby Shohola Falls, located along Route 6 in Pike County, is what I would call "almost-roadside" – a 5 minute walk from the parking area.
Be sure to check out 25 Must-See Waterfalls in the Poconos for an in-depth look at many of eastern Pennsylvania's finest waterfalls.
---
Still not convinced you need to see Raymondskill Falls?
Then check out this video!
---
Did you enjoy this article?
If so, be sure to like and follow PA Bucket List on Facebook, Instagram, and/or Pinterest to stay up-to-date on my latest write-ups.
Click on any of the icons below to get connected to PA Bucket List on social media!
---
Pennsylvania's Best Travel Blog!