Childs Park in Pike County is home to 3 distinctive waterfalls along Dingmans Creek as it makes its way east to the Delaware River, 3.5 miles downstream.
Located just a mile upstream from Dingmans Falls, Pennsylvania's second-tallest waterfall at 130 feet, the 3 named waterfalls at Childs Park are all located along a 1.2 mile loop hike originally conceived in 1892 by park namesake George Childs.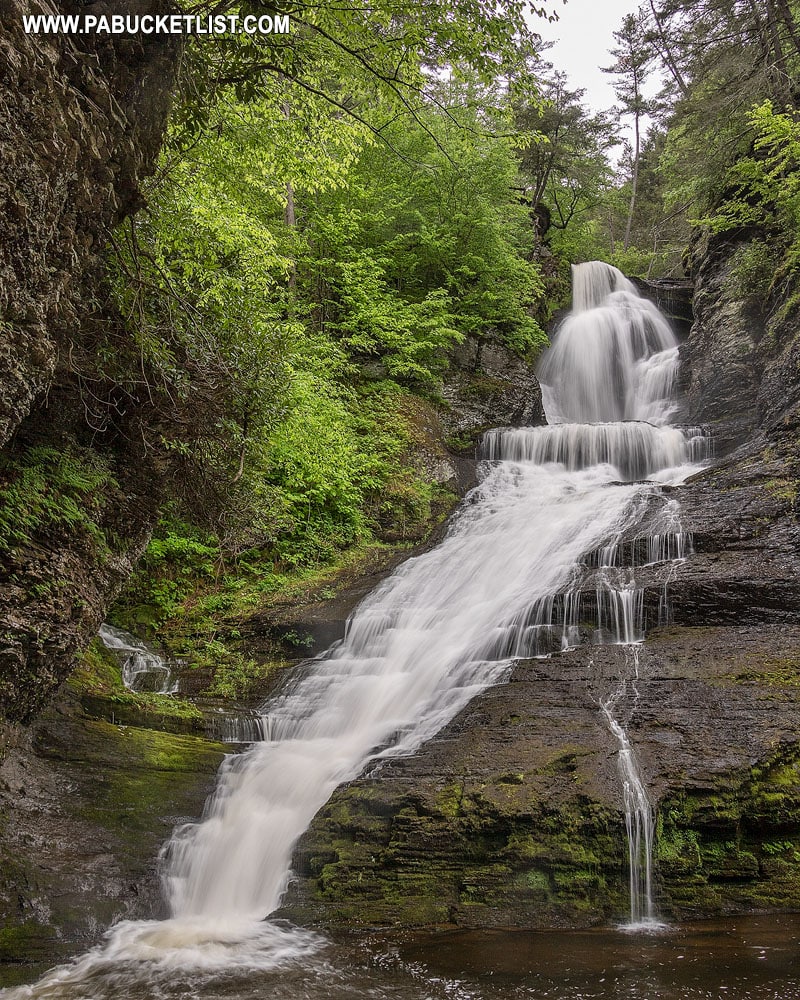 ---
A Brief History of Childs Park
Childs Park was the vision of newspaper publisher George Childs, who in 1892 purchased 53 acres of land along Dingmans Creek from the family of Joseph Brooks.
Brooks had built a 3 1/2 story stone woolen mill on this site near Dingmans Creek in 1826, but it was abandoned just a few years later when he died in 1832.
The ruins of the woolen mill are still visible to this day.
Upon Childs purchase of the land in 1892, he designed and built footpaths and bridges to allow visitors to access the waterfalls on the property, which became a popular tourist destination.
George Childs passed away in 1894, and in 1912 his widow Emma donated the land to the State of Pennsylvania, on the condition that it remain open to the public as a park.
Childs Park remained a Pennsylvania State Park until 1983, when it became part of the Delaware Water Gap National Recreation Area, which it still is today.
---
Winter Storm Damage Closes Childs Park
In March of 2018 the Delaware Water Gap suffered massive damage from 2 powerful winter storms that brought down thousands of trees in the area.
Since the loop trail around Childs Park relied heavily on man-made boardwalks and bridges, much repair work will need to be completed before the park reopens.
Currently (as of April 2020) the park remains closed as repair work continues.
For now we can simply reminisce about what the park used to look like, and wonder what the future holds when it reopens.
---
How to Find Childs Park in Pike County
The entrance to Childs Park is located just off of Silver Lake Road, approximately 1.5 miles west of the Dingmans Falls Visitors Center.
The GPS coordinates for the Childs Park parking lot are 41.23713, -74.91937.
---
Viewing the Waterfalls at Childs Park
If you hike this 1.2 mile loop in a clockwise fashion, the first waterfall you come to is Factory Falls, named so because it is located next to the remains of the Brooks woolen mill I mentioned earlier.
Factory Falls is an 18-foot tall, three-tiered waterfall.
Each of the three tiers checks in at right around 6 feet tall.
Continuing clockwise / downstream on Dingmans Creek, the next waterfall you'll come to is Fulmer Falls.
Fulmer Falls is the tallest waterfall at Childs Park at 56-feet.
This one is (or was) challenging to photograph, as the best views from directly downstream were blocked off to prevent further erosion damage to the area around the base of the falls.
Partial views from platforms on either side of the loop hike near the top of Fulmer Falls were about the best you could legally do – we'll see if that remains the case when the park reopens.
The third waterfall at Childs Park is 30-foot tall Deer Leap Falls.
This narrow waterfall features (or featured) a bridge directly over the top of it.
It will be interesting to see what, if anything, will be different about the bridge and how Deer Leap Falls is accessed when Childs Park reopens.
From Deer Leap Falls the 1.2 mile loop was completed by hiking back upstream, along the trail and stairways, back to the parking area.
How much the trail and scenery around the falls will change is anyone's guess at this point.
No official timeline has been released as to a reopening date.
It seems reasonable to assume 2021 at the earliest, and possibly further out than that.
Fortunately we still have a vast array of waterfalls in the Delaware Water Gap that are still open to enjoy.
---
Nearby Attractions
Aside from previously mentioned Dingmans Falls (and its next-door neighbor, 80-foot tall Silverthread Falls), you're right down the road from what the National Park Service bills as "the tallest waterfall in Pennsylvania".
I'm talking about Raymondskill Falls, a three-tiered waterfall standing 178-feet tall!
---
Also close-by is Shohola Falls, on State Game Lands 180 in Pike County.
Shohola Falls is right off of Route 6 and just a 5 minute walk from a parking area near Shohola Creek.
Be sure to check out 25 Must-See Waterfalls in the Poconos for an in-depth look at many of eastern Pennsylvania's finest waterfalls.
---
And if you're looking for the best waterfalls in all of Pennsylvania, be sure to check out The Ultimate Pennsylvania Waterfalls Guide where I provide detailed directions to HUNDREDS of the finest waterfalls in PA!
---
Did you enjoy this article?
If so, be sure to like and follow PA Bucket List on Facebook, Instagram, and/or Pinterest to stay up-to-date on my latest write-ups.
Click on any of the icons below to get connected to PA Bucket List on social media!
---
Pennsylvania's Best Travel Blog!