Dry Run Falls is one of the most picturesque waterfalls in the Loyalsock State Forest.
And unlike nearby Ketchum Run Falls, which requires a bit of a hike to get to, you can literally drive right up to Dry Run Falls.
Yet despite being a roadside waterfall, some folks have a hard time finding Dry Run Falls.
So that is the purpose of this write-up: to show you exactly how to find this roadside gem, as well as give you an idea of what to expect in the different seasons.
---
Driving Directions
How to Find Dry Run Falls in the Loyalsock State Forest
Turn off of Route 87 onto Dry Run Road.

This intersection is just south of the village of Hillsgrove.

Travel 2 miles east on Dry Run Road.

Dry Run Falls and the parking area will be on your right hand side.

Arrive at Dry Run Falls.

GPS Coordinates: 41.430364, -76.670639
---
Visiting Dry Run Falls in the Winter
Winter waterfalls aren't everyone's cup of tea, but if they're YOUR cup of tea, then Dry Run Falls gives you a lot to look at.
Just keep this in mind: Dry Run Road is a "no winter maintenance" road.
Use caution and common sense if you attempt to drive in to see this in the winter.
Sometimes you'll catch the falls with a little bit of ice.
And other times the falls will be almost entirely encased in ice.
---
Spring and Summer at Dry Run Falls
The emerging foliage and green mosses and ferns around Dry Run Falls give the area around the falls an almost emerald glow.
---
Fall Foliage at Dry Run Falls
One of the most popular times to visit Dry Run Falls is during the "leaf peeping" season, and the Loyalsock State Forest does not disappoint.
The water is usually low enough on Dry Run this time of year to allow you to freely cross back and forth below the falls, taking in the view from different angles.
---
Final Thoughts
Whether this is your final destination, or you're on your way to another nearby waterfall such as Rusty Run Falls or perhaps the waterfalls on Ketchum Run, this is a magnificent pit-stop.
The close proximity to the road makes Dry Run Falls accessible for virtually everyone, and it really is one of the best roadside waterfalls in Pennsylvania.
---
Nearby Attractions
Looking for more great waterfalls nearby?
Then check out 10 Must-See Waterfalls Near Worlds End State Park.
In this guide you'll find maps and detailed directions to 10 great waterfall spots in and around Worlds End State Park and the Loyalsock State Forest.
---
If scenic vistas are your thing, check out High Knob Overlook, one of Sullivan County's best roadside attractions, just minutes from Dry Run Falls.
---
Ticklish Rock is a gravity-defying sandstone pillar on a forested plateau in Sullivan County.
---
Emerald Falls is a picturesque 15 foot-tall waterfall in the Sullivan County portion of the Loyalsock State Forest.
---
Just to the south, in neighboring Lycoming County, you'll find 5 unforgettable waterfall hikes waiting for you as well.
---
Still not convinced you need to see Dry Run Falls?
Then check out this video!
---
Did you enjoy this article?
If so, be sure to like and follow PA Bucket List on Facebook, Instagram, and/or Pinterest to stay up-to-date on my latest write-ups about the best things to see and do in Pennsylvania!
Click on any of the icons below to get connected to PA Bucket List on social media.
---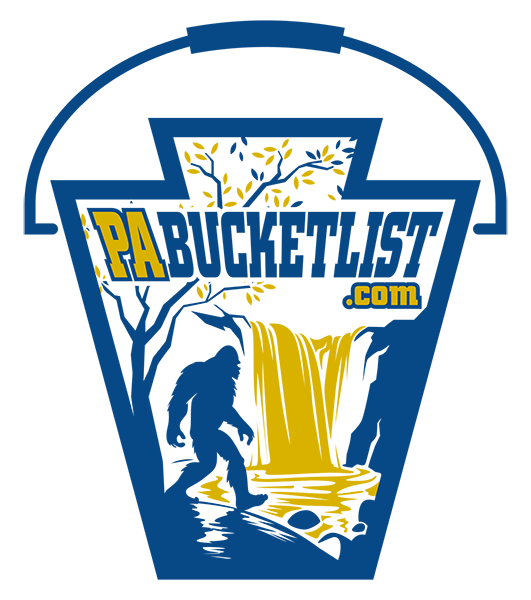 Pennsylvania's Best Travel Blog!