Ticklish Rock is a gravity-defying sandstone pillar on a forested plateau in Sullivan County.
Resembling an upright hammer, this natural anomaly is an example of differential weathering.
Over thousands of years, rain and frost have caused lower layers of the sandstone to breakdown more rapidly than the top layers, leading to the "head" of the hammer being perched on the narrow, twisted "handle".
The name "Ticklish Rock" is a reference to the rumor that the rock will wiggle if you push on the pedestal – I have not tried that and DO NOT encourage you to do so either!
At some point in the future, the "handle" will weather away on its own, and Ticklish Rock will be no more.
For well over a hundred years, Ticklish Rock has been a tourist attraction in Sullivan County, written about in newspaper accounts and magazine articles locally and nationally.
So if you'd like to see this fabulous natural attraction for yourself, while you still can, here's all the information you need to find and enjoy Ticklish Rock.
---
Directions to Ticklish Rock
Ticklish Rock is located on property owned by the Ticklish Rock Hunting Club, open to visitors but with certain restrictions during hunting season (more on that below).
Parking for the short hike to Ticklish Rock can be found along Ticklish Run Road at GPS coordinates 41.35339, -76.64832.
The trailhead is located on the south side of the road, opposite the parking area and to the immediate right of a gated road (note: the gated road is NOT the trail!).
As you can see from the trailhead signage above, during the archery/rifle/muzzleloader seasons you are asked to not hike to the rock formation, except on Sundays.
The hike itself is short (330 yards), and after a relatively steep initial portion, levels off at the plateau up top, where you'll be treated to some fantastic panoramic views.
Ticklish Rock itself sits just below the ledge, and obvious trails on both the left and right lead down below to the base of the rock formation.
---
The Allure of Ticklish Rock
As mentioned previously, this sandstone rock formation has garnered public attention for well over a hundred years.
Something so solid and yet so precariously balanced seems to have mass appeal that transcends time!
The entire ledge is a fantastically-weathered wonder to explore
And the views from above Ticklish Rock are as expansive as any you'll find in Sullivan County.
Keep in mind you are a guest on this private property – please treat the land and the rock formation with care and respect, so that others may do the same for years to come.
---
Nearby Attractions
Angel Falls is one of the tallest waterfalls in the Loyalsock State Forest, located 3 miles northwest of Ticklish Rock.
---
Dry Run Falls is a fantastic roadside waterfall 5 miles north of Ticklish Rock.
---
High Knob Overlook is one of the most spectacular roadside scenic vistas in all of Pennsylvania.
---
Worlds End State Park is one of my favorite state parks in all of Pennsylvania, 8 miles northeast of Ticklish Rock.
---
East Branch Falls is a wonderful 25-foot tall waterfall on the East Branch of Mill Creek in the Loyalsock State Forest.
---
Did you enjoy this article?
If so, be sure to like and follow PA Bucket List on Facebook, Instagram, and/or Pinterest to learn more about the best things to see and do in Pennsylvania!
Click on any of the icons below to get connected to PA Bucket List on social media.
---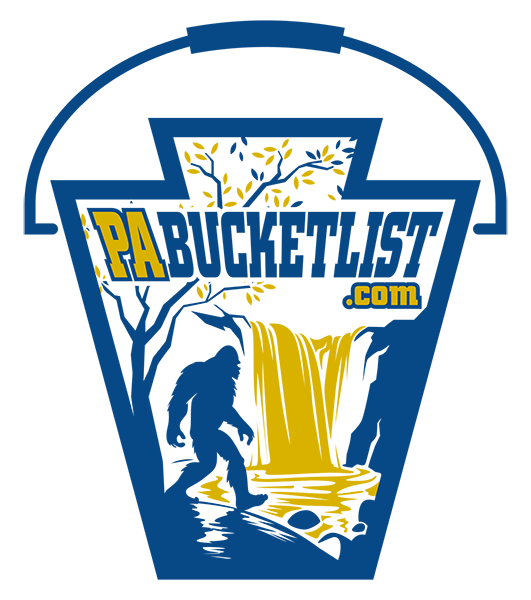 Pennsylvania's Best Travel Blog!