Cucumber Falls at Ohiopyle State Park is the most photogenic, and probably the most photographed, waterfall in western Pennsylvania.
Along with nearby Fallingwater and the Jonathan Run Trail (western PA's best waterfall hike), Cucumber Falls is every nature photographer and waterfall lover's dream.
A graceful 30 foot drop that looks simply magnificent in all seasons and at all water levels.
So where exactly is Cucumber Falls and what do you need to know before you visit?
---
Getting There
How to Find Cucumber Falls at Ohiopyle State Park
From the town of Ohiopyle proceed south on Route 381 and make a right turn on Kentuck Road.

Note: Kentuck Road is erroneously shown as Ohiopyle Road on Google Maps, and possibly on your navigation as well.

Travel 1/3 of a mile on Kentuck Road and look for Cucumber Falls parking area on the right.

Navigate to GPS Coordinates 39.862901, -79.502533 to find the lot.

Park in the large gravel lot.

Walk to the top of Cucumber Falls is just a few dozen yards from the back corner of the parking area.
Although it looks empty here, the lot fills up FAST on the weekends.

---
Exploring the Falls
A staircase leading to an upper observation area, and then on down to the base of the falls, is located just a few steps from the the gravel parking lot.
On the back of the large Cucumber Falls sign is a smaller sign indicating that Cucumber Falls was once part of Keister Park, a privately owned parcel of land.
History of Keister Park and Ohiopyle State Park
In 1961 Mrs. Albert S.F. Keister gifted Cucumber Falls and 589 acres of surrounding land to the Western Pennsylvania Conservancy.
In addition, Pittsburgh businessman and department store mogul Edgar Kauffman donated the 100 acre Ferncliff Peninsula to the Western Pennsylvania Conservancy in 1962.
These two parcels were the beginnings of Ohiopyle State Park in 1965.
---
Viewing Cucumber Falls From Above
Despite being referred to as a "roadside waterfalls" in many publications, it should be noted that Cucumber Falls is not wheelchair accessible. A handful of stair steps separates the parking lot from the upper observation area.
From this upper observation are you catch your first glimpse of the falls.
In the winter, when the falls sometimes freeze solid, you can be sure that the remaining steps down to the falls are equally icy.
So either come prepared with microspike on your boots, or don't go beyond this point! Doing so puts you at risk of serious injury.
Leading from the upper observation area down to Cucumber Run is a second set of stairs.
And if you are physically able, this is really the spot you want to view Cucumber Falls from.
---
Viewing Cucumber Falls From Below
Cucumber Falls looks magnificent in any season at any level of water flow.
After a drenching rain the falls can cover nearly the entire amphitheatre of rock as the water plunges 30 feet to the pool below.
In late summer / early fall when the area is usually at its driest, Cucumber Falls more closely resembles a silver needle piercing the air.
Not every autumn is dry in the Laurel Highlands – sometimes you get lucky and the water levels are high when the foliage is changing.
When conditions are perfect in the winter, a thin layer of hoar frost turns Cucumber Falls into something out of a "Frozen" fairytale.
Standing behind the falls gives you another visual and auditory perspective.
The runoff after a heavy rain turns Cucumber Run into something resembling the river in Willy Wonka's Chocolate Factory.
And the roar from behind the falls can be deafening!
Winter is, by far, my favorite season to visit Cucumber Falls.
Seeing the waterfalls grind to a frozen halt is a sight you won't soon forget!
---
Final Thoughts
If you could visit only one waterfall in western Pennsylvania, THIS is the one I would recommend!
Thousands upon thousands of people do just that, all year, every year.
Make THIS the year you do as well!
---
Want to make your trip to Ohiopyle State Park even MORE epic?
Rent a one-of-a-kind-Ohiopyle vacation home through Vrbo!
Browse HUNDREDS of awesome cabins, lodges, and chalets near Ohiopyle State Park at the Vrbo link below.
---
Nearby Attractions
Looking for even MORE waterfall action at Ohiopyle State Park?
Then be sure to check out 10 Must-See Waterfalls at Ohiopyle State Park, where you'll find maps and detailed directions to the 10 best waterfall spots at Ohiopyle State Park!
---
And don't forget – you're just minutes away from the world-famous Fallingwater, located just up the road along Route 381.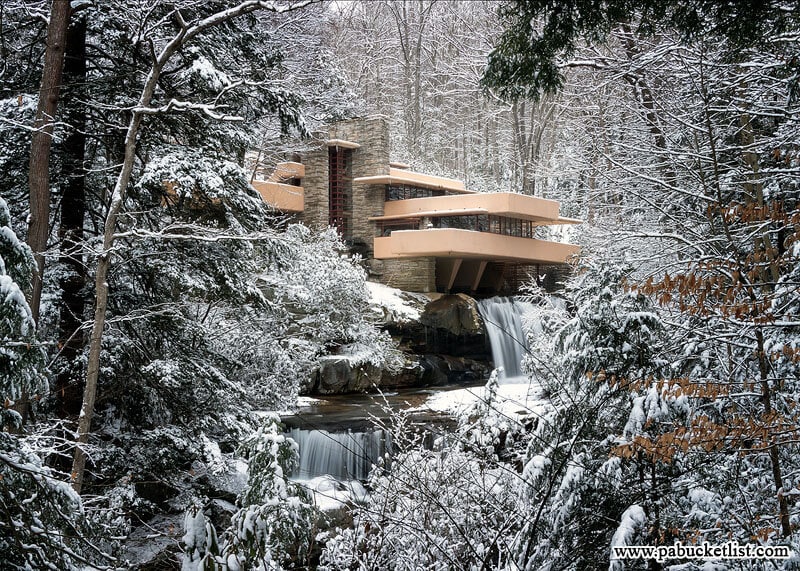 ---
If you enjoy a great vista, be sure to check out The 10 Best Scenic Overlooks in the Laurel Highlands.
---
And if you're looking to get some hiking in while visiting Cucumber Falls, be sure to check out 10 of the Best Hiking Trails at Ohiopyle State Park.
---
Still not convinced you need to explore Cucumber Falls?
Then check out this video!
---
Did you enjoy this article?
If so, be sure to like and follow PA Bucket List on Facebook, Instagram, and/or Pinterest to stay up-to-date on my latest write-ups.
Click on any of the icons below to get connected to PA Bucket List on social media!
Pennsylvania's Best Travel Blog!