Ohiopyle State Park in Fayette County is THE BEST water-themed state park in western Pennsylvania.
Whether it's waterfalls, natural waterslides, or whitewater rafting – Ohiopyle has it covered.
And while I've published many individual write-ups about the various waterfalls at Ohiopyle State Park over the years, I've never put together one comprehensive list.
Until now.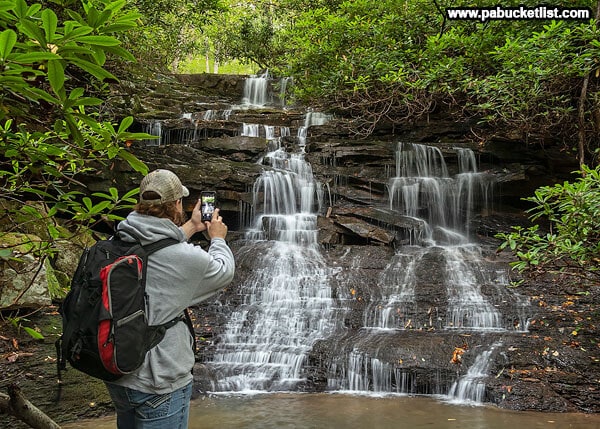 What you'll find here is my hand-picked selection of the 10 must-see waterfall spots at Ohiopyle State Park, as well as links to detailed maps and directions to each one.
---
Ohiopyle Falls
Whether you're snapping photos or casting a line, Ohiopyle Falls is the namesake of the park for a reason.
This massive, river-wide waterfall, sometimes referred to as the "Niagara Falls of Western PA", creates a thunderous roar as it plunges over a 20 foot drop on the Youghiogheny River.
Ohiopyle Falls is also a fantastic spot to take in the sunrise as it peaks over the mountains to the east.
You can read all about Ohiopyle Falls and view my maps/directions to it HERE.
---
Cucumber Falls
For my money Cucumber Falls is THE MOST beautiful waterfall in western Pennsylvania.
Whether you're there for the fall foliage or the winter snow, Cucumber Falls is about as graceful and photogenic as a waterfall can get.
You can find my detailed write-up (including map/directions) about Cucumber Falls HERE.
---
Jonathan Run Falls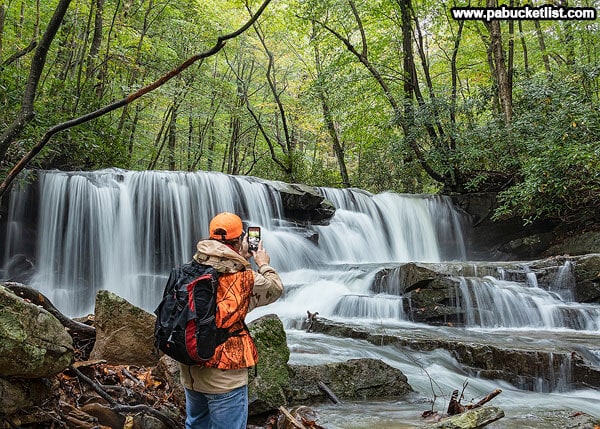 The Jonathan Run Trail is one of the most popular waterfall hikes at Ohiopyle State Park.
The reason being there are 2 magnificent waterfalls and a slew of smaller cascades along this trail that parallels Jonathan Run for nearly 2 miles.
Upper Jonathan Run Falls
Upper Jonathan Run Falls is an intricate series of starkly juxtaposed rocks which makes for a truly unique waterfall.
The ice formations at Upper Jonathan Run Falls are also outstanding.
Lower Jonathan Run Falls
Lower Jonathan Run Falls is one of the more challenging waterfalls to get to in the park, owing to the lack of an "official" trail down to it.
I created one of my favorite waterfall images ever at this very waterfall, thanks to some extraordinary filtered sunlight.
You can read all about Upper and Lower Jonathan Run Falls in my detailed write-up HERE.
---
Fechter Run Falls
Fechter Run Falls lies on a tributary of Jonathan Run, thus I always visit this one if I'm already hiking the Jonathan Run Trail.
As it lies on a smallish stream, Fechter Run Falls isn't always a gusher, but when it is, it's spectacular.
You can read more details about how to find Fecter Run Falls in my write-up HERE.
---
Sugar Run Falls
Sugar Run Falls is located just off the Great Allegheny Passage, not far from Jonathan Run.
So as with Fechter Run Falls, if I'm already hiking the Jonathan Run Trail, I make sure to stop at Sugar Run Falls as well.
It's also worth noting that there is a smaller waterfall on Sugar Run (I call it Lower Sugar Run Falls) located just BELOW the Great Allegheny Passage on Sugar Run.
In the image below, you can see the bridge on the Great Allegheny Passage immediately above Lower Sugar Run Falls.
You can read all about Sugar Run Falls in my write-up HERE.
---
Bruner Run Falls
Bruner Run Falls are located just off the Great Allegheny Passage, north of Sugar Run Falls.
There are several small waterfalls and cascades along Bruner Run.
And as Bruner Road runs parallel to and just above the stream, the easiest way by far to see these falls is to simply drive along the road and park at the obvious pull-offs next to them.
In the busy summer months however, Bruner Road is closed to all but shuttle buses used to transport boaters to/from the Youghiogheny River.
The best course of action at that time of year is to simply hike/bike out the Great Allegheny Passage from Ohiopyle itself.
---
The Cascades on Meadow Run
Meadow Run is one of the largest tributaries of the Youghiogheny River as it passes through Ohiopyle State Park.
It is also home to a set of water features collectively known as the Cascades on Meadow Run.
The Upper Cascades on Meadow Run
The Upper Cascades are jagged and wild, reminiscent of streams of the western United States.
When heavy rain or snow melt has Meadow Run charged up, there is NO photographing the Upper Cascades from below, unless you are far downstream.
Lower Cascades on Meadow Run
The Lower Cascades remind me of a shorter version of Ohiopyle Falls, spanning the entire stream but not quite as thunderous.
You can check out my detailed write-up on how to find the Cascades on Meadow Run HERE.
---
Natural Waterslides on Meadow Run
The Natural Water Slides on Meadow Run are a roadside attraction on the southern edge of the town of Ohiopyle, just across the street from the Laurel Highlands Visitors Center and Ohiopyle Falls.
Look for this sign and large parking lot right along Route 381.
A staircase takes you from the parking lot down to stream level.
There are several levels to the Natural Water Slides.
The upper levels seem most popular with the folks actually "sliding" this stretch of Meadow Run in the summer.
Whereas the lower level is my personal favorite to photograph.
Even on a winter day the Natural Water Slides are inviting, if not for a dip then at least a few photos.
---
Final Thoughts
So there you have it – my top 10 must-see waterfall spots at Ohiopyle State Park!
If you've been to all 10 – congratulations!
If you haven't – you've got some exceptional hikes ahead of you!
Either way, I hope you found this Ohiopyle State Park Waterfall Guide both informative and enjoyable to look at.
Feel free to bookmark it in your browser and refer back to it as a resource for future visits to Ohiopyle.
---
Nearby Attractions
I'd certainly be remiss if I didn't point out that Pennsylvania's most famous private residence, Fallingwater, is just a few minutes away along Route 381.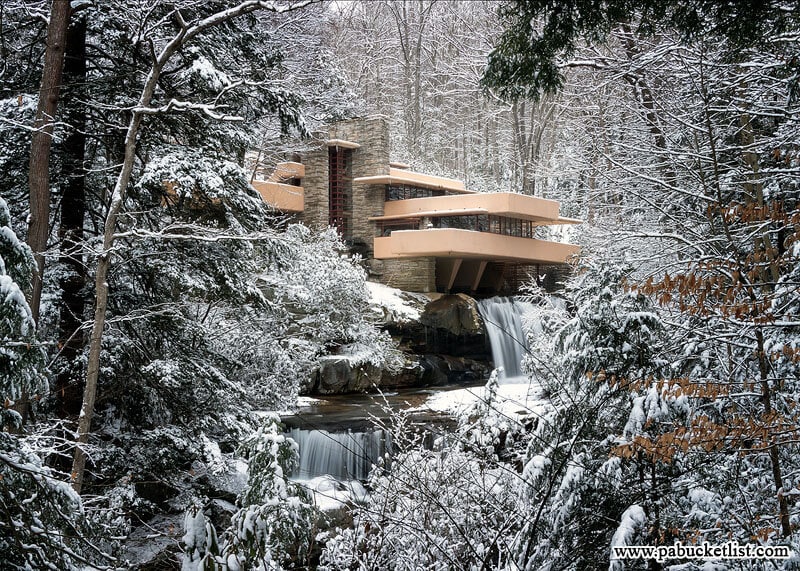 ---
Baughman Rock Overlook, one of the truly majestic mountain vistas in the Laurel Highlands, is just minutes away along Sugarloaf Road.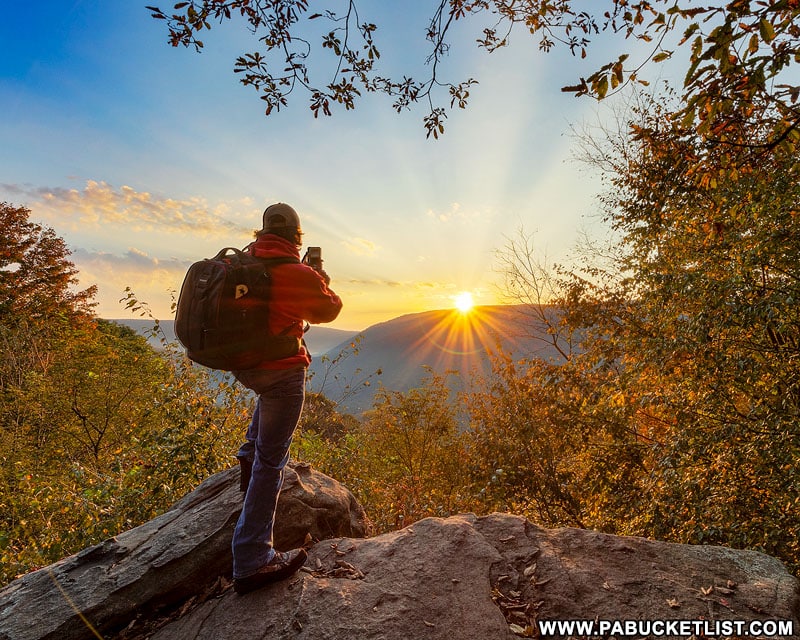 ---
Robinson Falls in nearby Connellsville is rumored to have been a campsite of George Washington during the French and Indian War.
---
East Park Falls, also located in Connellsville, is a beautiful two-tiered waterfall in a town park setting.
---
Nearby Laurel Caverns is billed as "Pennsylvania's Largest Cave", and is a great way to spend an hour or two BENEATH Fayette County!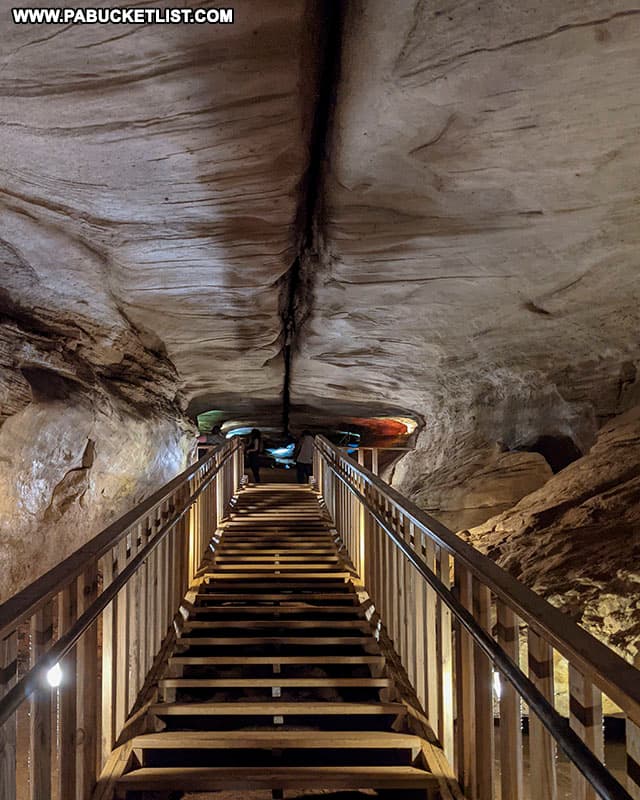 ---
The Forbes State Forest encompasses more than 50,000 acres in western PA, including waterfalls, scenic vistas, and the highest point in Pennsylvania!
---
The Best Waterfalls Near Pittsburgh Road Trip is an epic 358 mile round-trip adventure of a lifetime!
---
Exploring the Haunted Quaker Church in Fayette County will take you to a rural hilltop church west of Ohiopyle where history and urban legend combine for one incredible supernatural tale!
---
Looking for a place to call home during your stay in Ohiopyle?
Discover Ohiopyle offers an array of rustic cottages and cabins, luxurious honeymoon spots and retreats, hotels, campgrounds, and even more unique options, like tree houses!
If you're looking for an Ohiopyle lodging experience like no other, look no further than Discover Ohiopyle.
---
Did you enjoy this article?
If so, be sure to like and follow PA Bucket List on Facebook, Instagram, and/or Pinterest to learn more about the best things to see and do in Pennsylvania!
Click on any of the icons below to get connected to PA Bucket List on social media.
---
Pennsylvania's Best Travel Blog!