If you're looking for the best things to see and do at Ohiopyle State Park, you're in the right place!
I've visited Ohiopyle State Park more than any other state park in PA over the past five decades, so I feel fully qualified to share with you some of my favorite things to see and do there, based upon personal experience.
If you love rugged natural beauty and exhilarating outdoor adventure, here are 20 of the best things to see and do at Ohiopyle State Park.
Simply click on the blue text links, where applicable, to view more in-depth articles I've written about each destination.
---
1. Visit Ohiopyle Falls
Ohiopyle Falls, sometimes referred to as the "Niagara Falls of Western Pennsylvania", lies at the very heart of Ohiopyle State Park.
With a drop of 20 feet and a width spanning the entire Youghiogheny River, Ohiopyle Falls is one of the most visited and most photographed tourist attractions in the Laurel Highlands.
So certainly it stands to reason that visiting Ohiopyle Falls starts off this list of the 20 best things to see and do at Ohiopyle State Park.
---
2. Watch the Sunrise at Baughman Rock Overlook
Baughman Rock Overlook is one of the most spectacular mountain vistas in the Laurel Highlands, and is perfectly positions to catch a gorgeous sunrise over Ohiopyle State Park.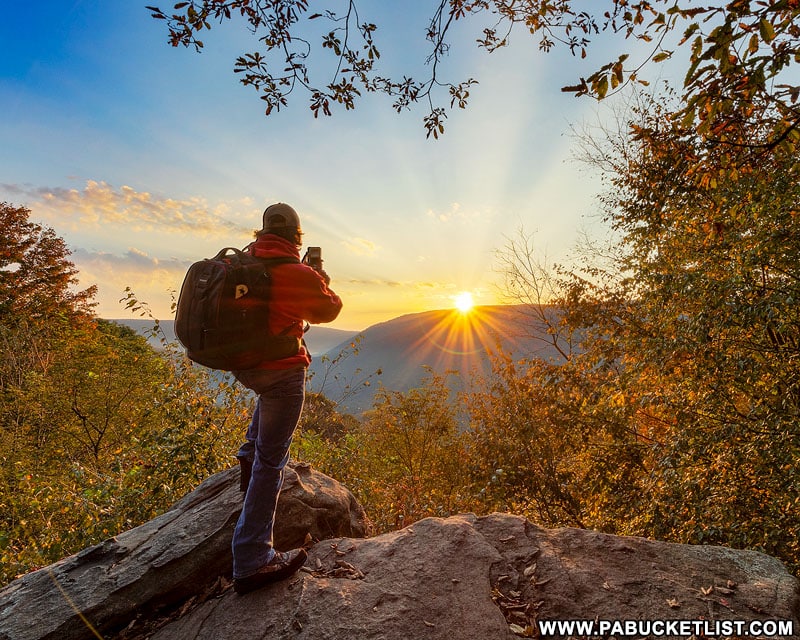 Baughman Rock Overlook offers tremendous bang for your buck – miles of views just a few yards from a roadside parking area.
Those factors make watching the sunrise at Baughman Rock Overlook an easy recommendation for one of the best things to do at Ohiopyle State Park.
---
3. Visit the Visitors Center
The Visitor Center at Ohiopyle State Park is perched on the banks of the Youghiogheny River, right next to Ohiopyle Falls.
Aside from being a great place to pick up trail maps and souvenirs, the Visitor Center is home to two floors of exhibits detailing the history of the park.
So be sure to put a trip to the Visitor Center on your list of things to do at Ohiopyle State Park.
---
4. Whitewater Boating at Ohiopyle State Park
People come from around the world to experience whitewater boating at Ohiopyle State Park.
The Youghiogheny River has sections of exciting whitewater boating for all experience levels.
And there are several outfitter services in the town of Ohiopyle that will provide both the gear and guides to help, even you if you're a total beginner.
---
5. Hike the Jonathan Run Trail
The Jonathan Run Trail is, for my money, the best waterfall hike in western PA!
Featuring 4 exceptional waterfalls and numerous smaller water features, this 4 mile hike is a beautiful workout any time of year.
If I could pick only one hike to go on my list of the best things to do at Ohiopyle State Park, the Jonathan Run Trail would be that hike!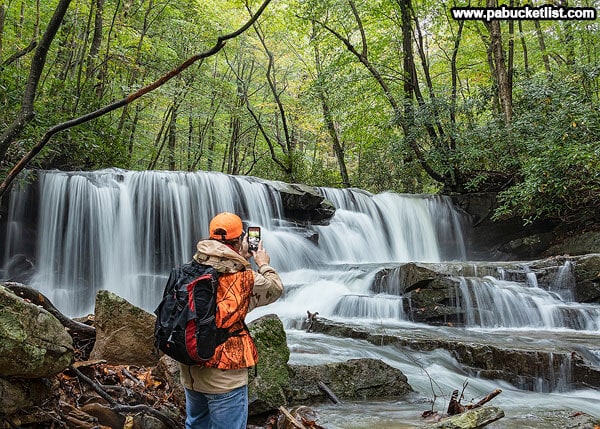 ---
6. Visit Cucumber Falls
Cucumber Falls at Ohiopyle State Park is arguably the most photogenic and most photographed waterfall in western Pennsylvania!
This graceful 30 foot-tall waterfall looks magnificent in all seasons.
And what's extra-special about this almost-roadside attraction is that you can stand BEHIND it, for a very unique experience!
If I could visit only one waterfall at Ohiopyle State Park, Cucumber Falls would be the one!
---
7. Picnic at Tharp Knob
Tharp Knob at Ohiopyle State Park is a spacious picnic area with a nearby scenic overlook that gives you an outstanding view of the town of Ohiopyle.
From Tharp Knob you have a clear view of the Youghiogheny River, and can occasionally see a train passing through town as well.
---
8. Surf the Natural Waterslides
The Natural Waterslides at Ohiopyle State Park give you a chance to careen down Meadow Run through chutes of sandstone carved out over the millennia.
Keep in mind there are no lifeguards on duty and this is strictly a DO THIS AT YOUR OWN RISK ACTIVITY!
Even if you aren't that adventurous, the Natural Waterslides are a beautiful 4-season attraction, located right along the main street through Ohiopyle.
---
9. Hike the Meadow Run Trail
The Meadow Run Trail at Ohiopyle State Park is a 1.85 mile loop hike featuring waterfalls, enormous rock formations, fossils, and all-around gorgeous Laurel Highlands scenery.
The Upper and Lower Cascades are two of the more unique waterfalls you'll find along the Meadow Run Trail, and are great hiking destinations in all seasons.
---
10. Hunt for Wildflowers
Ohiopyle State Park is a bonanza for wildflower lovers, from early spring through the fall.
Whether it's along a trail or near a waterfall, you'll find a amazing array of colorful blooms at Ohiopyle State Park.
---
11. Hike the Laurel Highlands Hiking Trail
The Laurel Highlands Hiking Trail is a 70 mile-long trail that stretches along the Laurel Ridge from Ohiopyle to Johnstown, and 6.3 miles of the trail passes through Ohiopyle State Park, passing the famous Youghiogheny River Overlook in the process.
---
12. Walk Across the Ohiopyle High Bridge
The Ohiopyle High Bridge towers 115 feet above the Youghiogheny River at Ohiopyle State Park.
Completed in 1912, the Ohiopyle High Bridge stretches 663 feet across the river valley below.
Originally built to carry freight trains, the Ohiopyle High Bridge offers up some of the finest river views along the Great Allegheny Passage, the rail trail which now crosses over it.
---
13. Hike the Ferncliff Trail
The Ferncliff Trail takes you on a 1.8 mile loop hike around the perimeter of the Ferncliff Peninsula, an ecological wonder and a Registered Natural Landmark.
From the Ferncliff Trail, you'll have many exceptional views of the Youghiogheny River as it flows along the banks of the peninsula for virtually the entire hike.
This is a great hike for the entire family, with very little elevation change and a well-worn trail to follow.
---
14. Get a History Lesson
Did you know George Washington (yes THAT George Washington) once tried to navigate the Youghiogheny River at present-day Ohiopyle State Park standing upright on a wooden raft?!
Or that the Ferncliff Peninsula Natural Area was once home to a resort hotel, a carousel, and a bowling alley?
There are TONS of informative historical displays around the park – take the time to check them out!
---
15. Hike the Mitchell Trail
The Mitchell Trail is one of the lesser-known trails at Ohiopyle State Park, and that's a shame because it's quite beautiful!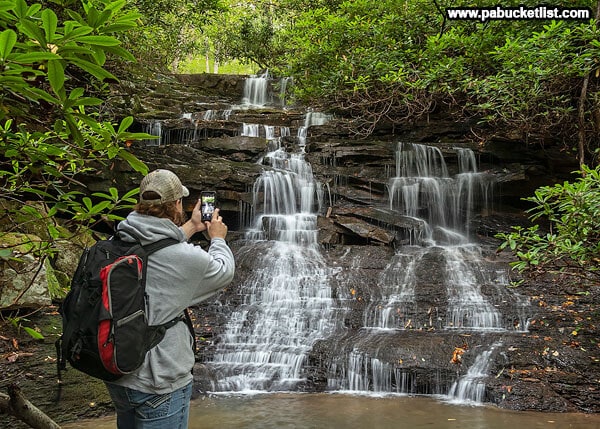 Connecting the Great Allegheny Passage to the Old Mitchell Place, the Mitchell Trail does involve some elevation change, but the scenery more than makes up for the extra effort.
---
16. Come for the Fall Foliage Views
The fall foliage at Ohiopyle State Park is famously beautiful!
So famous in fact the USA Today ranked this region the #3 place in the entire United States to view fall foliage.
My article The 12 Best Places to View Fall Foliage at Ohiopyle State Park goes into great detail about when and where to view this gorgeous display of natural beauty.
---
17. Stay for the Skiing
Cross-country skiing is a popular pastime at Ohiopyle State Park in the winter months, with the Great Allegheny Passage lending itself well to this use.
And when the skiing tires you out, there's plenty of winter sightseeing at Ohiopyle State Park to keep anyone busy for a few days!
---
18. Attend Winterfest at Ohiopyle State Park
Speaking of winter, Winterfest at Ohiopyle State Park is an annual celebration of winter sports, held near the beginning of February each year.
The Sugarloaf Sled Riding Hill is a particularly popular spot during Winterfest.
If you've only ever visited Ohiopyle during the summer months, I'm here to tell you Winterfest is absolutely a great time for the whole family and not to be missed!
---
19. Visit Downtown Ohiopyle
Ohiopyle is one of the more charming, friendly little "tourist" towns in western PA.
Whether you're looking for a cup of coffee, a delicious meal, or that all important t-shirt to prove you've been here, the restaurants and shops of Ohiopyle are ready for you!
You'll also find numerous boat/bike rentals options and guides/outfitter services in Ohiopyle as well, catering to all your adventuring needs.
---
20. Visit the Famous Neighbors
Did you know that two of the most famous residences in Pennsylvania are located just a few miles from Ohiopyle State Park?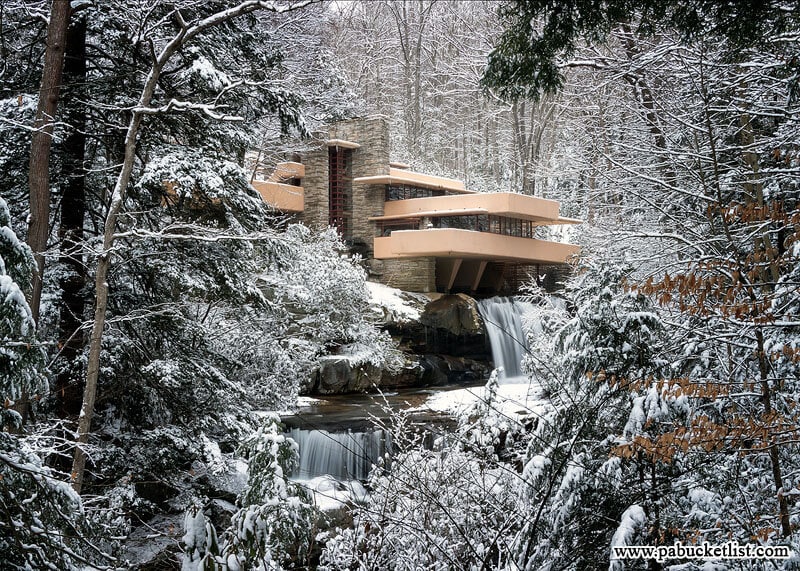 Fallingwater is located just a few miles north of Ohiopyle, along Route 381.
Kentuck Knob in Fayette County is yet another nearby Frank Lloyd Wright-designed home, located just a few minutes west of Ohiopyle State Park.
Both homes offer tours, and visiting them will really help you understand why Frank Lloyd Wright was considered such a visionary architect.
---
So there you have it – 20 of the best things to see and do at Ohiopyle State Park!
No matter the season, it's always a GREAT time to visit Ohiopyle State Park in Fayette County!
---
Related Articles
10 of the Best Hiking Trails at Ohiopyle State Park is an in-depth guide to the 80 miles of "official" hiking trails at the park.
---
10 Must-See Waterfalls at Ohiopyle State Park is an in-depth guide to the best waterfalls at the park.
---
7 Man-Made Wonders of the PA Laurel Highlands is your guide to the most iconic man-made structures in the region.
---
Laurel Caverns in Fayette County is billed as "Pennsylvania's Largest Cave", and is a great way to spend an hour or two BENEATH the Laurel Highlands!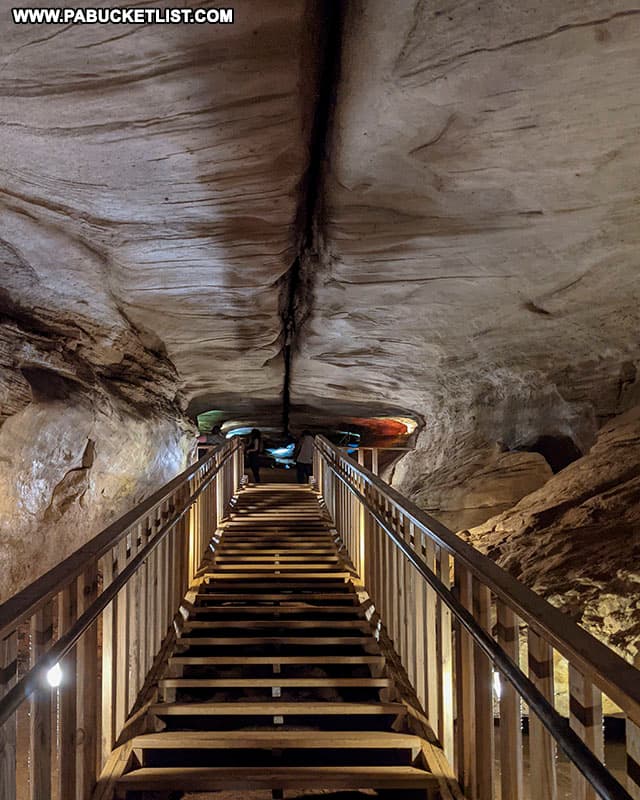 ---
16 Must-See Attractions in Fayette County is your guide to even more great things to see and do close to Ohiopyle State Park.
---
Did you enjoy this article?
If so, be sure to like and follow PA Bucket List on Facebook, Instagram, and/or Pinterest to learn more about the best things to see and do in Pennsylvania!
Click on any of the icons below to get connected to PA Bucket List on social media.
---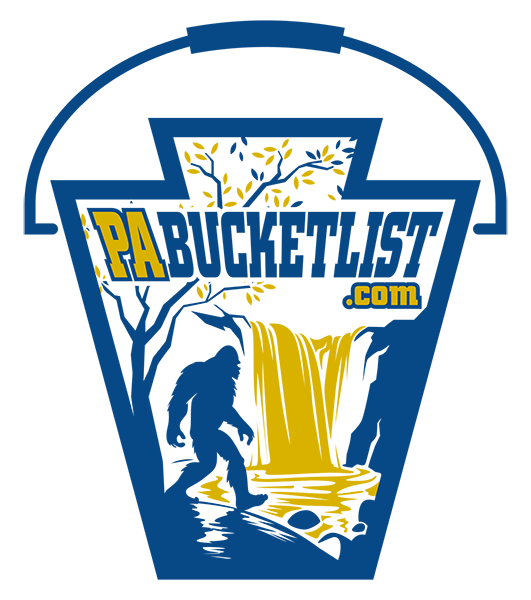 Pennsylvania's Best Travel Blog!