Here are 10 amazing winter scenes from Ohiopyle State Park that prove the fun doesn't stop when the snowfall starts!
---
1. Cucumber Falls
You may have splashed around at Cucumber Falls in the summer. As one of the most popular waterfalls in the Laurel Highlands, if not all of western Pennsylvania, that wouldn't be surprising. But have you seen it frozen as solid as a cucumber?! Park at the large roadside lot along Kentuck Road and descend the staircase (which may be icy – microspikes on your boots are a good idea) to see this gorgeous sight. Read an in-depth article I wrote about visiting Cucumber Falls in the winter HERE.
2. Baughman Rock Vista
To paraphrase The Who – you can see for miles and miles from Baughman Rock Overlook on a cold winter day, right up the Youghiogheny River Valley. Baughman Rock is located along Sugarloaf Road, just a few minutes from downtown Ohiopyle itself. Park in the large roadside parking lot and take a one-minute walk to put yourself at incredible vantage point.
3. Bruner Run
Bruner Run makes for a nice pit stop when biking the Great Allegheny Passage in the summer, but it also makes for some excellent off-trail hiking and photo ops in the winter. Hike, bike, or ski out the Great Allegheny Passage from the Ferncliff parking area in Ohiopyle to the Bruner Run Boater Take-out in the northwest corner of the park, then hike upstream on this tributary of the Youghiogehny River.
4. Ferncliff Trail
The Ferncliff Trail is a 1.7 mile loop trail that circles the Ferncliff Peninsula (the strip of land opposite the Visitors Center and Ohiopyle Falls viewing stands). Several excellent views of the Youghiogheny River are available from the trail, including this one of the river and the Low Bridge along the Great Allegheny Passage as it passes through Ohiopyle State Park.
5. Ohiopyle Falls
The namesake Ohiopyle Falls are a magnificent sight (and sound) in the winter. I prefer this view from the Ferncliff Trail, but a more accessible and still superb view can be had from the viewing stands between the parking lot and Visitors Center. And here's a pro tip: Ohiopyle Falls make an excellent spot to watch the sunrise. Typically the sun crests the mountains to the east 1 hour after the "official" sunrise time.
6. Sugarloaf Sledding Area
The sledding area along Sugarloaf Road offers an outstanding sled run of several hundred feet and has the added convenience of restrooms and a warming hut right next to the parking lot. This is also the sight of many activities during Ohiopyle State Park's Winterfest which takes place every year in early February.
7. Jonathan Run Trail
Upper and Lower Jonathan Run Falls are two of the more remarkable waterfalls at Ohiopyle State Park. And the Jonathan Run Trail is a certain contender for being considered one of THE best waterfall hikes in all of western Pennsylvania.
8. Great Allegheny Passage
27 miles of the Great Allegheny Passage winds its way through Ohiopyle State Park, and numerous impressive ice formations are visible along it in the winter. This particular wall of ice forms every year just northwest of Sugar Run.
9. Sugar Run Falls
Sugar Run Falls is a mulifaceted jewel of a waterfall located just off the Great Allegheny Passage along the Old Mitchell Trail. It can be accessed most quickly from the Mitchell Place parking area (approximately 25 minute hike) or by hiking out the Great Allegeheny Passage from the Ferncliff parking area in the town of Ohiopyle.
10. Fechter Run Falls
Fechter Run is a tributary of Jonathan Run, and spills into Jonathan Run midway between Upper and Lower Jonathan Run Falls. It is most easily accessed from the Sugar Run Trail, just a few minutes east of where that trail splits off from the Jonathan Run Trail. The first small footbridge you come to along the Sugar Run Trail is Fechter Run. The falls are just below that small footbridge.
---
Visit Ohiopyle State Park This Winter!
Whether you visit just one of these spellbinding spots or all ten, I think you'll agree that a wintertime trip to Ohiopyle State Park should be on YOUR PA Bucket List!
And of course one of THE most "wintry" thing you can do at Ohiopyle State Park is to enjoy Winterfest, which usually takes place at the beginning of February.
---
Looking for a place to call home during your stay in Ohiopyle?
Discover Ohiopyle offers an array of rustic cottages and cabins, luxurious honeymoon spots and retreats, hotels, campgrounds, and even more unique options, like tree houses!
If you're looking for an Ohiopyle lodging experience like no other, look no further than Discover Ohiopyle.
---
Nearby Attractions
Fallingwater, located just a few miles from Ohiopyle, was designed by Frank Lloyd Wright and was voted by the American Institute of Architects as "the best all-time work of American architecture".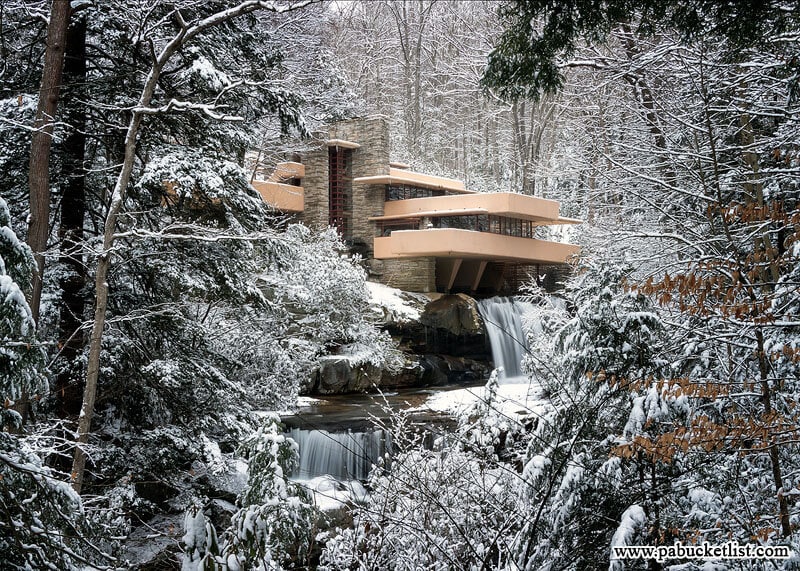 ---
Kentuck Knob in Fayette County is another nearby Frank Lloyd Wright-designed home, built in 1954 for Isaac and Bernardine Hagan, founders of the Hagan Ice Cream company in nearby Uniontown, PA.
---
Fort Necessity in Fayette County is the site of the first battle in what would become known in North America as the French and Indian War.
---
Laurel Caverns in Fayette County is billed as "Pennsylvania's Largest Cave", and is a great way to spend an hour or two BENEATH the Laurel Highlands!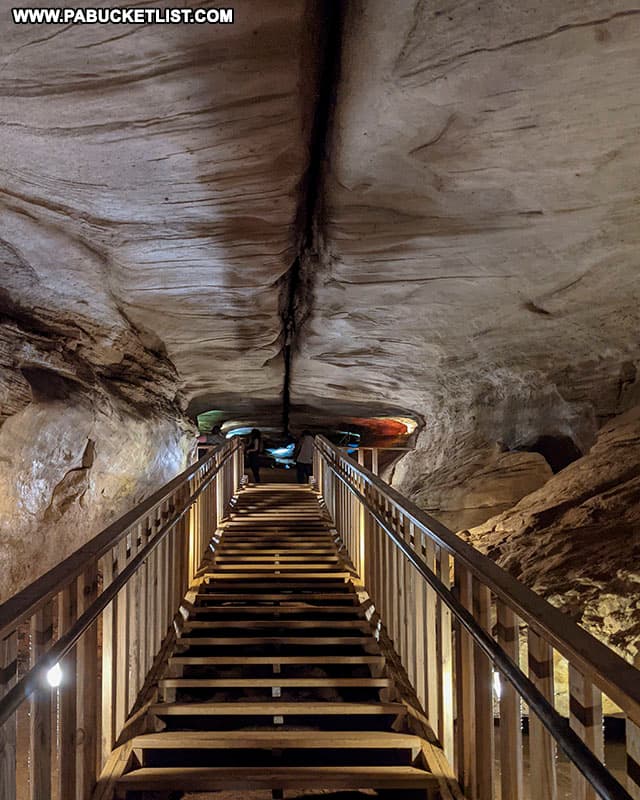 ---
Did you enjoy this article?
If so, be sure to like and follow PA Bucket List on Facebook, Instagram, and/or Pinterest to learn more about the best things to see and do in Pennsylvania!
Click on any of the icons below to get connected to PA Bucket List on social media.
---
Pennsylvania's Best Travel Blog!