Pennsylvania is home to THOUSANDS of waterfalls great and small, and with 86,000 miles of rivers, streams, and creeks (second only to Alaska) that should come as no surprise!
---
What follows is a list of 20 of the best Pennsylvania waterfalls, representing regions from across the state.
The selected waterfalls are accessible to virtually anyone with beginner to intermediate hiking abilities.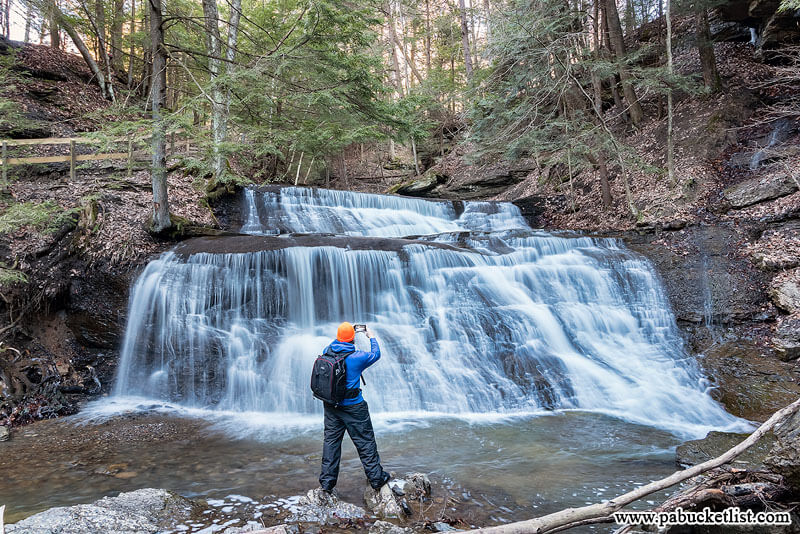 For each waterfall listed, simply click on the blue text link to open a detailed description of that waterfall, complete with maps, directions, and additional photos.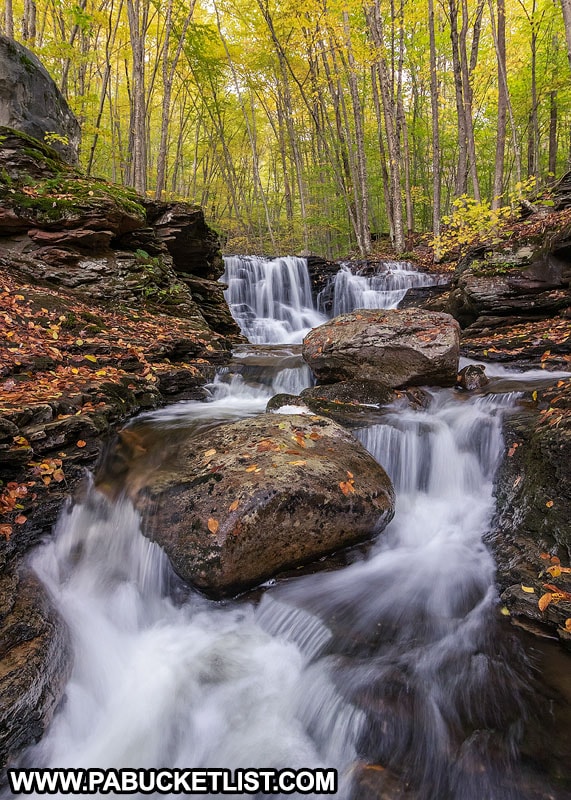 ---
1. Raymondskill Falls
Any list of "must-see" Pennsylvania waterfalls HAS to include Raymondskill Falls, billed by the National Park Service as "the tallest waterfall in Pennsylvania".
At 178 feet tall, the three-tiered Raymondskill Falls is located in northeastern PA in the Delaware Water Gap National Recreation Area.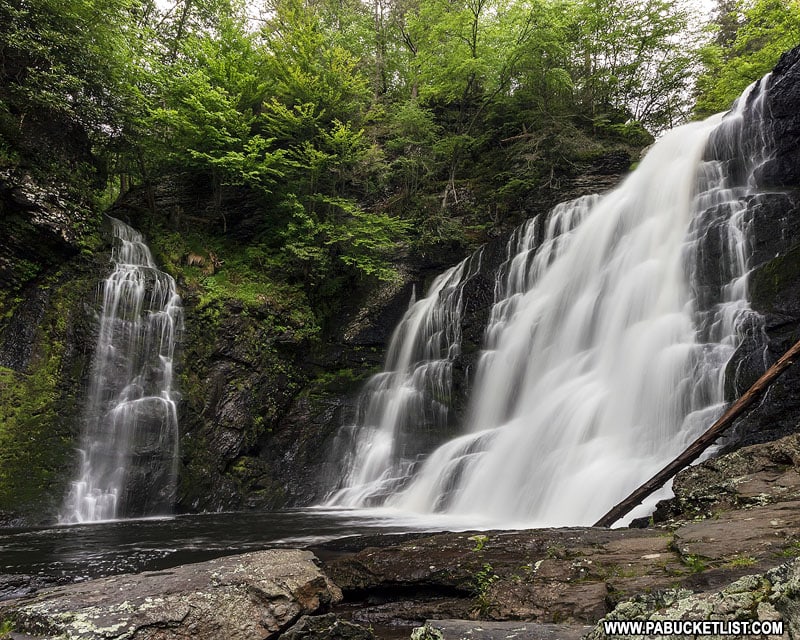 ---
2. Dingmans Falls
Dingmans Falls, also located in the Delaware Water Gap National Recreation Area, is billed as the second tallest waterfall in Pennsylvania.
Easy to access via a pedestrian boardwalk, the short walk to Dingmans Falls takes you right past Silverthread Falls as well.
---
3. Shohola Falls
Located on State Game Lands 180 in Pike County, Shohola Falls is a creek-wide waterfall accessed via a 5 minute walk from a Game Lands parking lot.
---
4. Fall Brook Falls
Located at Salt Springs State Park, Fall Brook Falls are a series of three waterfalls located in the glacially-carved Fall Brook Gorge in Susquehanna County.
---
5. Turkey Path Falls
The Turkey Path at Leonard Harrison State Park in Tioga County is home to four unnamed waterfalls, all located along a mile-long trail that takes you from the rim of the PA Grand Canyon to Pine Creek at the bottom.
The Turkey Path is one of the most famous waterfall hikes in Pennsylvania, and once you hike it, you'll know why.
---
6. Harrison Wright Falls
Speaking of famous waterfall hikes, without a doubt THE most famous waterfall hike in Pennsylvania is the Falls Trail at Ricketts Glen in Luzerne County.
And one of the most photogenic waterfalls along that hike is Harrison Wright Falls, 27 feet tall and spectacular in all seasons.
Of course there are 20 other named waterfalls along this trail, so you'll want to make an entire day out of your trip to Ricketts Glen.
---
7. Nay Aug Falls
The pride of Lackawanna County, Nay Aug Falls is a 15 foot tall waterfall located in a beautiful city park near the heart of Scranton.
---
8. Dutchman Falls
Located near Route 220 in Sullivan County, Dutchman Falls is a 27 foot tall waterfall accessed via a short side trail off the famous Loyalsock Trail.
---
9. Dry Run Falls
One of the finest truly-roadside waterfalls in Pennsylvania, Dry Run Falls is located along Dry Run Road in Sullivan County.
---
10. Angel Falls
Located in the Loyalsock State Forest in Sullivan County, Angel Falls is a massive 70-footer located just off the Loyalsock Trail.
---
11. Sullivan Falls
Sullivan Falls is located on State Game Lands 13 in Sullivan County, just 375 feet from a parking area along Sullivan Falls Road.
---
12. Ketchum Run Falls
Ketchum Run Falls is one of 4 exceptional waterfalls located along Ketchum Run in the Loyalsock State Forest, Sullivan County.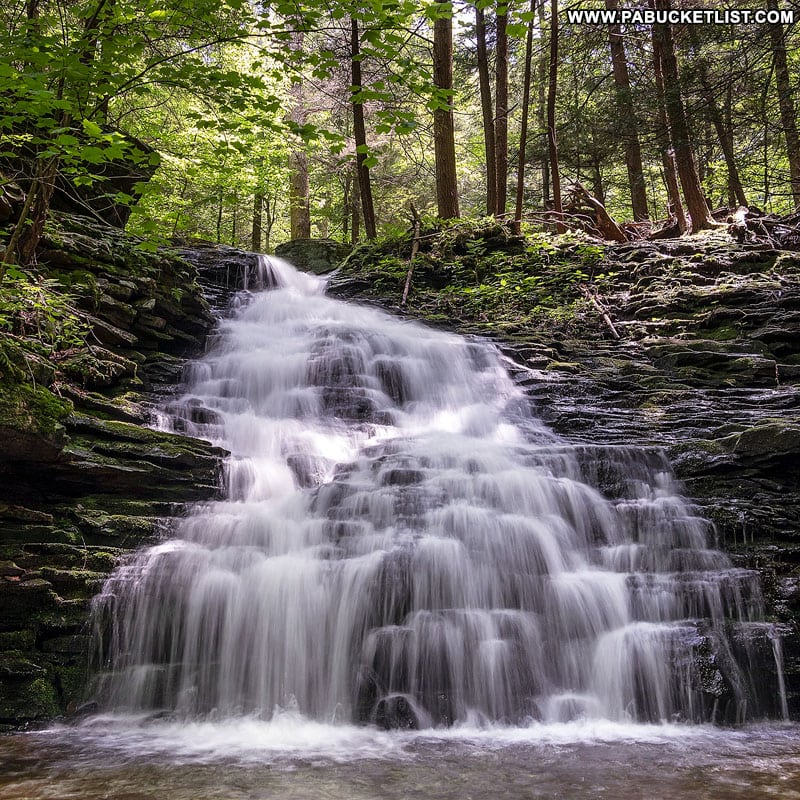 ---
13. Miners Run Falls
Miners Run Falls is a series of 6 unnamed waterfalls along Miners Run in Lycoming County.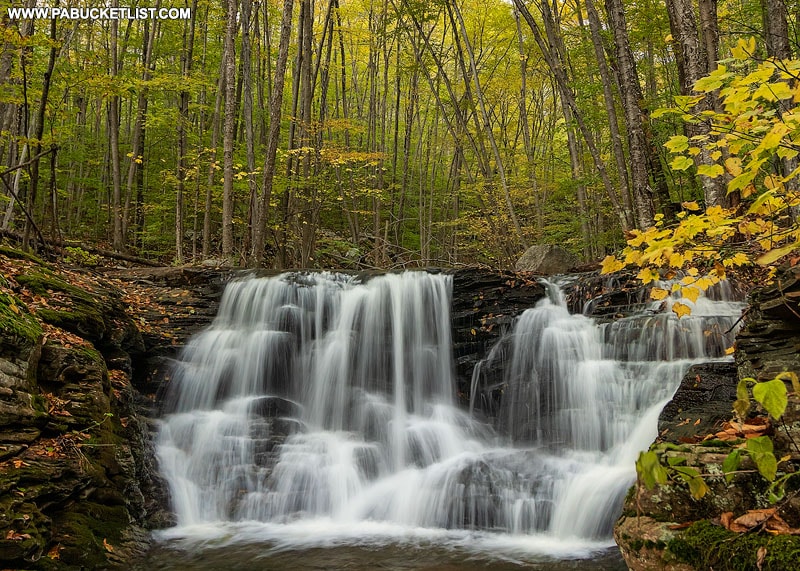 Located in the McIntyre Wild Area, the remaining 5 waterfalls become more difficult to reach as you hike upstream.
---
14. Jacoby Falls
Located at the end of the popular 1.5 mile-long Jacoby Falls Trail in Lycoming County, Jacoby Falls is another gem of the Loyalsock State Forest.
---
15. Round Island Run Falls
Round Island Run Falls may be one of the most remote waterfalls in Pennsylvania.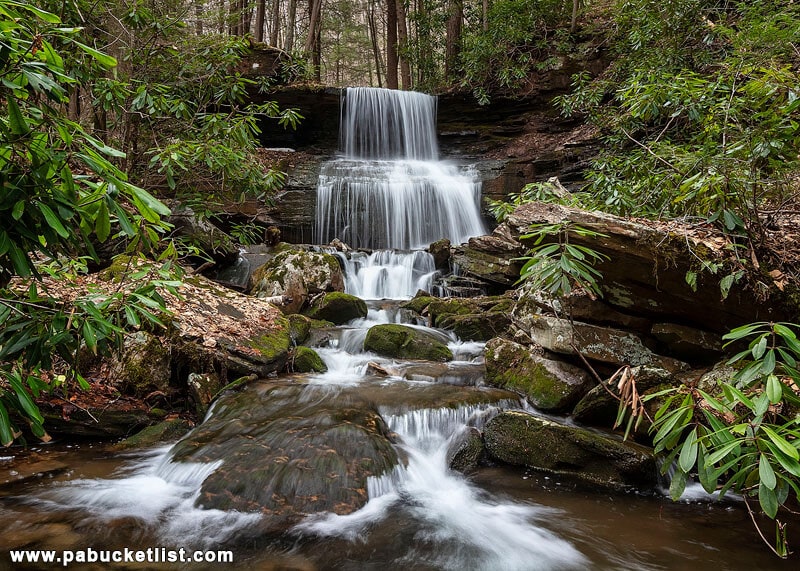 Located in the Sproul State Forest in Clinton County, this waterfall allows you to stand behind the upper of its three tiers.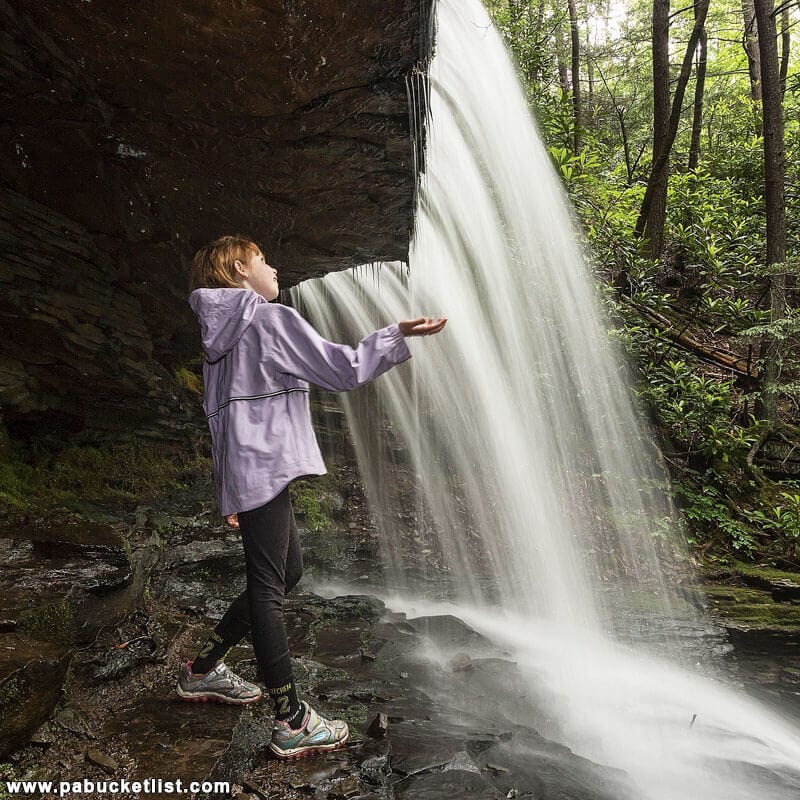 ---
16. Rainbow Falls
Rainbow Falls can be found at Trough Creek State Park in Huntingdon County.
Rainbow Falls is located along the Balanced Rock Trail, which features a suspension bridge that will either thrill you or frighten you to death!
---
17. Cucumber Falls
Cucumber Falls at Ohiopyle State Park in Fayette County is quite possibly the most photogenic (and photographed) waterfall in all of western Pennsylvania.
---
18. Fallingwater
Also located in Fayette County, Fallingwater may be the most famous private residence in Pennsylvania built on top of a waterfall.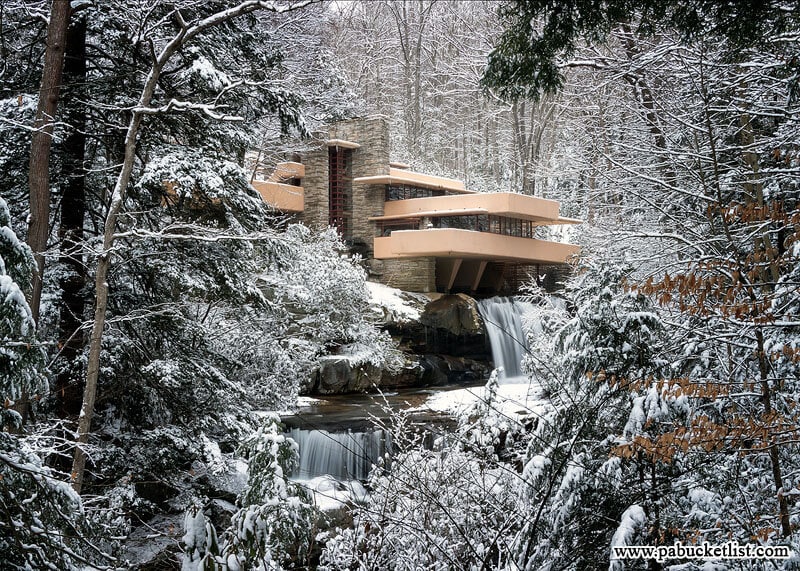 Designed by famed architect Frank Lloyd Wright, Fallingwater is now owned by the Western Pennsylvania Conservancy and open for tours (see their website for details).
---
19. Freedom Falls
Freedom Falls in Venango County is located near an old iron forge and the ghost town of Freedom (thus the name).
---
20. Hell's Hollow Falls
One of several waterfalls at McConnell's Mill State Park in Lawrence County, Hell's Hollow Falls is located at the end of a half-mile hike over relatively flat terrain (don't let the name scare you away).
---
So there you have it – 20 "must see" Pennsylvania waterfalls from all across the Keystone State!
---
Related Articles
24 of the Best Short Waterfall Hikes in PA features two-dozen of my favorite short waterfall hikes in PA, each hike requiring 10 minutes or less.
---
The Best Waterfalls in the Poconos Road Trip will take you on a round-trip tour of some of the best waterfalls in eastern Pennsylvania.
---
The Best Waterfalls Near Pittsburgh Road Trip will take you on a round-trip tour of some of the finest waterfalls in western PA.
---
The Ultimate Pennsylvania Waterfalls Guide is the finest guide to Pennsylvania waterfalls you'll find anywhere on the web! 
In it, you'll find Pennsylvania's most amazing waterfalls, all well-organized in easy to search categories.
---
Did you enjoy this article?
If so, be sure to like and follow PA Bucket List on Facebook, Instagram, and/or Pinterest to stay up-to-date on my latest write-ups about the best things to see and do in Pennsylvania!
Click on any of the icons below to get connected to PA Bucket List on social media.
---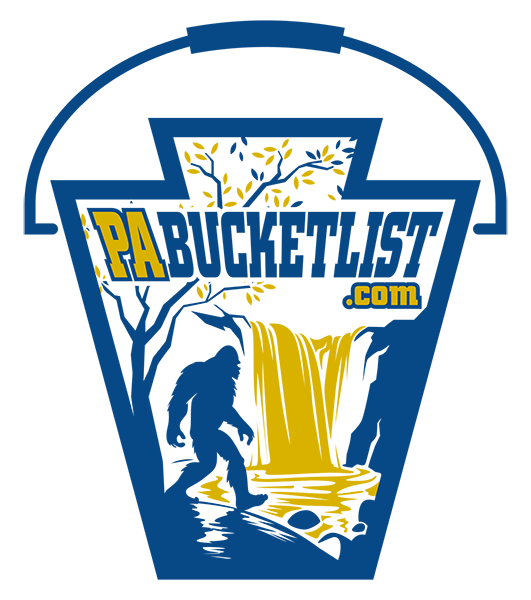 Pennsylvania's Best Travel Blog!