Pigeon Run Falls is a lesser-known neighbor of the wildly-popular Sullivan Falls on State Game Lands 13 in Sullivan County.
The two are so close together they share a parking area.
But despite that fact, far fewer people visit Pigeon Run Falls, and that's a shame, because they're missing out on one of the prettiest waterfall streams in the area.
So that's the purpose of this write-up: to give you the information you need to find and explore Pigeon Run Falls and the many smaller, unnamed waterfalls upstream from it on Pigeon Run.
As with all hikes on State Game Lands, wearing a blaze orange hat or vest (or both) is a prudent precautionary safety measure.
---
Getting There
How to Find Pigeon Run Falls
Turn off of Route 487 onto Sullivan Falls Road

Just north of Ricketts Glen State Park you will turn onto Sullivan Falls Road (erroneously called Jamison City Road on Google Maps and possibly on your navigation system).

Travel 2.1 miles on Sullivan Falls Road

Sullivan Falls Road is a "No Winter Maintenance" forest road – use extreme caution in the winter.

Arrive at the Sullivan Falls / Pigeon Run Falls parking area
(GPS Coordinates: 41.335085, -76.339117)

The parking area is marked by a large boulder engraved with the words "Sullivan Falls" (see image below).

Procede 400 feet from the upper side of the parking area to Big Run.

Follow the unblazed but well-worn footpath from the spot indicated above downhill to Big Run.

Cross Big Run and hike .3 miles along an old forest road to a fork in the trail.

There is no bridge over Big Run, so use caution and your best judgement when rock-hopping across the stream, especially in high water conditions.

Take the lower / left hand fork in the road and follow it another .3 miles to Pigeon Run.

Follow the trail indicated in red in the photo below.

Arrive at Pigeon Run, 0.6 miles from the parking area.

The largest waterfall on Pigeon Run (Pigeon Run Falls) is downstream from the trail. There are many smaller unnamed waterfalls to be seen upstream from the trail as well.
---
Exploring Pigeon Run
My advice when visiting Pigeon Run is to cross over the stream and bushwack downhill a few hundred yards to where Pigeon Run spills into Sullivan Branch.
That's where you'll find Pigeon Run Falls, the tallest waterfall on this stream.
From there you can work your way back upstream and see the many smaller, unnamed waterfalls on Pigeon Run.
---
Pigeon Run Falls
Pigeon Run Falls is a classic 20-foot drop that plunges into a shallow pool before spilling over a smaller lip and into Sullivan Branch.
GPS coordinates for Pigeon Run Falls: 41.341079, -76.335545
In the early spring some of the last snow and ice in the area can be found tucked up tight against the base of the falls.
While in October that same area is covered with fall foliage.
Bushwacking back upstream (on the same side you just came down) you'll find this small waterfall right above Pigeon Run Falls.
And above that one, but still below the trail, you'll encounter this scene.
---
Waterfalls above the Pigeon Run Trail
There are at least a half-dozen smaller, unnamed waterfalls upstream from the Pigeon Run Trail.
I generally pick my way up the left side of the stream, at times hiking in the stream itself.
The character of the stream seems to change between every visit, as old blowdowns wash out and new ones are deposited.
The foliage around Pigeon Run is particularly dense, which only adds to your enjoyment of this hike in the fall.
Eventually you'll reach the waterfall pictured below, and this is the last of the waterfalls on State Game Lands 13. Above this the stream continues onto private (and posted) property.
DO NOT TRESPASS ON PRIVATE PROPERTY!
From here you have two choices.
You could bushwack back downstream to the trail and return to your vehicle that way.
Or you could do what I do – climb up the right side of this waterfall to an old log road that will lead you back down to the fork in the trail you encountered on the hike in. From there you simply retrace the last .3 miles to your vehicle.
The choice is yours, but when I'm tired out from exploring I'd rather hike down a road than hike back down a stream.
If you happen to be doing this hike on a rainy day, you may see this intermittent waterfall on the hill above you, near the fork in the road.
---
Final Thoughts on Pigeon Run
You'd be hard-pressed to find a stream that packs more photo-ops into such a relatively short hike.
In my experience I think only Miners Run in Lycoming County comes close.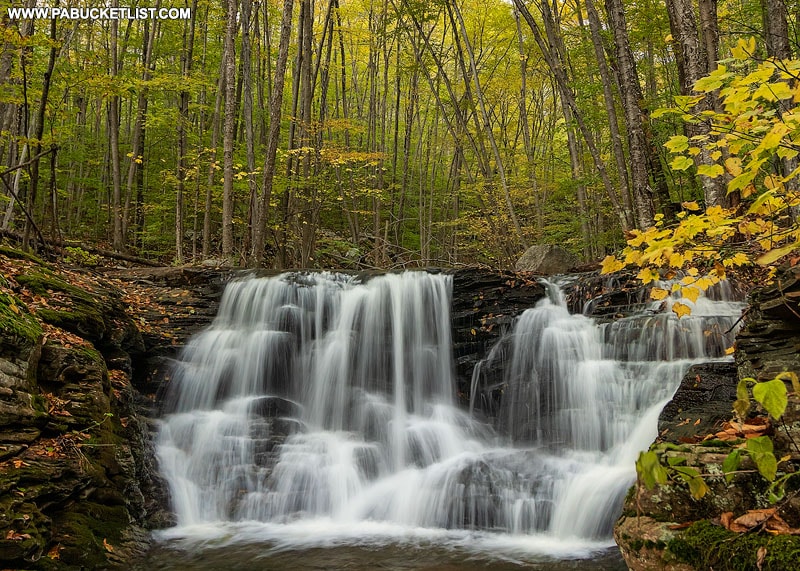 When you consider how many other great waterfalls there are within a mile of Pigeon Run (namely Sullivan Falls and Big Run Falls), there's no reason NOT to make a morning of it.
Or if you want to do a fantastic full-day waterfall odyssey, add Big Falls, Twin Falls, and Lewis Falls to your itinerary. Those three are located on the adjacent Heberly Run, also on State Game Lands 13.
No matter whether you do a quick visit or spend the whole day – you're gonna love Pigeon Run Falls on State Game Lands 13!
---
Still not convinced you need to explore Pigeon Run?
Then check out the video below!
---
Did you enjoy this article?
If so, be sure to like and follow PA Bucket List on Facebook, Instagram, and/or Pinterest to stay up-to-date on my latest write-ups about the best things to see and do in Pennsylvania!
Click on any of the icons below to get connected to PA Bucket List on social media.
---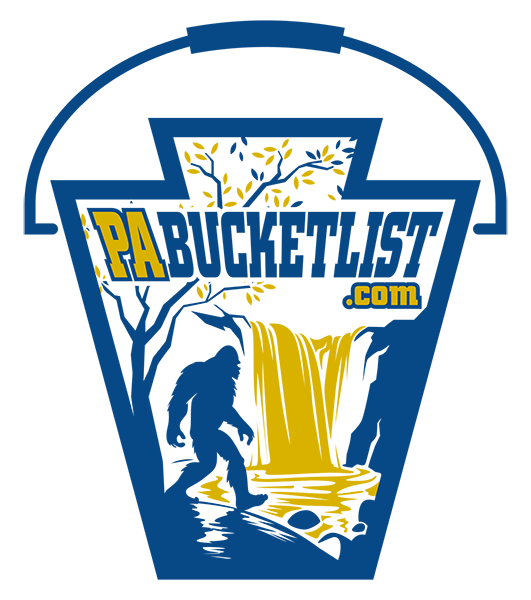 Pennsylvania's Best Travel Blog!