The hike to Big Falls, Twin Falls, and Lewis Falls on State Game Lands 13 in Sullivan County is one of THE best waterfall excursions in the Endless Mountains.
Unlike Ricketts Glen, the next valley to the east, State Game Lands 13 lacks any of the "refinements" of a state park.
Trails are rugged and user-created, if any trails exist at all.
Signage is crude and "unofficial".
And the crowds which mob Ricketts Glen are absent.
So if getting off the beaten path and becoming an explorer instead of a "sightseer" appeals to you, read on as I give you the best practical information on visiting these three exceptional waterfalls.
As with all hikes on State Game Lands, wearing 250 square inches of blaze orange is required during hunting season, per the PA Game Commission regulations. So take heed if hiking Heberly Run during those times, as well as any other requirements posted near the gate on Grassy Hollow Road.
---
Where to Park
How to Find Big Falls, Twin Falls, and Lewis Falls on State Game Lands 13
From the village of Jamison City in Sullivan County, proceed straight on Jamison City Road.

Jamison City Road transitions from paved road to gravel, passes a Game Commission building on the left, and then dead-ends at a gate and large parking area on the right.

Navigate to the parking area at GPS coordinates: 41.319345, -76.343301.

Begin your hike at the gate on Grassy Hollow Road.
---
Grassy Hollow Road
Grassy Hollow Road begins at the gate, which may be open or closed depending on the time of year you visit. Its openings and closings coincide with turkey and deer seasons.
If the gate does happen to be open when you visit, should you attempt to drive up Grassy Hollow Road?
My advice is no, and I'll share my reasons.
First – Grassy Hollow Road is a narrow, rutted, non-maintained forest road. Guardrails are non-existent, and there are plenty of 100 foot drop-offs along the way to the top. Should you happen to encounter another vehicle on the way up or down, it's a HUGE pain to safely pass one another. I speak from personal experience.
In the spring it's a muddy mess; in the winter it's a sheet of ice.
So for those reasons alone I don't recommend it.
My second reason is this – if you are indeed the kind of person who prefers to drive and "sightsee", as opposed to hike and explore, this area is probably not safe for you.
As I mentioned in my opening paragraph, this is a rugged excursion, and even if you manage to drive safely to some of the pull-offs along the road and above the falls, the actual descents to the best views along the stream bed are challenging.
The kind of descents a casual or inexperienced hiker probably shouldn't attempt.
Your cell phone won't work here, and help is a long way off if you hurt yourself.
So be honest with yourself about your abilities before attempting this hike.
---
Hiking to Big Falls
Big Falls is the first significant waterfall along Heberly Run when hiking upstream from the parking area/gate.
To get there, hike up Grassy Hollow Road .77 miles until you come to this user-created sign along the road.
At the sign you will see an unblazed but readily-apparent user trail leading down the side of the gorge to Heberly Run some 150 feet below.
If you are not an experienced hiker, DO NOT ATTEMPT THIS DESCENT!
Of the three waterfalls described here, this is the most difficult to reach. The descent requires patience, coordination, and stamina.
So again, be honest with yourself about your hiking abilities and proceed with caution if you elect to go for it.
The GPS coordinates for Big Falls are: 41.328467, -76.351983.
Your reward for making it to the bottom is a waterfall grotto of spectacular beauty.
At approximately 25 feet in height it's not the tallest waterfall on Heberly Run (that would be Lewis Falls), but it is the most intricate.
In the winter, prodigious ice formations surround the falls, clinging to the gorge walls like icy chandeliers.
While in the spring and summer moss, ferns, and other foliage give Big Falls a primordial vibe.
Once you've had your fill of Big Falls, simply retrace your steps back up out of the gorge to Grassy Hollow Road.
---
Hiking to Twin Falls
From the Big Falls sign along Grassy Hollow Road, continue up Grassy Hollow Road another .71 miles. You will see this sign (above) along the road and catch your first glimpse of Upper Twin Falls.
Continue up the road another 1/10th of a mile to a large grassy area and another Twin Falls sign (pictured below). The unofficial, user-created trail to Twin Falls starts here (GPS coordinates 41.334751, -76.358452).
Follow this "unofficial" trail for approximately 1/4 of a mile downhill and back towards Twin Falls.
There are white blazes painted haphazardly along this trail, but honestly it's open woods hiking here so you really can't get lost. Hike towards the sound of the falls and you'll be there in 5 minutes.
---
Upper Twin Falls
If there's an "easy to get to" waterfall on this hike, it's Upper Twin Falls.
GPS coordinates for Upper Twin Falls are 41.333721, -76.356887.
In the fall the trees around it are ablaze with color.
While in the winter ice formations adorn the surrounding rocks and trees.
After a hard summer rain Upper Twin Falls nearly doubles in size from how you typically see it.
Upper Twin Falls comes in at around 12-15 feet tall, a bit larger than it's "twin" 75 yards downstream.
---
Lower Twin Falls
The easiest way to get below Lower Twin Falls is to cross over the shallow portion of Heberly Run just below Upper Twin Falls and come down the user trail on the bank opposite Grassy Hollow Road.
In the winter you'll be treated to impressive ice formations as well.
In the image below you can see the proximity of Upper and Lower Twin Falls (approximately 75 yards, as stated earlier).
No matter the season, Lower Twin Falls a worthwhile spot to visit.
---
Hiking to Lewis Falls
So now it's decision time – do you want to see Lewis Falls from above or below?
I'm going to describe the hike to the vantage point below first, then backtrack and describe the hike to vantage point above.
---
Getting Below Lewis Falls
The simplest and safest way to get below Lewis Falls is to hike up the banks of Heberly Run .86 miles from Upper Twin Falls to the base of Lewis Falls.
There will be a few wet crossings along the way, and there's really no "best" side to start on.
Just start up either side of Heberly Run and cross when you can't go any further on that side.
Just upstream from Upper Twin Falls you'll pass this unnamed 10 footer (above) flowing in to Heberly Run.
And 20-30 minutes later you'll be standing at the base of Lewis Falls!
The sound of Lewis Falls from below is thunderous and well worth the hike, no matter the season.
But I'll admit a personal fondness for winter and seeing the ice formations around Lewis Falls up close and personal.
---
Viewing Lewis Falls from Above
Is there a better autumn scene in all of Penn's Woods?
Of course this view of Lewis Falls in the wintertime is equally superb.
So how do you get to this vantage point?
From Twin Falls, hike up Grassy Hollow Road 0.4 miles to the Lewis Falls parking area, where the road dead-ends.
Follow the obvious user trail from the "Lewis Falls" sign approximately 450 feet to the top of the falls.
To get the vantage point pictured above, CAUTIOUSLY cross over Heberly Run above Lewis Falls in the shallow area just above the falls.
Lewis Falls is every bit 30-35 feet tall, making it the tallest waterfall on Heberly Run.
If you look closely at the image above you'll see my friend Steve (blue jacket) standing at the top of the falls, to give you a sense of scale.
Once you've had your fill of Lewis Falls, you can simply backtrack down Grassy Hollow Road 2.44 miles (and yes it's all downhill!) to the parking area.
---
Final Thoughts on Hiking Heberly Run
State Game Lands 13 is a place for exceptional hikes with exceptional friends.
It's wild, rugged, and unrefined.
It tests your skills and rewards you with spectacular waterfall views unrivaled anywhere in Pennsylvania!
---
Still not convinced you need to see Big Falls, Twin Falls, and Lewis Falls?
Then check out the video below!
---
Feeling Extra Adventurous?
Then be sure to check out Quinn Run Falls, Shanty Run Falls, and Foundation Falls – all located just upstream from Lewis Falls.
---
For an easier adventure, consider checking out Sullivan Falls, also located on State Game Lands 13.
---
Hiking to the Frozen Waterfalls Along Heberly Run gives you a more in-depth look at what a winter hike along Heberly Run looks like.
---
Did you enjoy this article?
If so, be sure to like and follow PA Bucket List on Facebook, Instagram, and/or Pinterest to learn more about the best things to see and do in Pennsylvania!
Click on any of the icons below to get connected to PA Bucket List on social media.
---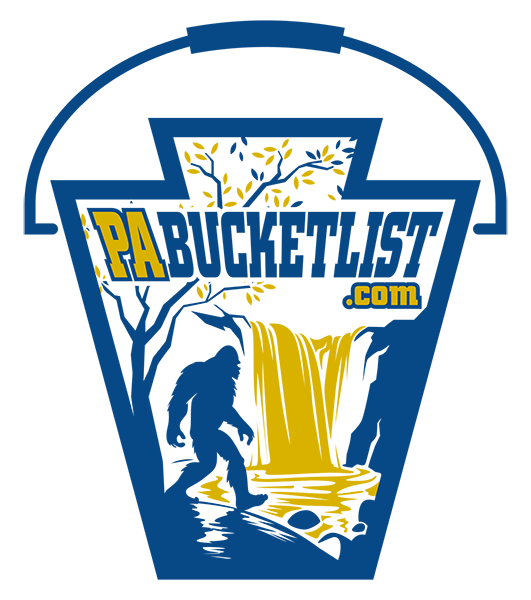 Pennsylvania's Best Travel Blog!