Hiking to the frozen falls along Heberly Run is an annual tradition for me, as these are easily some of the best winter waterfalls in Pennsylvania!
Heberly Run is a tributary of East Branch Fishing Creek in Sullivan County, and it slices through the heart of State Game Lands 13, often referred to as the "waterfall wonderland of Pennsylvania".
Because this is State Game Lands, official trails to the falls are non-existent, making for a more challenging hike and a more natural, rewarding adventure for experienced hikers.
I've previously published an extensive write-up on exploring the waterfalls along Heberly Run, complete with maps and GPS coordinates for all the falls along Heberly Run.
So rather than rehash the details (which you can read at your convenience at the link provided above), I'm simply going to share some of the beautiful scenes along Heberly Run on a cold January day!
---
Grassy Hollow Road
If you glanced at the map above, you'll notice that Grassy Hollow Road run parallel to Heberly Run.
On this hike, my friend Steve and I utilized Grassy Hollow Road as our primary route up and down the mountain, dropping in to the Heberly Run gorge near each waterfall.
We both use use Kahtoola microspikes on our hiking boots, and both carry trekking poles, to aid in the necessary hill climbs and stream crossings when hiking to the waterfalls along Heberly Run.
---
Frozen Waterfalls on Heberly Run
Big Falls will be the first waterfall you encounter when hiking up Heberly Run.
This 25 foot-tall waterfall is surrounded by some equally impressive columns of ice on either side of the gorge.
Lower Twin Falls is the next waterfall you encounter, a 10-footer that is the smallest of the waterfalls on this section of Heberly Run.
The "ice cave" that typically forms each year near Lower Twin Falls is more impressive than the falls themselves.
When we visit Lower Twin Falls, we end up spending more time photographing the ice cave than we do the waterfall.
Upper Twin Falls lies just above Lower Twin Falls (naturally).
Lewis Falls is the uppermost waterfall along Heberly Run that we visited on this hike.
There are a few smaller waterfalls upstream from Lewis Falls, but typically the ice formations just aren't as impressive as they are at the falls I mentioned so far, so we skipped them on this trip and headed back down Grassy Hollow Road to the parking area.
---
Final Thoughts
If you're looking for an adventurous ice hike to see magnificent frozen falls, ice caves, and towering ice formations, you certainly need to put Heberly Run on your PA bucket list.
The scenery here is unparalleled, and the relative remoteness of it all adds a certain "wild" element to the adventure!
---
Related Articles
The 10 Best Waterfalls on State Game Lands 13 is your guide to more exceptional sights in the "waterfall wonderland of Pennsylvania"!
---
The 50 Best Winter Waterfalls in Pennsylvania is your guide to amazing frozen waterfalls across the Keystone State.
---
Did you enjoy this article?
If so, be sure to like and follow PA Bucket List on Facebook, Instagram, and/or Pinterest to stay up-to-date on my latest write-ups about the best things to see and do in Pennsylvania!
Click on any of the icons below to get connected to PA Bucket List on social media.
---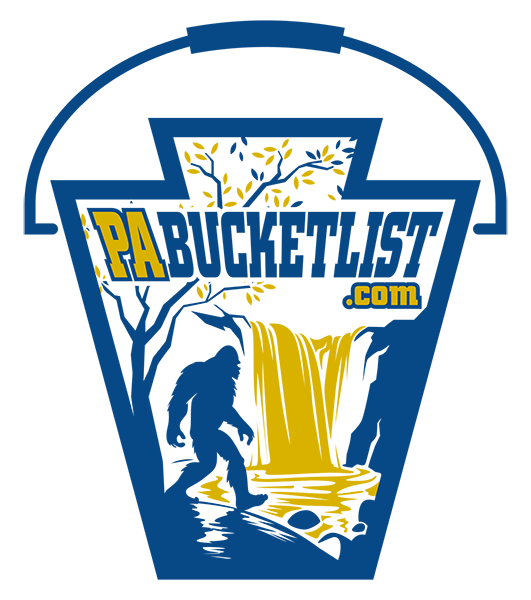 Pennsylvania's Best Travel Blog!