Triple Falls is a magnificent 25 foot-tall, three-tiered waterfall in the Sullivan County portion of the Loyalsock State Forest.
Located 0.4 miles upstream from the equally-stunning Emerald Falls, both waterfalls can be found on Swamp Run, and both can be reached by relatively straight-forward hike which I'll describe in detail below.
---
How to Find Triple Falls in the Loyalsock State Forest
This hike begins at a parking area near the intersection of Bear Wallow Road and Slab Run Road, 4 miles northwest of Hillsgrove, at GPS coordinates 41.49071, -76.73801.
The entire hike to Triple Falls encompasses 0.7 miles (one-way) and features roughly 500 feet of elevation change.
The hike to Triple Falls can be broken down into three parts.
The first third of the hike utilizes Browns Trail, a yellow-blazed trail that follows an old road grade.
Follow Browns Trail 0.3 miles until it starts to bear right/southwest (Triple Falls is to the left/northeast), near GPS coordinate 41.48963, -76.73248.
At this point you'll bear left/northeast on the 0.25 mile off-trail portion of this hike, passing a particularly large, moss-covered boulder near GPS coordinate 41.49039, -76.73034.
Continue downhill/northeast another 215 yards until you reach a road grade above Swamp Run.
Turn left and follow the road grade upstream/northwest for 0.15 miles, until you reach a spot above Triple Falls at GPS coordinates 41.49236, -76.73117, where you can descend the bank to the base of the falls.
---
Photographing Triple Falls
Triple Falls looks amazing from any angle!
From downstream you can get another small cascade in the foreground.
Even on sunny days, this waterfall photographs well as it's tucked away in a fairly tight gorge.
Swamp Run is fairly shallow around Triple Falls, allowing you to set-up IN the stream if you so desire.
When you've had your fill of Triple Falls, be sure to check out the excellent cascades 50 yards downstream.
Hiking back downstream to where you first picked up the road grade, you'll notice Little Swamp Run Falls on the north side of Swamp Run.
Although this does require a wet crossing of Swamp Run, I found Little Swamp Run to be extremely photogenic and well worth the effort.
Back on the road grade, continuing downstream for another 0.25 miles will bring you to Emerald Falls, mentioned earlier.
Honestly, if you're going to make the effort to see one of these waterfalls, I see no reason why you wouldn't visit all three, especially now that you know exactly where they are!
---
Nearby Attractions
Warburton Hollow Falls is a series of waterfalls along a beautiful mountain stream in the Loyalsock State Forest, 3 miles north of Hillsgrove in Sullivan County.
---
East Branch Falls is a wonderful 25-foot tall waterfall on the East Branch of Mill Creek in the Loyalsock State Forest.
---
Middle Branch Falls is located along Camels Road in the Loyalsock State Forest.
---
Mill Creek Falls is a photogenic 12-foot tall waterfall located just off of Mill Creek Road near Hillsgrove.
---
Dry Run Falls is an excellent roadside waterfall, located just east of Hillsgrove in the Loyalsock State Forest.
---
High Knob Overlook in Sullivan County is one of the most spectacular roadside scenic vistas in all of Pennsylvania.
---
The 26 Best Waterfalls in the Loyalsock State Forest is your guide to even more waterfall adventures in this forest spanning 114,552 acres, scattered across Sullivan, Lycoming, and Bradford counties.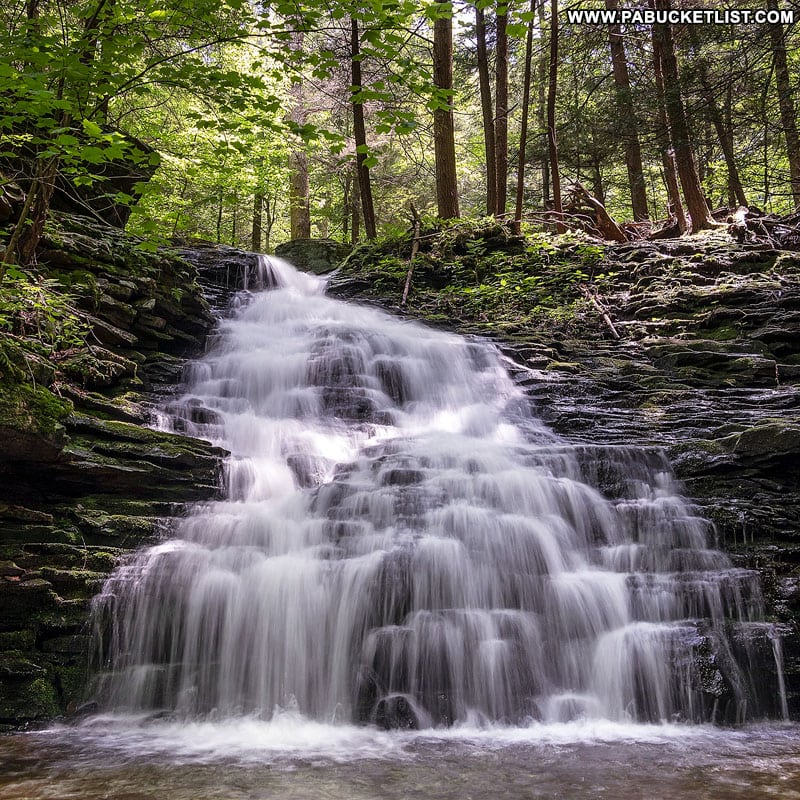 ---
Did you enjoy this article?
If so, be sure to like and follow PA Bucket List on Facebook, Instagram, and/or Pinterest to learn more about the best things to see and do in Pennsylvania!
Click on any of the icons below to get connected to PA Bucket List on social media.
---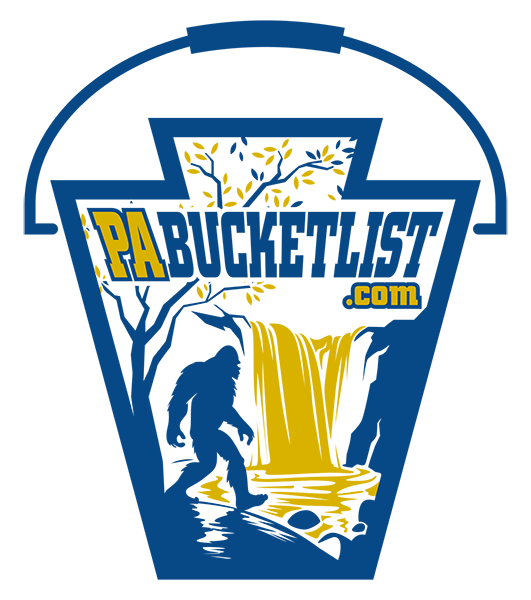 Pennsylvania's Best Travel Blog!