Pennsylvania is home to some of the best waterfall streams in the United States!
With more than 86,000 miles of rivers, creeks, and streams (second only to Alaska), that should come as no surprise.
But not all waterfall streams are created equally, and some truly stand out above all others in Pennsylvania?
Which ones?
I've got the answer right here – my directory of the 15 best waterfall streams in Pennsylvania!
---
Making the Grade
So how did I choose the 15 streams that appear on this list?
For me there were two main criteria for being named one of the 15 best waterfall streams in Pennsylvania.
First, the stream has to contain multiple waterfalls – the most bang for your buck.
Second, the area around the falls and between the falls needs to be as picturesque as the falls themselves.
So with those two conditions as my guide, I give you, in no particular order, the 15 best waterfall streams in Pennsylvania!
For each waterfall listed below, simply click on the the blue text link in the description to view a map/directions to that waterfall.
---
Kitchen Creek
Let's get this one out of the way first. The Falls Trail at Ricketts Glen State Park is arguably the most famous waterfall hike in Pennsylvania. And Kitchen Creek in Luzerne County is the stream where the falls live!
Aside from the 21 named falls along the Falls Trail, Kitchen Creek is also home to Adams Falls near where the creek passses under Route 118.
---
Jonathan Run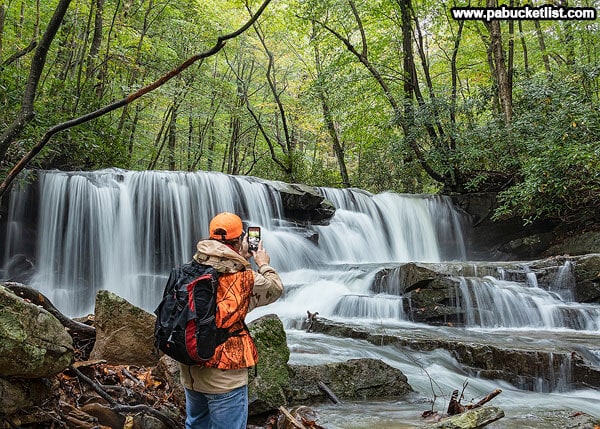 Jonathan Run at Ohiopyle State Park in Fayette County is home to 2 magnificent waterfalls and several smaller water features, as well as outstanding surrounding scenery.
No matter the season, Jonathan Run is truly one of the best waterfall streams in Pennsylvania.
---
Raymondskill Creek
Raymondskill Creek in Pike County is home to Raymondskill Falls – billed as the "the tallest waterfall in Pennsylvania" by the National Park Service.
At 178 feet tall, this multi-tiered waterfall is an impressive spectacle, whether you consider it one waterfall or several waterfalls located close together.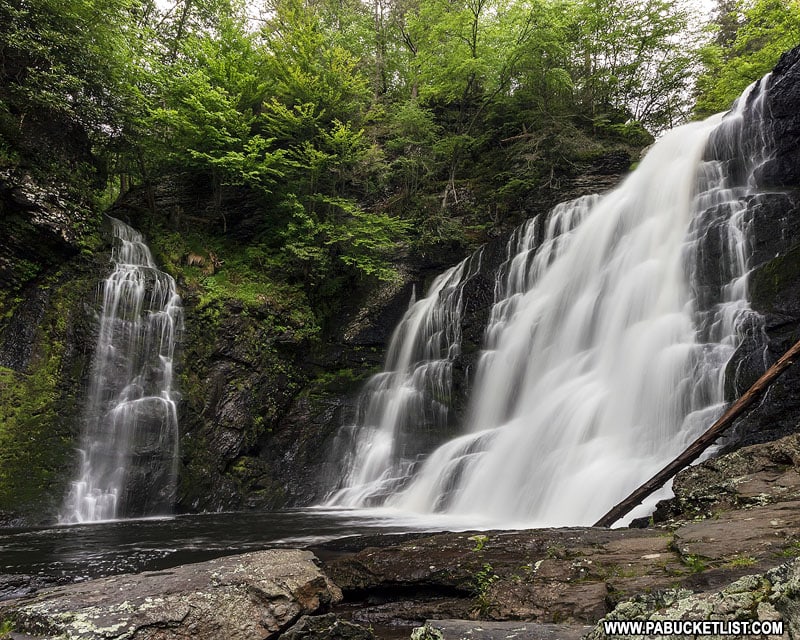 There are also several smaller but equally impressive waterfalls upstream from Raymondskill Falls.
---
Miners Run
Miners Run in Lycoming County is home to at least 6 significant waterfalls and countless smaller water features as you hike upstream in this superb waterfall gorge in the McIntyre Wild Area.
Not only does Miners Run contain a lot of waterfalls, but the surrounding scenery, including the Balanced Rock on Miners Run, is remarkable as well.
---
Little Fourmile Run
Little Fourmile Run is paralleled by the famous Turkey Path at Leonard Harrison State Park in Tioga County.
The four main waterfalls along the Turkey Path are accompanied by numerous smaller cascades and splendid scenery all along this extremely popular hiking trail.
Tioga County is home to many fantastic waterfalls, but Little Fourmile Run is one of THE BEST waterfall streams there.
---
Fall Brook
Fall Brook at Salt Springs State Park in Susquehanna County flows through a breathtaking gorge carved by glaciers.
There are 3 main waterfalls along Fall Brook, and the entire gorge passes through an old growth hemlock forest.
---
Heberly Run
Heberly Run winds its way through the heart of State Game Lands 13 in Sullivan County.
Truly an all-season destination, Heberly Run is home to 4 named waterfalls and some of the most incredible "leaf peeping" anywhere in Pennsylvania!
---
Hornbecks Creek
Hornbecks Creek in Pike County is home to numerous waterfalls and water features.
Part of the Delaware Water Gap National Recreation Area, Hornbecks Creek is one of the best waterfall streams in the Poconos.
---
Abbott Run
Abbott Run in the McIntyre Wild Area of Lycoming County is one of the more remote streams on the list of 15.
Home to several large waterfalls and numerous small cascades, Abbott Run is one of several challenging but rewarding waterfall hikes in Lycoming County.
---
Bear Run
There are countless Bear Runs in Pennsylvania, but the Bear Run Falls referred to here are off of Colton Road, near Colton Point State Park.
The waterfalls on Bear Run range in size from 8 footers up to 60 feet tall at the massive Lower Bear Run Falls.
---
Falls Run
Falls Run in the Loyalsock State Forest is home to several large waterfalls, including the 70 foot tall Angel Falls pictured above.
Gipson Falls is just a few minutes downstream from Angel Falls, and checks in at around 20 feet tall.
---
Ketchum Run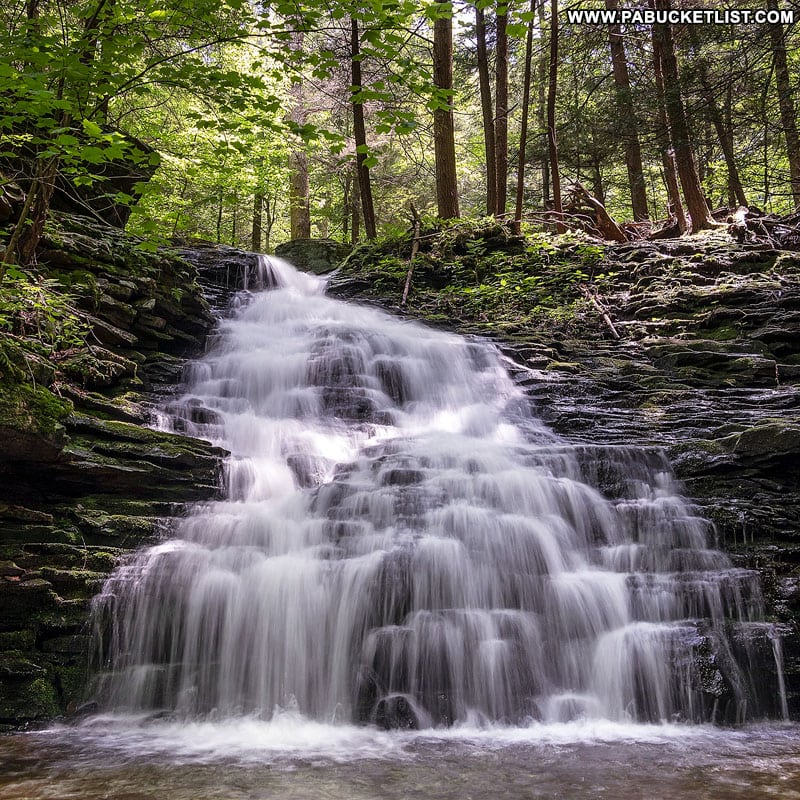 Ketchum Run may be the prettiest waterfall stream in the Loyalsock State Forest.
There are at least 4 main waterfalls and countless smaller cascades along Ketchum Run.
Part of the hike along Ketchum Run utilizes the lesser-known Ketchum Run Trail, while the lower portion of Ketchum Run lies along the world-famous Loyalsock Trail.
Ketchum Run is just minutes from Worlds End State Park, home to more incredible waterfalls and scenic overlooks.
---
Dingmans Creek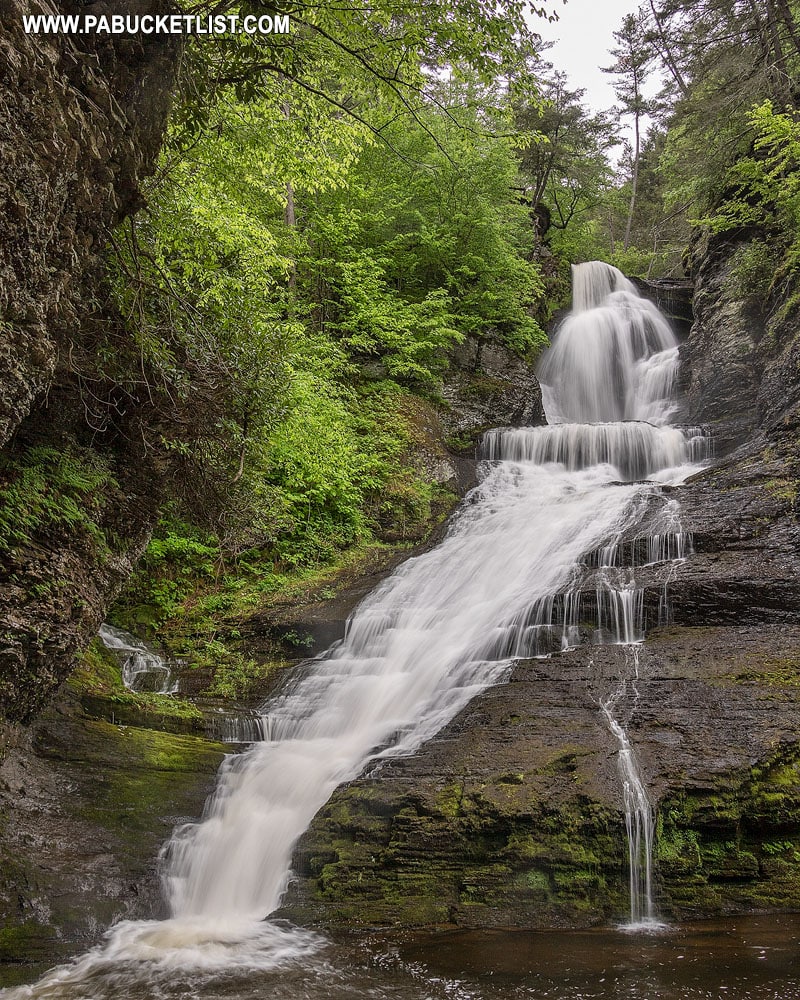 Dingmans Creek is home to the second tallest waterfall in Pennsylvania, 130 foot tall Dingmans Falls pictured above.
Upstream from Dingmans Falls, Dingmans Creek is home to 3 named waterfalls inside Childs Park, currently closed for storm damage clean-up.
With any luck Childs Park will reopen to visitors in 2021.
---
Pigeon Run
Pigeon Run on State Game Lands 13 in Sullivan County is home to at least a half dozen impressive waterfalls.
Pigeon Run is a short hike from the much better known and nearly-roadside Sullivan Falls.
---
Dutters Run
Dutters Run in Sullivan County is home to at least 6 waterfalls, some located off-trail and some right along the Loyalsock Trail.
The trailhead for the Dutters Run hike is just above Dry Run Falls, as Dutters Run is a tributary of Dry Run.
---
Honorable Mention: Glen Onoko Run
Once one of the most popular waterfall hikes in Pennsylvania (perhaps second only to the Falls Trail at Ricketts Glen), Glen Onoko Run was made "off limits" by the Pennsylvania Game Commission in May of 2019.
Hopefully at some point in the future folks will once again be able to legally hike this trail, but in the meantime be aware that although the falls and trail are still there, the Game Commission will cite you for trespassing if you're caught visiting the falls on Glen Onoko Run.
---
So there you have it – my 15 best waterfall streams in Pennsylvania!
Which ones do you agree with?
Did any of your favorites NOT make the list?
Feel free to chime in with your suggestions in the comments section!
---
Can't Get Enough Waterfalls?
Then be sure to check out The Ultimate Pennsylvania Waterfalls Guide, your TOTALLY FREE source of information on HUNDREDS of Pennsylvania's Best Waterfalls!
---
Did you enjoy this article?
If so, be sure to like and follow PA Bucket List on Facebook, Instagram, and/or Pinterest to stay up-to-date on my latest write-ups about the best things to see and do in Pennsylvania!
Click on any of the icons below to get connected to PA Bucket List on social media.
---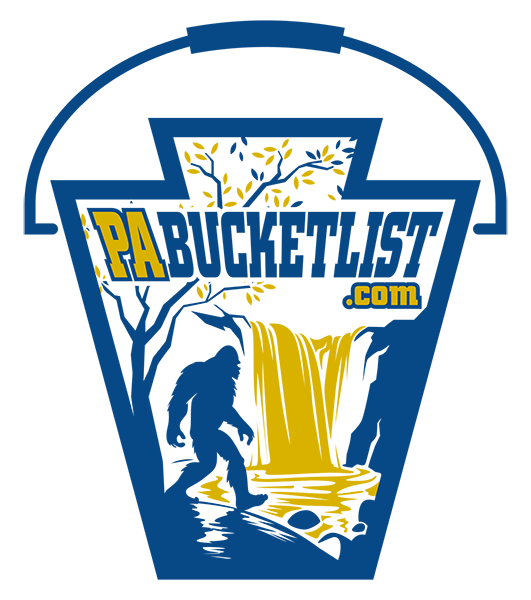 Pennsylvania's Best Travel Blog!