Upper Hornbecks Creek in Pike County is home to an array of small, unnamed waterfalls, as well as one 40-footer locally known as Indian Ladder Falls.
When I last visited Upper Hornbecks Creek in May of 2017, hiking to these waterfalls was a simple matter of parking along Emery Road and hiking a well-worn trail along the stream.
Unfortunately not long after that visit, powerful storms wreaked havoc on many of the trails in the Delaware Water Gap, including this one.
As I write this in April of 2020, the Upper Hornbecks Creek Trail remains closed, but according to the National Park Service a new trail is being built to link the waterfalls on Upper Hornsbeck Creek to existing trails from the nearby Pocono Environmental Education Center.
Until then, enjoy these photos of the waterfalls on Upper Hornbecks Creek, and look forward to the completion of the new trail trail linking these waterfalls to the Pocono Environmental Education Center.
---
The Waterfalls on Hornbecks Creek
This was one of the first waterfalls of note that I encountered downstream from Emery Road.
Next up was a rather unique waterfall which I unofficially dubbed 'Disco Pants Falls" as it somewhat resembles a pair of bell-bottom pants.
Indian Ladder Falls is the most well-known waterfall on Upper Hornbecks Creek.
I've also seen this waterfall referred to on social media by Pocono locals as "Horse Tail Falls", no doubt due to the wide, sweeping appearance of falls.
Below Indian Ladder Falls I encountered this fan-shaped waterfall.
The view from below that same fan-shaped waterfall was even better.
Aside from Indian Ladder Falls, this was my favorite waterfall on Upper Hornbecks Creek.
The final waterfall I visited on Upper Hornbecks Creek was this cascading beauty.
From this point I simply backtracked to my vehicle parked along Emery Road, completing a roughly 4 mile round trip hike.
As mentioned earlier, the route I took is now closed due to storm damage.
The new trail, when completed, will supposedly link the Pocono Environmental Education Center to the Upper Hornbecks Creek trail and falls.
And when that happens, you can bet I'll be making a return visit to survey the situation and update this write-up accordingly.
---
Nearby Attractions
The Delaware Water Gap is home to some gigantic waterfalls!
Raymondskill Falls is billed as the "tallest waterfall in Pennsylvania" at 178 feet, spread out over 3 tiers.
Nearby Dingmans Falls is billed as "the second tallest waterfall in Pennsylvania" at 130 feet.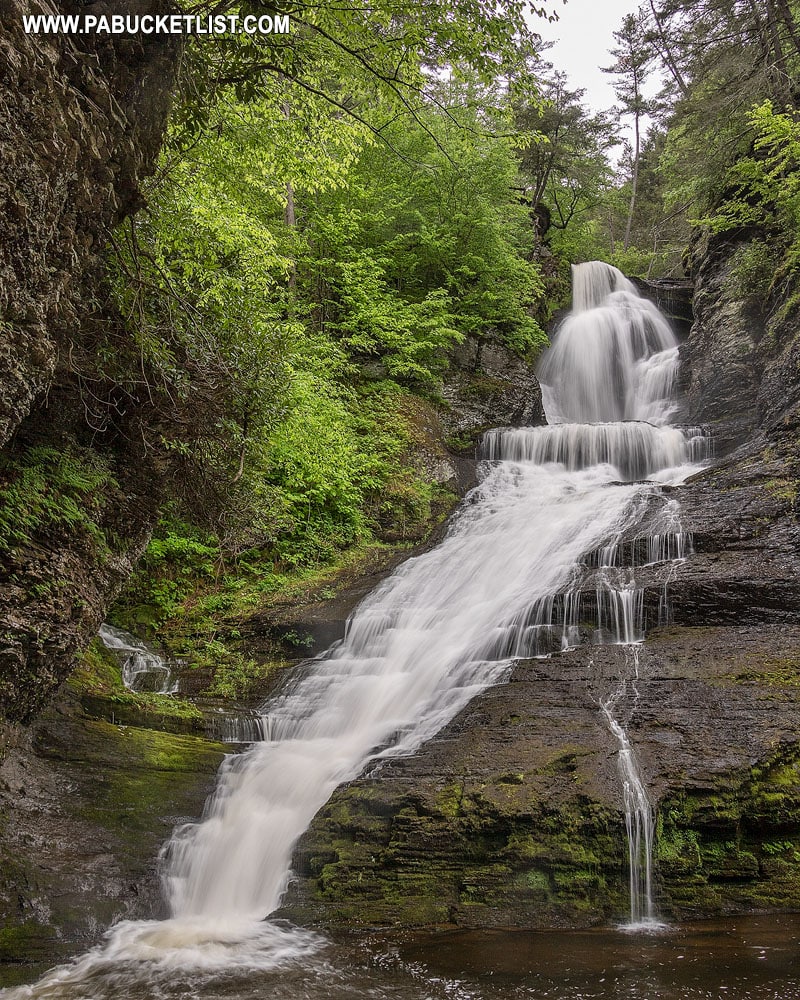 And while not in the running for one of the tallest waterfalls in PA, Shohola Falls just off of Route 6 is certainly one of the widest!
Be sure to check out 25 Must-See Waterfalls in the Poconos for an in-depth look at many of eastern Pennsylvania's finest waterfalls.
---
Did you enjoy this article?
If so, be sure to like and follow PA Bucket List on Facebook, Instagram, and/or Pinterest to stay up-to-date on my latest write-ups.
Click on any of the icons below to get connected to PA Bucket List on social media!
---
Pennsylvania's Best Travel Blog!