Bear Run in Tioga County forms the northeastern border between Colton Point State Park and the Tioga State Forest.
It is also home to several magnificent, unnamed waterfalls accessed via a 0.6 mile (one-way) off-trail hike along Bear Run as it winds its way downhill towards Pine Creek.
In general, the waterfalls become taller and more difficult to reach as you make you way downhill, until at last (assuming you make it that far) you come to the colossal Lower Bear Run Falls.
I'd classify the first few waterfalls on Bear Run as easy to moderately difficult to reach, while the last few range from difficult to damn near impossible to reach!
So use and abundance of caution if you attempt any portion of this hike, and remember there's no shame in turning back if it looks to be beyond your skill level.
---
How to Find the Waterfalls on Bear Run in Tioga County
The easiest spot to start your hike is from the Colton Point State Park sign along Colton Road.
The GPS coordinates for this location are 41.71662, -77.46379.
There is a small parking area located next to the sign, as the West Rim Trail also crosses Colton Road here.
From the parking area, simply hop the bank below the road and follow the stream downhill.
At this point, Bear Run looks rather small and unimpressive.
Don't worry – it gets better!
NOTE: DO NOT follow the West Rim Trail – it DOES NOT take you to any of the waterfalls along Bear Run, no matter how it may appear on maps.
---
The Waterfalls on Bear Run in Tioga County
As I mentioned at the outset, the waterfalls on Bear Run have no official names.
Even numbering them is problematic, as opinions on what is and what isn't a "waterfall" don't always concur.
I'm simply going to present you with some of my favorite waterfalls along Bear Run, starting with the "upper" ones closest to Colton Road, continuing with the "lower" ones, and finally culminating with the massive Lower Bear Run Falls (not an official name).
---
The Upper Waterfalls on Bear Run in Tioga County
The first waterfall you'll come to along Bear Run, assuming you started where I suggested, is this 15-footer.
One of my favorite scenes along Bear Run is the view looking back upstream towards this waterfall.
Unfortunately, on my last few trips there a blowdown was partially blocking this view.
But that's the nature of the forest – things are constantly changing!
---
Continuing downstream, this 8-footer is another regular stop for me.
Lots of creative possibilities exist when photographing this waterfall.
---
The Lower Waterfalls on Bear Run in Tioga County
As you continue downstream, another 15-foot waterfall pops up.
The degree of difficulty ramps up as you make your way below another 8-footer.
Scramble below this one and you'll be standing at the precipice of something truly monumental!
---
Lower Bear Run Falls
Enormous. Gigantic. Immense.
Choose your own superlative, but Lower Bear Run Falls is a jaw-dropper!
It's also an incredibly difficult waterfall to get to, so I'm not even going to present you with suggestions on how to accomplish that.
This is terrain that you'll either have the hiking expertise to figure it out on your own, or you'll wisely turn back if you can't!
This is easily a 60-foot tall waterfall, possibly taller depending on how many tiers you are counting as part of it.
And it's definitely a "buddy" hike – I would never recommend anyone, even advanced hikers, do this excursion alone.
If you do make it down here in one piece, take lots of pictures – you never know if/when you'll make it back again!
---
---
Nearby Attractions
Barbour Rock Overlook is located just a half-mile north of Bear Run, along the 0.7 mile Barbour Rock Trail.
---
Bradley Wales Scenic View is an exceptional roadside vista on the west rim of the PA Grand Canyon.
---
Colton Point State Park is on the southwestern side of Bear Run, and features more outstanding views of the PA Grand Canyon.
Fourmile Run can also be accessed from Colton Point State Park, and features several exceptional waterfalls of its own.
---
Burdic Run Falls is located just a few miles from Colton Point State Park and is every bit as challenging to get to as Lower Bear Run Falls.
---
Chimney Hollow Falls is yet another massive waterfall on a tributary of Pine Creek, this one a bit easier to get to that either Burdic Run Falls or Lower Bear Run Falls.
---
Leonard Harrison State Park is home to some of the most famous scenic views of the PA Grand Canyon.
---
The 10 Best Roadside Attractions Near Wellsboro gives you driving directions to 10 destinations in the PA Grand Canyon that just about anyone can enjoy, regardless of age or physical abilities.
---
Did you enjoy this article?
If so, be sure to like and follow PA Bucket List on Facebook, Instagram, and/or Pinterest to stay up-to-date on my latest write-ups about the best things to see and do in Pennsylvania!
Click on any of the icons below to get connected to PA Bucket List on social media.
---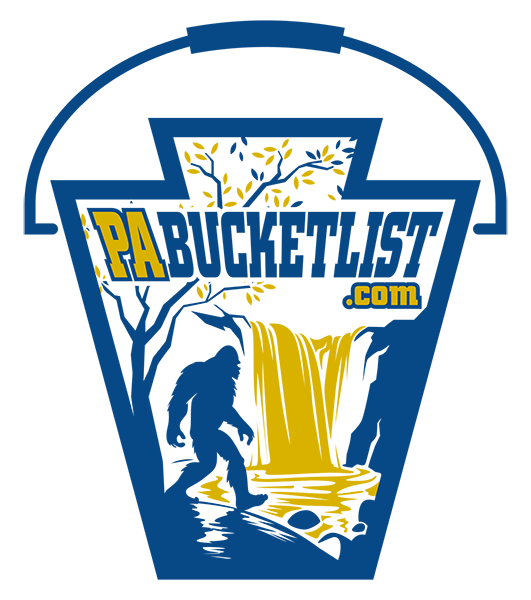 Pennsylvania's Best Travel Blog!