Hippie Shower Falls may be the most oddly-named waterfall in Pennsylvania!
Located between mile markers 85 and 86 along the Great Allegheny Passage, this Fayette County waterfall does indeed seem a welcoming spot for forest-bathing flower children to bask in Nature's glory!
So how do you find and experience Hippie Shower Falls for yourself?
Read on as I show you not only how to find it, but several other interesting historic sites along the way.
---
Hippie Shower Falls FAQs
Where exactly is Hippie Shower Falls?
Hippie Shower Falls is located alongside the Great Allegheny Passage rail trail in Fayette County, between mile markers 85 and 86. A small bench sits next to the trail, directly in front of the falls.

Can I navigate to Hippie Shower Falls using GPS?
Yes – Hippie Shower Falls is located at GPS coordinates 39.98381, -79.58977 along the Great Allegheny Passage, on property owned by the Commonwealth of Pennsylvania.

Where do I park to hike/bike to Hippie Shower Falls?
There are 2 parking areas relatively close to Hippie Shower Falls.
The closest, if you are looking just to get to the falls as quickly as possible, is located 0.4 miles north of Hippie Shower Falls at GPS coordinates 39.98917, -79.59367 along Riverside Drive.
If you are looking for a longer walk or bike ride, park at the main Great Allegheny Passage parking lot along North 1st Street in Connellsville at GPS coordinates 40.02088, -79.59705 and hike/bike 2.7 miles to Hippie Shower Falls.


Is the trail to Hippie Shower Falls difficult to hike/bike?
No – the section closest to Connellsville is paved, and the section closer to the falls is a hard packed stone and dirt surface. All sections are essentially flat, with occasional (and very slight) up and down undulations.

What else is there to see near Hippie Shower Falls?
There are two historic railroad bridges along the Great Allegheny Passage near mile marker 86, as well as great views of the Youghiogheny River along most of the trip out from Connellsville.

Can you really take a shower at Hippie Shower Falls?
You can certainly stand under or behind (pictured below) Hippie Shower Falls.

---
The Trail from Connellsville to Hippie Shower Falls
If time isn't a factor and you have the ability to hike / bike the roughly 5.5 mile round-trip, I highly recommend parking in Connellsville and traversing the trail out to Hippie Shower Falls.
Why?
Simply because there is a lot to see along this short stretch of the Great Allegheny Passage!
Starting in Connellsville, the Great Allegheny Passage runs alongside an industrial area with some great murals along the way.
About 1.5 miles into the trip out from Connellsville, you'll encounter the 731 foot-long Greenwood Bridge, also known as the Dunbar Creek Viaduct.
This curved bridge spans Dunbar Creek and was built by the Western Maryland Railroad in 1912, then redecked for bicycle and foot traffic in 1994.
A third of a mile past the Greenwood Bridge you'll encounter the Bowest Bridge, named after the Western Maryland Railroad's nearby Bowest rail yard.
Bowest Bridge is nearly 732 feet long and spans another railroad track below.
Bowest Bridge is also the junction point between the Great Allegheny Passage and the Sheepskin Trail, the latter of which originates in nearby Dunbar.
Continuing southeast another 0.7 miles from Bowest Bridge and you'll be standing directly in front of Hippie Shower Falls.
---
Exploring Hippie Shower Falls
Certainly Hippie Shower Falls in not the largest or most powerful waterfall you'll ever encounter.
The small, unnamed stream on which it lies rarely carries a lot of water, and the falls typically flow about as well as your shower at home, and sometimes not even that well!
However, if you catch it after the spring thaw or immediately after heavy rains, it can be quite impressive!
And when autumn rolls around, this is a picturesque little waterfall, decked out in October's colorful fall foliage.
And as mentioned previously, you can indeed stand under or behind Hippie Shower Falls, although it can be deceptively slippery so use caution if you try this.
Once you've had your fill of Hippie Shower Falls, simply retrace you tracks back along the Great Allegheny Passage, across the old railroad bridges, and into downtown Connellsville.
---
Nearby Attractions
You may have noticed two other waterfalls mentioned on the map at the beginning of this article.
East Park Falls is located in a charming little park in the heart of Connellsville.
---
Robinson Falls lies along the outskirts of Connellsville, and is rumored to have been a campsite of George Washington during the French and Indian War!
---
Ohiopyle State Park is located just down the road in Fayette County, and is home to at least 10 must-see waterfalls.
---
And of course the most famous house in all of western Pennsylvania, Fallingwater, is located 13 miles to the south of Connellsville, along Route 381 in Fayette County.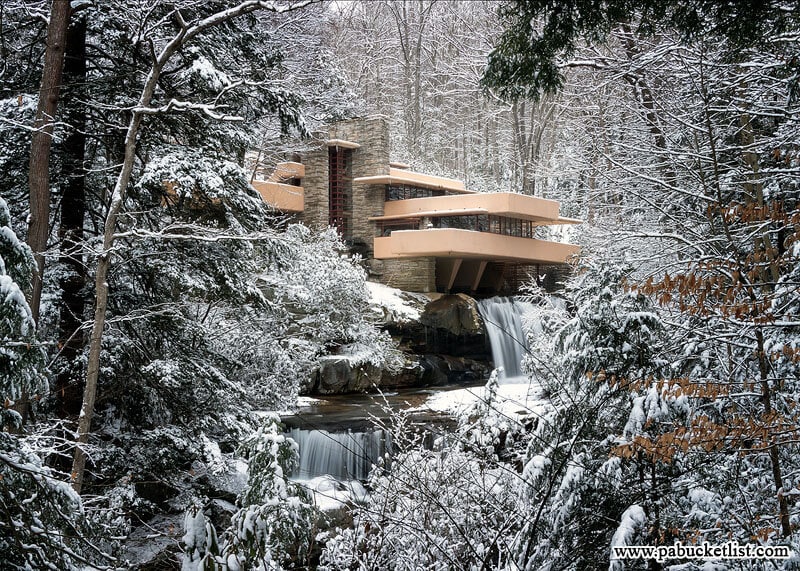 ---
Exploring the Haunted Quaker Church in Fayette County will take you to a rural hilltop church where history and urban legend combine for one incredible supernatural tale!
---
Did you enjoy this article?
If so, be sure to like and follow PA Bucket List on Facebook, Instagram, and/or Pinterest to learn more about the best things to see and do in Pennsylvania!
Click on any of the icons below to get connected to PA Bucket List on social media.
---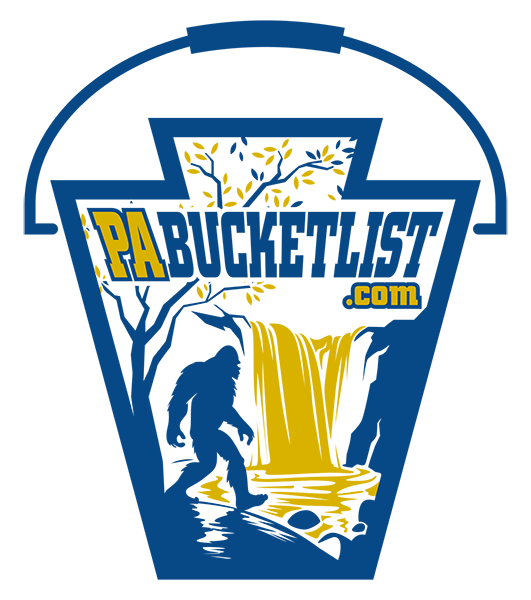 Pennsylvania's Best Travel Blog!