Fall Run Falls in Allegheny County has the distinction of being the largest waterfall near downtown Pittsburgh!
Located a mere 7 miles northeast of Pittsburgh, Fall Run Falls is a beautiful 18 foot tall waterfall tucked away in a nature park that is surrounded on all sides by housing developments.
Fall Run Falls is the centerpiece of 94-acre Fall Run Park, also known as the Judge Miller Nature Reserve, located in the suburb of Glenshaw.
---
How to Find Fall Run Falls Near Pittsburgh
Fall Run Falls are located along a 0.79 mile-long nature trail that can be accessed from parking lots at either end of the trail.
The lower parking area (where I parked for this hike) is located just off Route 8 at GPS coordinates 40.53053, -79.94791.
To find the lower parking area at Fall Run Park, look for the entrance sign pictured below, then drive past a small playground and basketball court to the cul-de-sac parking lot near the trailhead.
A sign at the trailhead indicates that you are 0.44 miles from the falls at this point, and 0.79 miles from the upper parking area, should you want to hike the entire length of the Fall Run Trail (the upper parking area is located at GPS coordinates 40.53967, -79.94224).
Fall Run Park was once maintained by the Pennsylvania Game Commission as state game lands, until urban development made hunting the land unsafe, thus the signage.
---
Hiking to Fall Run Falls Near Pittsburgh
The Fall Run Trail is a compacted dirt trail, relatively smooth and wide, with a slight uphill grade if starting from the lower parking area.
The entire hike runs parallel to Fall Run, and there are no less than 7 bridges that cross back and forth over the stream before you reach the falls.
Smaller side streams and the occasional large boulder punctuate the short hike to Fall Run Falls.
When you do reach the falls, you have multiple viewing angles to choose from, courtesy a set of stairs and a side viewing platform.
---
Visiting Fall Run Falls Near Pittsburgh
On most days Fall Run Falls resembles a thin needle of water, only appearing much larger/wider after a heavy rainstorm.
From the side, you can really appreciate the "bowl" that Fall Run has carved out of the surrounding rock over thousands of years.
If you follow the stairs up to the top of the falls, you'll have a nice view back down the gorge and a chance to take a peak over the edge of the falls.
Like the sign says, do this AT YOUR OWN RISK – I did and it IS a pretty cool view!
I enjoyed my visit to Fall Run Falls very much – this unique suburban waterfall reminded me of a smaller version of Alpha Falls, one of the tall/slender waterfalls north of Pittsburgh.
---
Nearby Attractions
The Fountain of Youth really does exist, and you can find it in a public park just north of Pittsburgh!
Built in the 1930's, this historic spring house has been abandoned as a source of water, but the Fountain of Youth is still a great photo-op and roadside attraction, provided you know how to find it.
---
Playthings Etc. is a stealth bomber-shaped toy store along Route 8 in Butler County, billed by the owners as "The World's Coolest Toy Store"!
---
Also north of Pittsburgh you'll find McConnells Mill State Park, home to miles of hiking, scenic overlooks, and a historic covered bridge and grist mill.
---
The abandoned Westinghouse Atom Smasher near Pittsburgh is an iconic relic from the very dawn of the atomic age in the United States.
---
13 Must-See Waterfalls in Western Pennsylvania is your guide to even more waterfalls within 90 minutes of downtown Pittsburgh.
---
Did you enjoy this article?
If so, be sure to like and follow PA Bucket List on Facebook, Instagram, and/or Pinterest to stay up-to-date on my latest write-ups about the best things to see and do in Pennsylvania!
Click on any of the icons below to get connected to PA Bucket List on social media.
---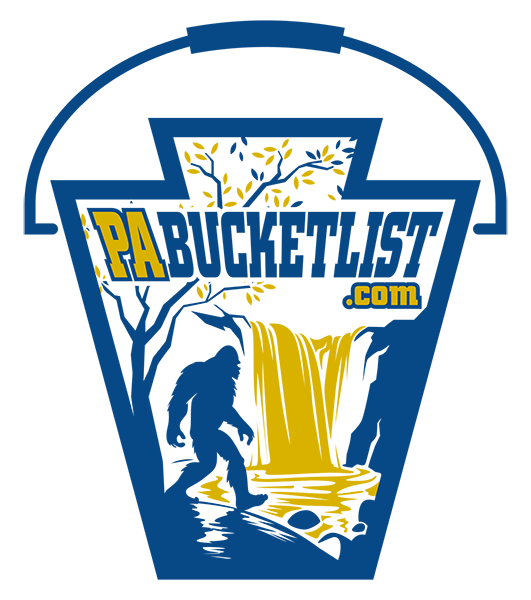 Pennsylvania's Best Travel Blog!