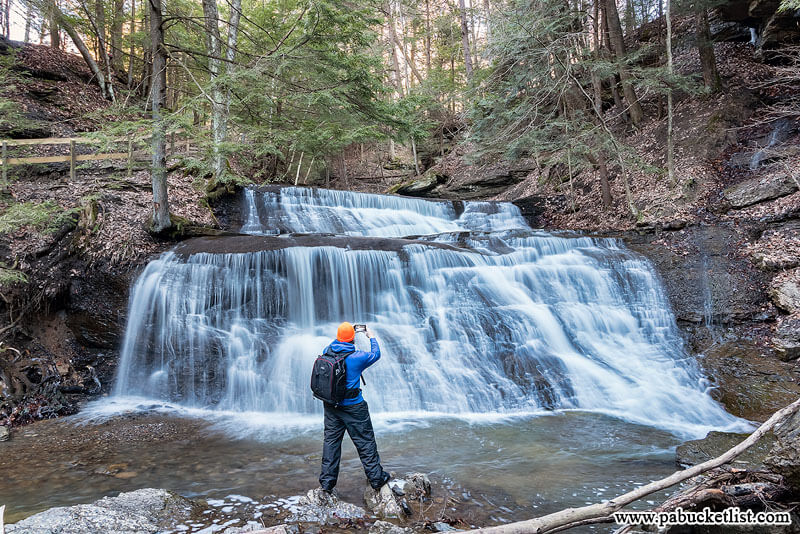 Western Pennsylvania waterfalls are numerous, and they are beautiful!
This article presents you with directions to 14 western Pennsylvania waterfalls within a 90 minute drive of Pittsburgh.
Simply click on the blue text link in each waterfall description to see maps, directions, and additional photos of that waterfall.
---
1. Fall Run Falls
Fall Run Falls in Allegheny County has the distinction of being the largest waterfall near downtown Pittsburgh!
Located a mere 7 miles northeast of Pittsburgh, Fall Run Falls is a beautiful 18 foot tall waterfall tucked away in a nature park that is surrounded on all sides by housing developments.
---
2. Alpha Falls
Alpha Falls is a 35-foot tall, somewhat temperamental waterfall located at McConnells Mill State Park in Lawrence County.
While it takes a HARD rain to get this one flowing well in the summer, it does present with some spectacular ice formations in the winter.
---
3. Grindstone Falls
Don't look for Grindstone Falls on the "official" McConnell's Mill State Park map, because it isn't on there.
But rest assured this 8-footer does exist in the southeastern portion of the park, a 10-minute hike from the parking area along Mountville Road.
---
4. Hell's Hollow Falls
Hell's Hollow Falls is actually an easy waterfall to get to, despite the name.
It's found at the end of a simple 10-minute hike along a fairly flat trail at McConnell's Mill State Park in Lawrence County.
---
5. Quaker Falls
Quaker Falls is the centerpiece of the newly-created Quaker Falls Recreation Area in Lawrence County, and just may be the westernmost waterfall in Pennsylvania.
A quick and easy view of Quaker Falls can be had from above, while a short but challenging hike awaits those who wish to see the falls from stream level.
---
6. Freedom Falls
Freedom Falls in Venango County is located near the remnants of an iron forge and the ghost town of Freedom.
---
7. Springfield Falls
Springfield Falls is a beautiful roadside waterfall in Mercer County.
Standing 20 feet tall and close to 40 feet wide, Springfield Falls spans the entire width of Hunters Run on State Game Lands 284.
---
8. Rapp Run Falls
Rapp Run Falls is located on State Game Lands 72, just minutes from downtown Clarion.
---
9. Logan Falls
Logan Falls is located 9 miles from Marienville, Forest County, in the heart of the Allegheny National Forest.
---
10. Buttermilk Falls in Indiana County
Buttermilk Falls in Indiana County gives visitors the opportunity to walk behind a waterfall in this county park setting.
---
11. Buttermilk Falls in Beaver County
Buttermilk Falls in Beaver County is yet another waterfall that you can stand behind, in a picturesque park setting just a few hundred yards from the Beaver Falls exit of the PA Turnpike.
---
12. Big Run Falls
Big Run Falls in New Castle, Lawrence County is a 20 foot tall waterfall at the heart of an abandoned amusement park turned nature park.
---
13. Buttermilk Falls in Armstrong County
Buttermilk Falls in Armstrong County is short in stature but long on beauty, located along a rail trail that parallels Cowanshannock Creek, a tributary of the Allegheny River.
---
14. Frankfort Mineral Springs Falls
Frankfort Mineral Springs Falls is a 10-foot tall waterfall located just off of Route 18 at Raccoon Creek State Park.
This Beaver County waterfall is located next to the ruins of a Victorian-era resort and health spa.
---
Nearby Attractions
If you like road trips, I've mapped out the ultimate "Waterfalls Near Pittsburgh Road Trip" just for you!
---
24 Must-See Waterfalls in the PA Laurel Highlands is your guide to the best waterfalls just east of Pittsburgh.
---
The Best Waterfalls in the Poconos Road Trip takes you on a great waterfall tour of eastern Pennsylvania.
---
20 Must-See Pennsylvania Waterfalls is your guide to the best waterfalls from across the entire state of PA!
---
Did you enjoy this article?
If so, be sure to like and follow PA Bucket List on Facebook, Instagram, and/or Pinterest to stay up-to-date on my latest write-ups about the best things to see and do in Pennsylvania!
Click on any of the icons below to get connected to PA Bucket List on social media.
---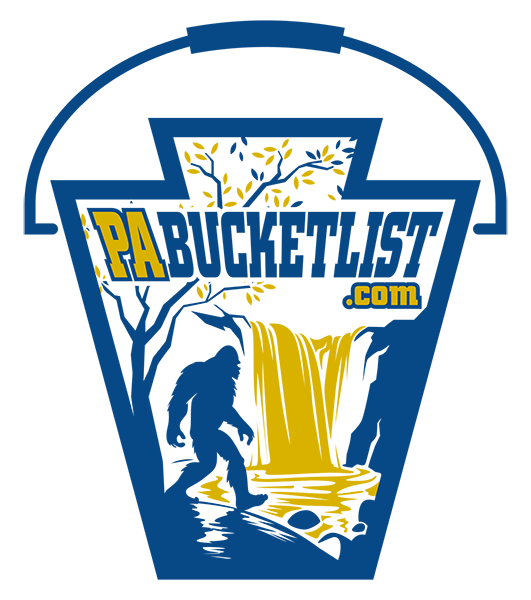 Pennsylvania's Best Travel Blog!