Logan Falls is tucked away in the heart of the Allegheny National Forest in northwestern Pennsylvania.
Approximately 9 miles from the town of Marienville in Forest County, to be specific.
---
How to Find Logan Falls in the Allegheny National Forest
The parking area for Logan Falls is located along Coal Bed Run Road, 9 miles north of Marienville.
Navigate to 41.58462, -79.15959 on your GPS and follow Coal Bed Run Road (dirt forest road) to a pull-off at those coordinates.
An obvious trail leads downhill, away from the road and towards Logan Run and Logan Falls.
---
Photographing Logan Falls
Logan Falls is an easy waterfall to maneuver around, so really you can shoot it from just about any angle you can dream up.
Logan Falls is in the 10-12 foot tall range.
There are numerous small cascades and tree roots just below it that you can incorporate into your photos as well.
From Logan Falls, the waters on Logan Run make their way another mile downstream to Tionesta Creek.
The return hike may feel a little longer than the 500 yards it really is, owing to the approximately 200 feet of elevation gain on your way back uphill to your vehicle.
Overall, this is an simple hike to a picturesque little waterfall, one that just about anyone with entry-level hiking experience could handle with ease.
---
Nearby Attractions
The Sherman Memorial Lighthouse in Forest County serves no navigational purpose, but at 75 feet tall, it's the tallest functional lighthouse in Pennsylvania!
---
Rimrock Overlook in Warren County offers visitors outstanding views of Kinzua Bay and the Allegheny National Forest which surrounds it.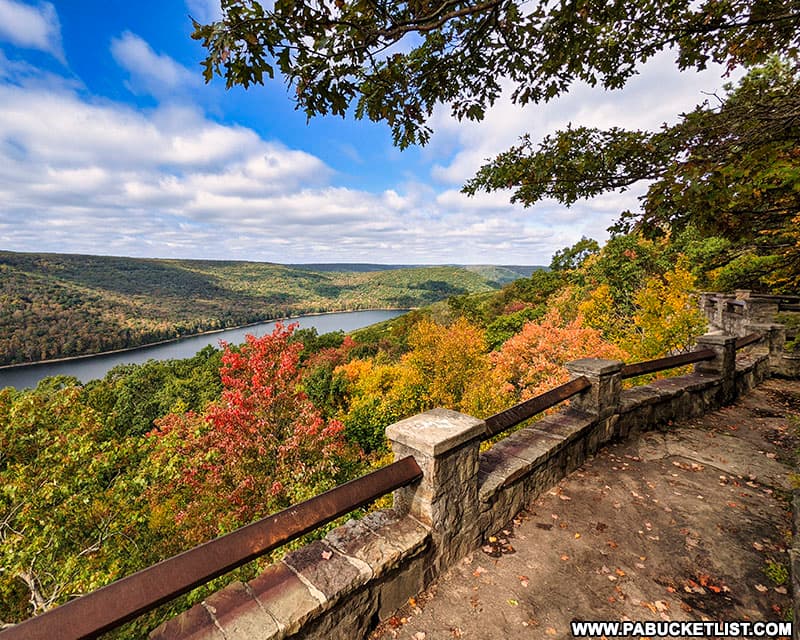 ---
Jakes Rocks Overlook is actually a series of overlooks, also located in the Allegheny National Forest and just a few miles west of Rimrock Overlook.
---
Rapp Run Falls in neighboring Clarion County is a nearly-roadside waterfall on State Game Lands 72, just outside of downtown Clarion.
---
Brady's Bend Overlook in Clarion County is one of the finest roadside vistas in Pennsylvania!
---
Freedom Falls in neighboring Venango County is a 20 foot tall waterfall located just off of Rockland Station Road, near Kennerdell.
---
Right next to Freedom Falls is Rockland Furnace, an iron furnace constructed in 1832.
---
Downstream from Freedom Falls and Rockland Furnace is Rockland Tunnel, an old railroad tunnel now part of the Allegheny River Rail Trail.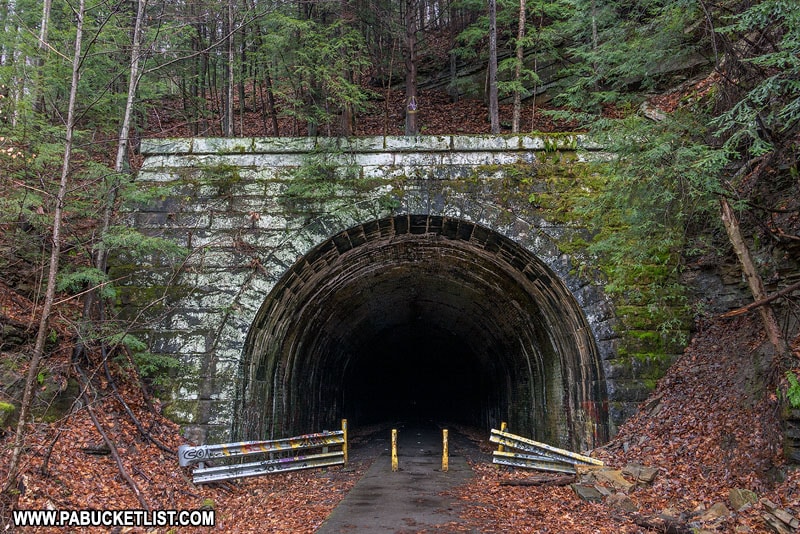 You can hike or bike the entire length of this 2,868 foot long tunnel.
---
Beartown Rocks in Jefferson County features an exceptional scenic overlook perched high atop a "rock city" dating back to the last Ice Age!
---
Did you enjoy this article?
If so, be sure to like and follow PA Bucket List on Facebook, Instagram, and/or Pinterest to stay up-to-date on my latest write-ups about the best things to see and do in Pennsylvania!
Click on any of the icons below to get connected to PA Bucket List on social media.
---
Pennsylvania's Best Travel Blog!