If you're looking for directions to Maple Spring Falls at Ricketts Glen State Park, you're in the right place!
Maple Spring Falls is a 15 foot-tall, off-trail waterfall located along Maple Spring Run, a small tributary of Kitchen Creek.
And while it may not have the "wow" factor of 94 foot-tall Ganoga Falls along the nearby Falls Trail, the relative isolation of Maple Spring Falls may appeal to those of you looking for a more natural, less-touristy hike at Ricketts Glen.
---
Directions to Maple Spring Falls
The hike to Maple Spring Falls as I'm going to describe it here covers roughly 1.5 miles of terrain, one-way (so 3 miles total, out and back).
The vast majority of the hike utilizes the relatively flat and easy-to-follow Old Beaver Dam Road Trail.
Only the last 75 yards of the hike to Maple Spring Falls is off-trail, and it's pretty tame by off-trail standards.
I'll also mention another waterfall below Maple Spring Falls at the end of this article, for those of you who may be more experienced with off-trail hiking and looking for a bigger challenge.
I parked along Route 487, directly across the road from the old Beaver Dam Road trailhead/gate.
The parking lot will accommodate a maybe a half-dozen vehicles, and you'll find it at GPS coordinates 41.31759, -76.30242.
From the parking area, cross the road, go around the gate, and start down the trail, bearing to your right when you reach the sign pictured below.
Continue to follow the Old Beaver Dam Road Trail counter-clockwise for 1.4 miles, passing through numerous groves of hemlock along the way.
You'll reach the spot where Maple Spring Run literally flows across the Old Beaver Dam Road Trail at GPS coordinates 41.31487, -76.28431.
From this spot, Maple Spring Falls is 75 yards downstream – I went down the western side of the stream because that looked the easiest to me.
Using myself for scale in the photo below, I'd estimate Maple Spring Falls is in the neighborhood of 15 feet tall, give or take a foot.
If navigating by GPS, you'll find Maple Spring Falls at GPS coordinates 41.31442, -76.28366.
---
Exploring Porcupine Falls on Maple Spring Run
200 yards downstream from Maple Spring Falls, you'll find Porcupine Falls, a triple-tiered beauty first named and popularized by hiking blogger Jeff Mitchell on his Endless Mountains Experience website.
While Maple Spring Falls is relatively easy to get to, Porcupine Falls requires a more challenging scramble – I chose to continue down the western side of the stream to reach it (that's the right side of the stream when facing downstream).
The view to the southeast from the top of Porcupine Falls, while partially obstructed by trees, is still magnificent.
The middle tier of Porcupine Falls was the most impressive of the three tiers to me – using myself for scale, I'd estimate it to be in the neighborhood of 20 feet tall.
Taking all three tiers as a whole, I'd estimate Porcupine Falls to be in the 35-40 foot-tall range.
There are a few smaller waterfalls/cascades downstream from Porcupine Falls, but nothing on the scale of either Maple Spring Falls or Porcupine Falls.
On this hike I simply backtracked upstream to the Old Beaver Dam Road Trail and made my way back to the parking area along Route 487.
---
Nearby Attractions
Exploring the Falls Trail at Ricketts Glen State Park is your guide to the most famous waterfall hike in Pennsylvania!
---
Adams Falls is the easiest waterfall to reach at Ricketts Glen State Park, located just off of Route 118, along the Evergreen Trail.
---
The abandoned Lake Leigh Dam at Ricketts Glen State Park is a towering remnant of an ill-fated hydroelectric project that thankfully failed!
---
Little Shickshinny Falls is located on State Game Lands 260, also in Luzerne County.
---
The 10 Best Waterfalls on State Game Lands 13 is your guide to a region in neighboring Sullivan County often referred to as the "Waterfall Wonderland" of Pennsylvania!
---
20 Must-See Pennsylvania Waterfalls is my handpicked list of some of the most scenic waterfalls from across the Keystone State.
---
Did you enjoy this article?
If so, be sure to like and follow PA Bucket List on Facebook, Instagram, and/or Pinterest to learn more about the best things to see and do in Pennsylvania!
Click on any of the icons below to get connected to PA Bucket List on social media.
---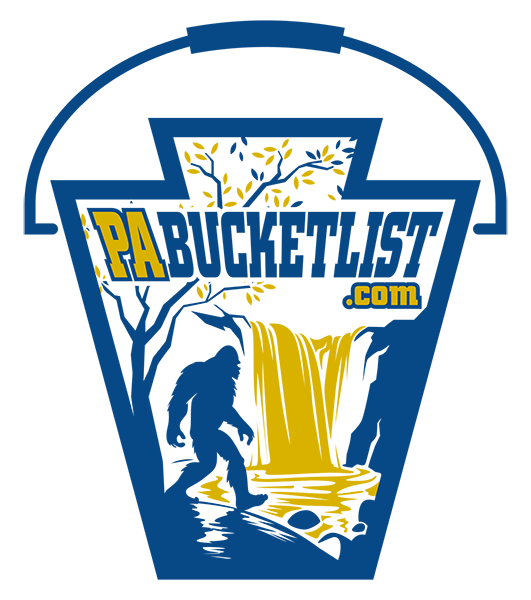 Pennsylvania's Best Travel Blog!