Does the thought of taking an epic cross-state road trip to see the tallest waterfalls in PA intrigue you?
If so, you're in the right place!
What follows is an east-west route I came up with that will take you to some of the tallest waterfalls in each region of Pennsylvania, while allowing for ample opportunity to improvise along the way.
---
---
Scroll down to preview this 540 mile cross-state road trip to 10 of the tallest waterfalls in PA!
Simply click on the blue text link in each waterfall description if you want to learn more about that waterfall.
---
1. Raymondskill Falls
We'll start off at Raymondskill Falls, billed by the National Park Service as the "tallest waterfall in PA" at 178 feet tall.
Those 178 feet are spread out over 3 tiers at this easy-to-reach waterfall in the Delaware Water Gap National Recreation Area.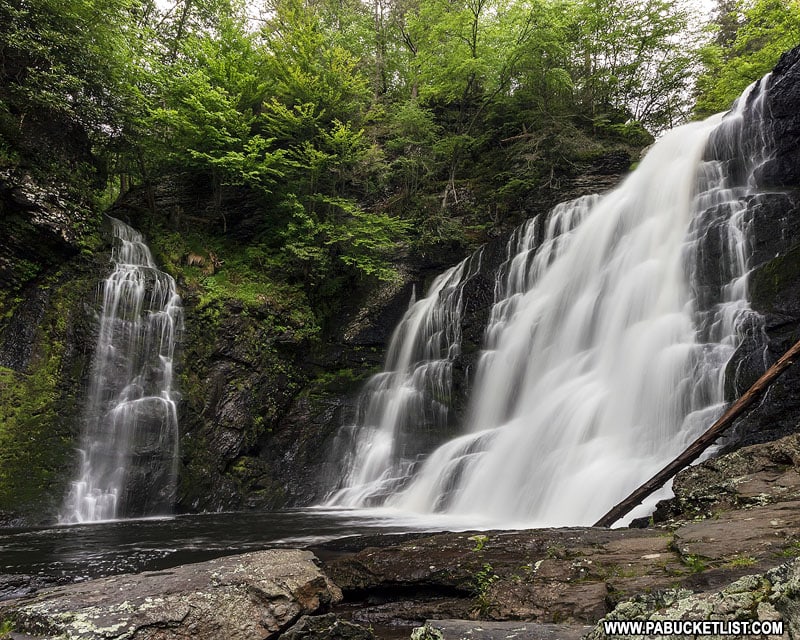 ---
2. Dingmans Falls
Dingmans Falls is billed as being "the second tallest waterfall in PA" at 130 feet tall.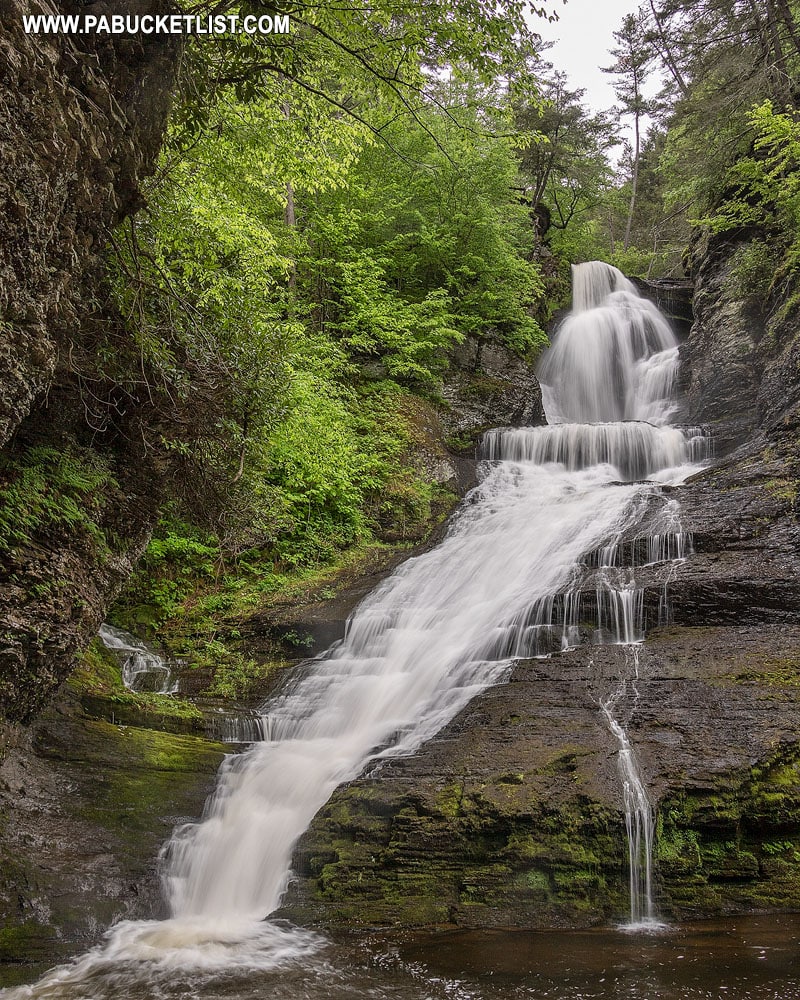 Dingmans Falls is located just minutes from Raymondskill Falls, and as an added bonus you'll pass Silverthread Falls along the boardwalk trail leading to Dingmans Falls.
---
3. Ganoga Falls
Stop #3 on this road trip takes us to the world-famous Falls Trail at Ricketts Glen State Park, where you'll find 94′ tall Ganoga Falls, along with 20 other spectacular waterfalls!
Unlike the first two stops on this road trip, there is some rather strenuous hiking involved to get to Ganoga Falls, but the scenery along the way more than makes up for it.
---
4. Bradford Falls
Bradford Falls is a 70-footer tucked away along Falls Creek on State Game Lands 36 in Bradford County.
In addition to several other waterfalls along Falls Creek that you'll definitely want to check out, the Bradford Falls Trail features a real-life "bat cave"!
---
5. Angel Falls
Angel Falls is one of the tallest waterfalls in the Loyalsock State Forest, at nearly 70 feet tall!
Angel Falls is located just upstream from Gipson Falls, yet another beautiful Sullivan County waterfall.
---
6. Chimney Hollow Falls
Chimney Hollow Falls is one of the tallest waterfalls in PA and one of the tallest waterfalls in the Pine Creek Gorge Natural Area.
A short but somewhat steep off-trail hike leads to the base of this 50-foot tall waterfall in the PA Grand Canyon region.
---
7. Round Island Run Falls
Round Island Run Falls may be THE most remote waterfall in all of Central Pennsylvania.
One of the neat features of this 20-25 foot tall waterfall is that you can walk BEHIND the upper tier of the falls!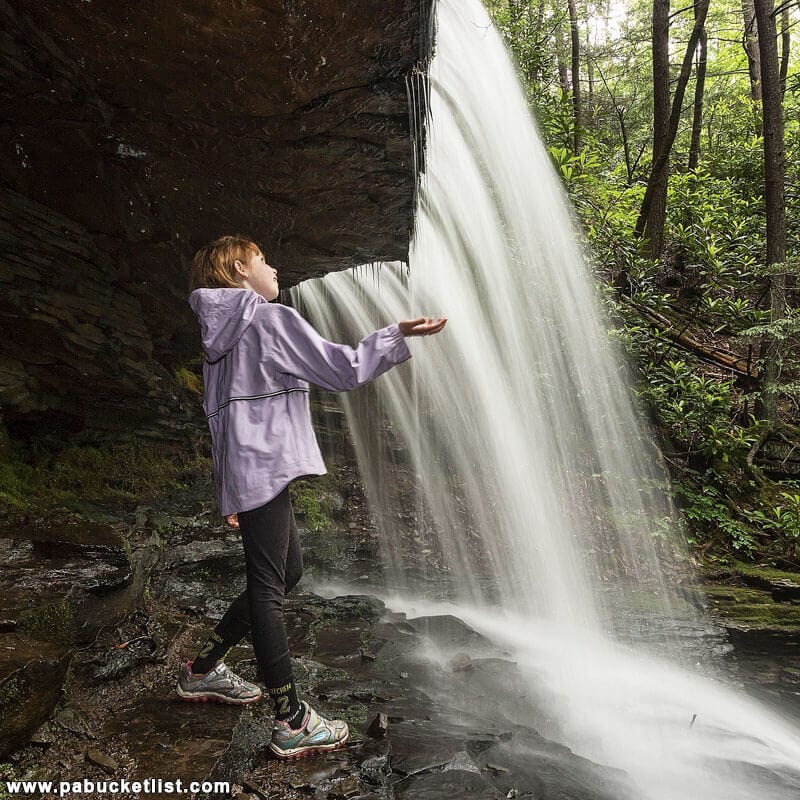 ---
8. Buttermilk Falls in Indiana County
Continuing westward, Buttermilk Falls in Indiana County is our next stop.
An access project completed in 2017 allows you to walk down to and BEHIND Buttermilk Falls, where a young Fred Rogers (AKA Mister Rogers) might have played when his grandfather owned this property (now a county park).
---
9. Buttermilk Falls in Beaver County
Buttermilk Falls in Beaver County is located just a few hundred yards from the Beaver Falls exit of the PA Turnpike in a park that is also home to a historic stone quarry.
As with the prior two waterfalls mentioned, you can stand behind the 25 foot-tall Buttermilk Falls in Beaver County as well.
---
10. Big Run Falls
Finishing out our "tallest waterfalls in PA" road trip close to the Ohio border, Big Run Falls in Lawrence County is situated in a local nature park that was once home to a thriving amusement park.
Big Run Falls in Cascade Park is essentially a 20 foot-tall roadside waterfall, with the best vantage point for viewing the falls being the overlook directly across from the parking area.
---
So there you have it!
Ten magnificently-tall Pennsylvania waterfalls you can visit along one epic road trip across the Keystone State.
Depending on how much time want to allow, there are literally hundreds of additional waterfalls you could visit along the way, and you'll find them broken down by region in my Ultimate Pennsylvania Waterfalls Guide.
And if you enjoy road trips and waterfalls, but hiking not so much, be sure to check out Road Tripping to the Best Roadside Waterfalls in PA for a cross-state guide to the best waterfalls that you can literally see from your car!
---
Did you enjoy this article?
If so, be sure to like and follow PA Bucket List on Facebook, Instagram, and/or Pinterest to stay up-to-date on my latest write-ups about the best things to see and do in Pennsylvania!
Click on any of the icons below to get connected to PA Bucket List on social media.
---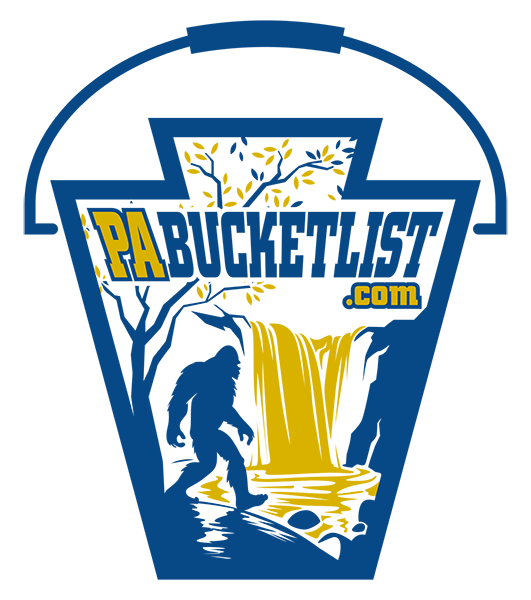 Pennsylvania's Best Travel Blog!