The Big Falls swimming hole in Tioga County is one of the most famous swimming holes in all of Pennsylvania!
Located on Stony Fork in the Tioga State Forest, much of this swimming hole's fame is derived from the turquoise-colored waters in the plunge pool.
That this swimming hole is located close to a road and just a few miles from a popular campground also add to its popularity.
---
How to Find the Big Falls Swimming Hole in Tioga County
The Big Falls swimming hole is located approximately 12 miles south of Wellsboro, along Stony Fork Road in the Tioga State Forest.
Parking is at a lot where the Mid State Trail crosses Stony Fork Road.
If navigating by GPS (which I recommend), you'll find the parking lot right next to the trail, at coordinates 41.59207, -77.34877.
From here you simply follow the orange-blazed Mid State Trail downhill to the banks of Stony Fork and make a quick wet-crossing (rock-hop or wade) of the stream to the opposite bank.
If you choose to wade take your shoes off or take an extra pair to change into later; I rock-hopped at a spot I located just upstream from the "official" crossing, and was able to get across with little difficulty.
Once across, simply follow the Mid State Trail upstream a quarter-mile to the Big Falls swimming hole.
---
Exploring the Swimming Holes along Stony Fork
You'll notice on the map above that Big Falls is not the only swimming hole mentioned.
If you do any sort of searching on the internet, you'll see terms like "Little Falls", "Short Falls", "Wide Falls", etc. used to describe the various cascades and pools located above and below the Big Falls swimming hole.
While my focus here is on Big Falls, be sure to take some time and give these smaller water features a few minutes of your attention as well, if you choose to visit this spot yourself.
---
What Gives the Big Falls Swimming Hole Its Turquoise Appearance?
As I mentioned earlier, one of the big draws to the Big Falls swimming hole is the turquoise-colored water.
The water here has that apparent color because as the Stony Fork erodes the underlying limestone, calcium carbonate crystals are released, and they act like tiny prisms that selectively scatter the blue-green wavelength color you see.
The erosive properties of the Stony Fork have also, over time, given the stream bed its beautiful contoured appearance.
If you've ever visited Rock Run in the McIntyre Wild Area, you'll have seen similar erosive forces and turquoise-colored waters around some of the swimming holes there as well.
---
Final Thoughts
For a region that was once stripped bare of trees in the "lumber boom" era, the Big Falls swimming hole and surrounding Tioga State Forest have been restored to a place of natural beauty for public recreation and enjoyment, and enjoy it you will if and when you visit!
---
Nearby Attractions
Black Run Falls is a 20 foot-tall waterfall located on a picturesque mountain stream just minutes up the road from the Big Falls swimming area.
---
37 Must-See Waterfalls in Tioga County is your guide to even more waterfalls in the region.
The 10 Best Roadside Attractions Near Wellsboro is your guide to some of the best things to see and do near Wellsboro that just about anyone can enjoy, regardless of age or physical abilities.
---
Leonard Harrison State Park is synonymous with one of the Keystone State's most famous natural wonders – the PA Grand Canyon!
---
Colton Point State Park encompasses 368-acres on the west rim of the PA Grand Canyon in Tioga County.
---
Did you enjoy this article?
If so, be sure to like and follow PA Bucket List on Facebook, Instagram, and/or Pinterest to stay up-to-date on my latest write-ups about the best things to see and do in Pennsylvania!
Click on any of the icons below to get connected to PA Bucket List on social media.
---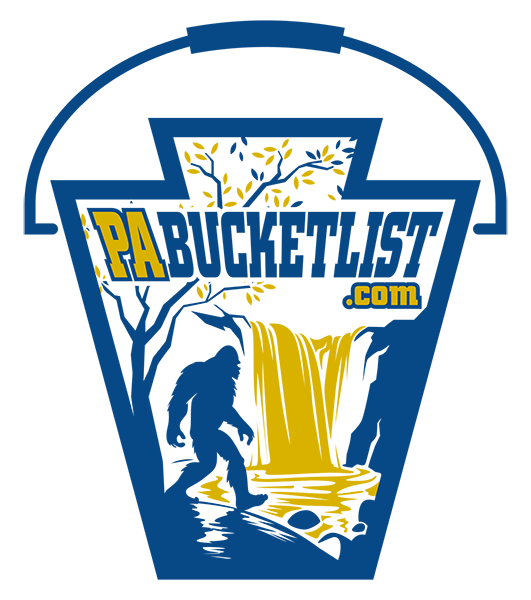 Pennsylvania's Best Travel Blog!