If you're looking for directions to Angel Falls, one of the tallest waterfalls in the Loyalsock State Forest, you're in the right place!
As if that weren't enough to garner your interest, just below Angel Falls lies Gipson Falls, a fantastic 20-footer in its own right.
So how do you find these two beauties?
Follow along as I show you EXACTLY how to find Angel Falls and Gipson Falls in the Loyalsock State Forests.
---
Getting There
How to Find Angel Falls and Gipson Falls in the Loyalsock State Forest.
Turn off of Route 87 onto Ogdonia Road and proceed approximately 3 miles to intersection with Brunnerdale Road.
Turn onto Brunnerdale Road, proceed 500 yards, and park in the Brunnerdale parking area at GPS coordinates 41.38518, -76.66822.

Follow the Loyalsock Trail for approximately 0.5 miles.
When the LT makes a hard right turn uphill away from the stream on your left (Ogdonia Run), break off from the LT and continue straight along the unblazed but well-worn trail next to Ogdonia Run another 0.2 miles.
At 0.7 miles into your hike, you will reach the sign pictured below.
Hike uphill along Falls Run another 0.3 miles past the sign to reach Gipson Falls.

Reach Gipson Falls at approximately 1 mile into your hike.
GPS coordinates for Gipson Falls: 41.39287, -76.67723


Cross over Falls Run BELOW Gipson Falls and follow the well-worn trail uphill on left side of stream another 0.1 miles to Angel Falls.

Arrive at Angel Falls.
GPS coordinates for Angel Falls: 41.39389, -76.67704
---
Exploring Gipson Falls
The approach to Gipson Falls is quite picturesque.
This is an excellent winter waterfall as you get some outstanding ice formations in the Falls Run Gorge.
When you finally get up close to Gipson Falls, you realize it's every bit of 20 feet tall.
Here's my hiking buddy Steve standing on the falls for scale.
---
Exploring Angel Falls
Officially, Angel Falls is listed at 70 feet tall.
Let me tell you – when you're standing at the base it feels taller than that!
It's hard to catch Angel Falls raging unless you time things just right.
During the spring thaw or after a hard summer rain are your best bets.
It's difficult to fit the entirety of Angel Falls into a single photo, unless you are using a wide angle lens.
---
The Return Hike
Getting back to your vehicle is a simple matter of retracing your footsteps.
But you should allow a little bit of time, either before or after visiting Gipson and Angel Falls, to take in the cascades downstream.
Sometimes I feel like the cascades on Falls Run are just as photogenic as the big falls themselves.
Summer, winter – it doesn't really matter.
This is a fantastic spot in a forest full of fantastic spots!
---
Final Thoughts
Angel Falls and Gipson Falls are two extraordinary waterfalls located fortuitously close to one another, making this a must-see spot in Sullivan County for hikers, photographers, and nature buffs.
Add to it the fact that this entire hike takes place next to a couple of marvelous streams (Ogdonia Run and Falls Run), and there is no reason NOT to visit Angel Falls and Gipson Falls in the Loyalsock State Forest!
---
Nearby Attractions
Dry Run Falls is a roadside waterfall just minutes from Angel Falls and Gipson Falls.
---
Looking for something more off-the-beaten-path?
Consider Dutters Run Falls, which shares a parking area with Dry Run Falls
---
Looking for a full day's worth of waterfall action?
Then check out 10 Must-See Waterfalls Near Worlds End State Park.
In this guide you'll find maps and detailed directions to 10 great waterfalls in and around Worlds End State Park.
---
If scenic vistas are your thing, check out High Knob Overlook, easily one of the most popular roadside attractions in all of Sullivan County!
---
Ticklish Rock is a gravity-defying sandstone pillar on a forested plateau in Sullivan County.
---
Did you enjoy this article?
If so, be sure to like and follow PA Bucket List on Facebook, Instagram, and/or Pinterest to learn more about the best things to see and do in Pennsylvania!
Click on any of the icons below to get connected to PA Bucket List on social media.
---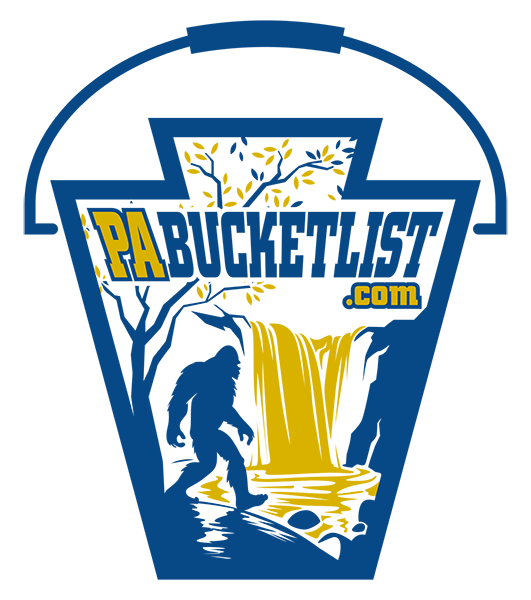 Pennsylvania's Best Travel Blog!