Cabbage Creek Falls is a picturesque little waterfall tucked away in Shawnee Park (not to be confused with Shawnee State Park) in Blair County.
Located on the outskirts of Roaring Spring, this easy-to-reach waterfall (also known locally as Hogsback Falls) is a perfect short hike for just about any age or ability level.
---
How to Find Cabbage Creek Falls near Roaring Spring
The parking area for the short hike to Cabbage Creek Falls is located along Halter Creek Road.
If you're navigating by GPS, Google Maps calls Halter Creek Road "Trail 33", but rest assured this is a paved road and the actual road signs say Halter Creek Road.
The pull-off parking area next to the trailhead is located at GPS coordinates 40.33021, -78.40944.
---
Hiking to Cabbage Creek Falls
The hike to Cabbage Creek Falls begins by crossing a wooden footbridge over Halter Creek and then hiking straight up the obvious but unblazed trail along Cabbage Creek.
The hike itself is only 175 yards long, mostly flat, and rather smooth.
Within 5 minutes, you'll find yourself standing at the base of the falls.
---
Visiting Cabbage Creek Falls
Using this photo of myself at the falls for scale, I'd estimate Cabbage Creek Falls to be in the neighborhood of 8 feet tall and maybe 12 feet wide.
Cabbage Creek isn't a large stream, so it's best to visit the falls after a recent rainfall – all the photos in this article were taken after a half-inch of rain had just fallen.
So if you're looking for an easy hike to a pleasant waterfall in a wooded setting, be sure to check out Cabbage Creek Falls near Roaring Spring the next time you're passing through Blair County!
---
Nearby Attractions
Chimney Rocks Park near Hollidaysburg in Blair County is home to 3 impressive scenic overlooks in a beautiful borough park setting.
---
The 2,375 foot-long Horseshoe Curve near Altoona is a functional historic landmark which allowed locomotives to conquer the Allegheny Mountains for the first time, by permitting a more gradual ascent/descent of those mountains.
---
The Altoona Railroaders Memorial Museum in Blair County celebrates the lives of both railroad workers and railroading communities in central Pennsylvania.
---
Canoe Creek State Park in Blair County features 12 miles of hiking trails and a 155 acre lake.
---
Featuring a little bit of everything, Leighty's Flea Market is a 29 acre goldmine for collectors of all things "vintage", as well as a fun place to window shop and people-watch.
---
10 Must-See Attractions in Blair County is your guide to even more great things to see and do near Cabbage Creek Falls.
---
Did you enjoy this article?
If so, be sure to like and follow PA Bucket List on Facebook, Instagram, and/or Pinterest to stay up-to-date on my latest write-ups about the best things to see and do in Pennsylvania!
Click on any of the icons below to get connected to PA Bucket List on social media.
---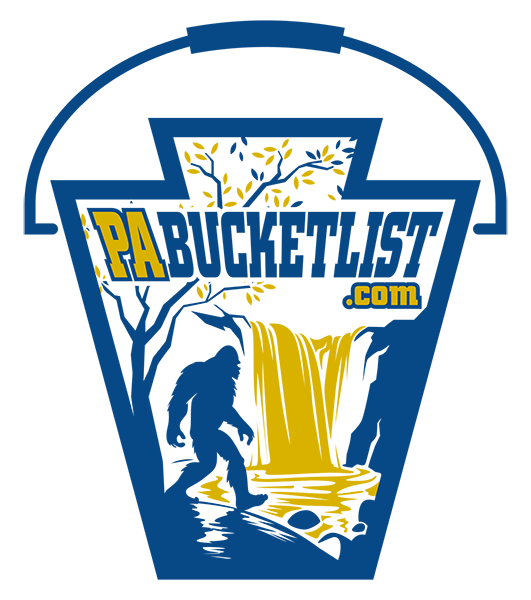 Pennsylvania's Best Travel Blog!