Shawnee State Park opened to the public in 1951, and has been a magnet for tourists ever since!
At the heart of the park is 451-acre Shawnee Lake, used by fishermen, boaters, swimmers, and bird watchers alike.
On the map below, you can see that Shawnee Lake almost looks like three separate bodies of water, connected by small channels.
Around the perimeter of the lake, you find a variety of hiking trails, picnic areas, and a myriad of other things to do.
---
Fishing at Shawnee State Park
Fishing is without a doubt one of the most popular pastimes at Shawnee State Park.
Just about every warm water species of fish you can think of is stocked in Lake Shawnee, including smallmouth bass, largemouth bass, northern pike, walleye, muskellunge, pickerel, catfish, crappie, yellow perch, and bluegill.
---
Boating at Shawnee State Park
Kayaking is one of my personal favorite activities at Shawnee State Park.
If you don't have your own, there is a boat rental open between Memorial Day and Labor Day near the East Beach.
---
Swimming at Shawnee State Park
The beach and swimming area are open between Memorial Day and Labor Day, and this is a non-guarded beach so swim at your own risk.
There is a concessions area and changing rooms right behind the beach.
---
Hiking at Shawnee State Park
There are 16 miles of trails at Shawnee State Park, with the 3.4 mile Lake Shore Loop Trail being the most popular, in my experiences there.
You can pick up a trail map at any of the kiosks scattered around the park, or at the park office itself.
---
Birding at Shawnee State Park
Shawnee Lake serves as a stopping point for various migratory birds in the spring and fall.
Ducks, geese, swans, herons, and even bald eagles are a fairly common sighting at Shawnee State Park.
---
Photography at Shawnee State Park
Aside from wildlife photography, Shawnee State Park is a great spot for sunrise photography.
Moonlit nights in the late summer and early fall are also exceptional photo-ops.
---
Disc Golf at Shawnee State Park
Shawnee State Park has a lakeside disc golf course, for those who partake in this particular sport.
---
Fall Foliage at Shawnee State Park
The reflections of fall foliage on Shawnee Lake are certainly one of the highlights of October in Bedford County.
There are so many good vantage points to view the fall foliage from here, I'd need to write a book to list them all!
But certainly if you're visiting Bedford County for the annual Fall Foliage Festival in downtown Bedford, make sure to take a side-trip to Shawnee State Park as well.
---
How to Find Shawnee State Park
Shawnee State Park is located approximately 10 miles west of Bedford, along Route 30 (the Lincoln Highway).
If navigating by GPS, use 132 State Park Road Schellsburg, PA 15559 to find the park office.
---
Nearby Attractions
The 1806 Old Log Church is the oldest standing church in Bedford County.
Located right along Route 30 (AKA the Lincoln Highway) less than 5 minutes from Shawnee State Park, it is visited by thousands of people from around the globe every year.
---
The Grand View Ship Hotel was, in its prime, one of the most famous attractions along the Lincoln Highway, the first transcontinental automobile route linking the east and west coasts of the United States.
Now only the "grand view" remains, but the story of the rise and fall of the Grand View Ship Hotel is no less fascinating.
---
The Bedford Coffee Pot is a unique 18 foot-tall "novelty structure" built along what was known at the time as the Lincoln Highway, America's first coast-to-coast highway.
Constructed in 1927 by David Koontz as a gimmick to entice motorists to stop at his service station for food and fuel, the Bedford Coffee Pot was one of hundreds of "roadside giants" than once stood alongside the Lincoln Highway.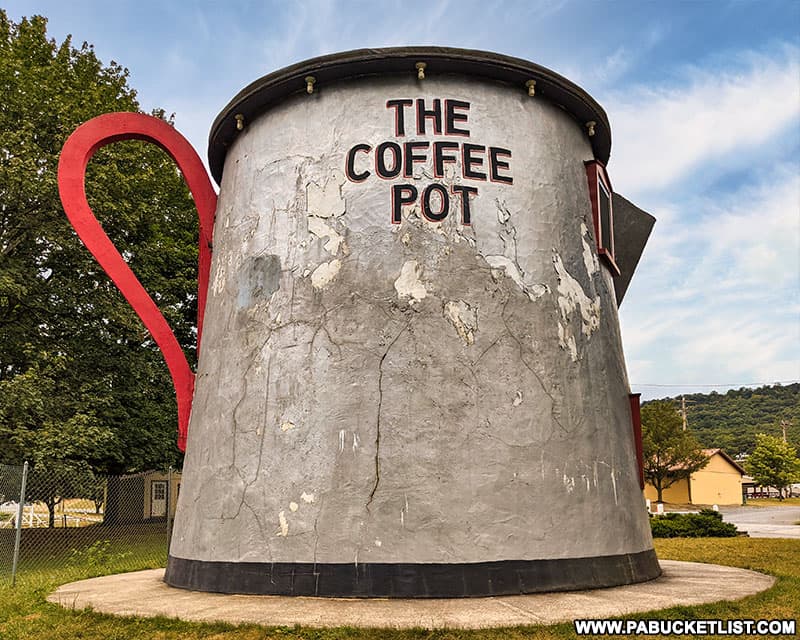 ---
Dunkle's Gulf Station along the Lincoln Highway in Bedford is a throwback to the early days of American automobile transportation.
Designed to be Gulf's showpiece service station between Pittsburgh and Philadelphia, the art deco styling of the building has been attracting motorists since it first opened in 1933.
---
The Fort Bedford Museum was built in 1958, 200 years after the original Fort Bedford was constructed during the French and Indian War.
The museum tells the story not only of that specific war and time period, but of the people that inhabited the region before and since, as well as their history and customs.
---
Old Bedford Village in Bedford County is a living history museum that gives you a glimpse into what life was like in western Pennsylvania from 1700 until 1899.
Rather than viewing old photos and dusty relics, visitors learn by seeing reenactors demonstrating activities that would have been common in Bedford County from colonial times up through the Civil War.
---
The Jean Bonnet Tavern in Bedford County not only serves up delicious food and beverages in a colonial American setting, but it is rumored to be the most haunted restaurant in Pennsylvania!
---
Coral Caverns is home to the remains of a 420 million year old coral reef that formed off the coast of modern-day Virginia and migrated (via plate tectonics and continental drift) to Bedford County over the eons.
---
22 Must-See Destinations in Bedford County will show you even more great places to visit near Shawnee State Park.
---
Did you enjoy this article?
If so, be sure to like and follow PA Bucket List on Facebook, Instagram, and/or Pinterest to stay up-to-date on my latest write-ups about the best things to see and do in Pennsylvania!
Click on any of the icons below to get connected to PA Bucket List on social media.
---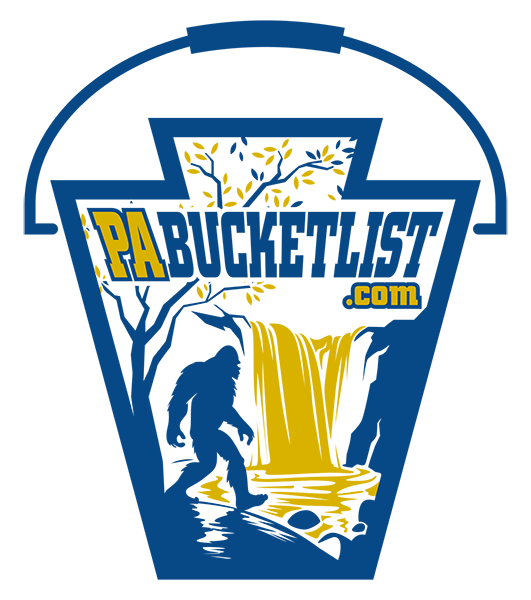 Pennsylvania's Best Travel Blog!