Old Bedford Village in Bedford County is a living history museum that gives you a glimpse into what life was like in western Pennsylvania from 1700 until 1899.
Rather than viewing old photos and dusty relics, visitors learn by seeing reenactors demonstrating activities that would have been common in Bedford County from colonial times up through the Civil War.
Like any good museum, there is a visitor center and a gift shop, but the bulk of your visit to Old Bedford Village will be spent touring the 40-plus buildings that make up this replica of a western PA frontier village.
---
2022 Old Bedford Village Calendar of Events
In addition to the permanent exhibits at Old Bedford Village, the site plays host to a number of special events throughout the year, and you'll see those listed on the schedule below.
---
Native American Village at Old Bedford Village
The land on which Old Bedford Village sits today was once occupied by a Monongahela village, sometime between 1250 and 1600 A.D.
Today the Shoop House at Old Bedford Village houses an impressive collection of artifacts and exhibits related to those Native Americans who once called this land home.
A diorama on display in the Shoop House shows what archaeologists believe the village looked like.
---
The History of Old Bedford Village
Construction of Old Bedford Village began in 1974, to promote the area's rich historic heritage and in preparation for America's Bicentennial in 1976.
Many of the buildings at Old Bedford Village are in fact authentically old – they were disassembled elsewhere in the county are reassembled on new lots at the museum.
The Eight-Square School, for example, was built in Bedford County in 1851, and utilized this unique shape to allow for equal distribution of light and heat.
The Claycomb Covered Bridge was built elsewhere in the county in 1844, and was later dismantled and relocated to Old Bedford Village, where it now serves as the entrance to the property.
Christ Church at Old Bedford Village is a modern reproduction, inspired by the still-standing 1806 Old Log Church a few miles to the west.
Even on the frontier, the church was an important part of life, and Christ Church is a beautiful example of how places of worship from that era would have looked, with a few modern exceptions such as ceiling fans and carpet.
---
Artisans at Old Bedford Village
As a living history museum, many artisans occupy various shops around the village, demonstrating their trades and wares.
Gunsmiths, blacksmiths, tinsmiths, and candlemakers are just a few of the artisans you can watch, and in some cases, buy their finished products.
Some of the shops allow you to try your own hand at these frontier skills, like the tinsmith shop, which may or may not win you the admiration of your kids.
Speaking of kids, you can show them what school was like before iPads and Zoom classes.
Additional Displays at Old Bedford Village
Aside from arts and crafts shops, you can see what a typical frontier home looked like at Old Bedford Village.
Livestock was important to survival on the frontier, and a number of farm animals call Old Bedford Village home.
Taverns were another important part of frontier life, especially for travelers, and the Pendergrass Tavern at Old Bedford Village is a realistic reproduction of a mid-1700s establishment.
In a non-COVID year, you can enjoy soup, sandwiches, and non-alcoholic drinks at the Pendergrass Tavern.
---
Final Thoughts
Old Bedford Village is a great place to spend a day learning about life in western PA during the times of the first European settlers in the region.
And if you have kids, they'll love it as well – trust me!
---
Directions to Old Bedford Village
Old Bedford Village is located at 220 Sawblade Rd, Bedford, PA 15522, just south of the I99/ PA Turnpike interchange.
For the most up-to-date info on hours, admission prices, and any relevant COVID policies, call Old Bedford Village directly at 814-623-1156 or 800-238-4347.
They are NORMALLY open Memorial Day through October 31st, Thursday-Sunday from 9-5, but in the age of COVID, it would be prudent to call ahead to confirm those days/times.
---
Nearby Attractions
The Fort Bedford Museum was built in 1958, 200 years after the original Fort Bedford was constructed during the French and Indian War.
The museum tells the story not only of that specific war and time period, but of the people that inhabited the region before and since, as well as their history and customs.
---
Dunkle's Gulf Station along the Lincoln Highway in Bedford is a throwback to the early days of American automobile transportation.
Designed to be Gulf's showpiece service station between Pittsburgh and Philadelphia, the art deco styling of the building has been attracting motorists since it first opened in 1933.
---
The Bedford Coffee Pot is a unique 18 foot-tall "novelty structure" built along what was known at the time as the Lincoln Highway, America's first coast-to-coast highway.
Constructed in 1927 by David Koontz as a gimmick to entice motorists to stop at his service station for food and fuel, the Bedford Coffee Pot was one of hundreds of "roadside giants" than once stood alongside the Lincoln Highway.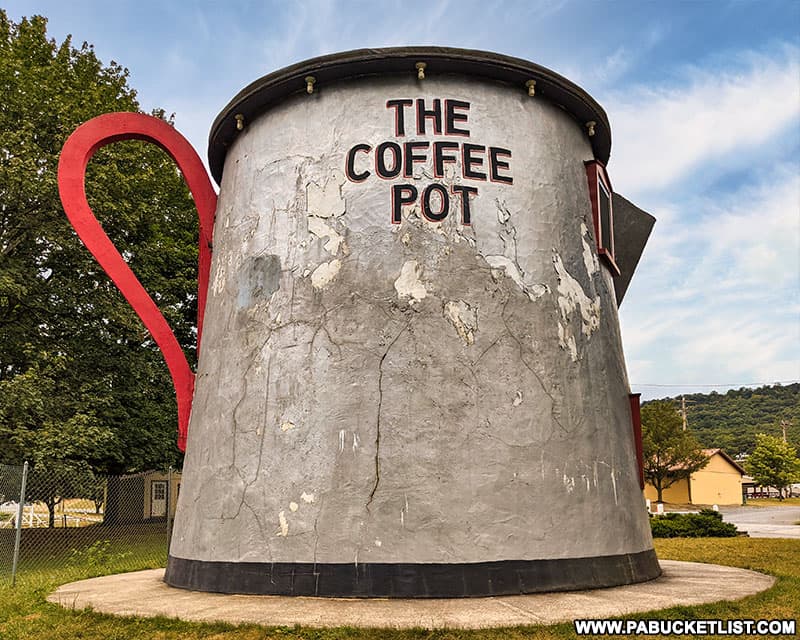 ---
The 1806 Old Log Church is the oldest standing church in Bedford County.
Located right along Route 30 (AKA the Lincoln Highway) just west of Bedford, it is visited by thousands of people from around the globe every year.
---
Shawnee State Park in Bedford County opened to the public in 1951, and has been a magnet for tourists ever since!
At the heart of the park is 451-acre Shawnee Lake, used by fishermen, boaters, swimmers, and bird watchers alike.
---
The Grand View Ship Hotel was, in its prime, one of the most famous attractions along the Lincoln Highway, the first transcontinental automobile route linking the east and west coasts of the United States.
Now only the "grand view" remains, but the story of the rise and fall of the Grand View Ship Hotel is no less fascinating.
---
The Jean Bonnet Tavern in Bedford County not only serves up delicious food and beverages in a colonial American setting, but it is rumored to be the most haunted restaurant in Pennsylvania!
---
19 Must-See Destinations in Bedford County will show you even more great places to visit near Old Bedford Village.
---
Did you enjoy this article?
If so, be sure to like and follow PA Bucket List on Facebook, Instagram, and/or Pinterest to stay up-to-date on my latest write-ups about the best things to see and do in Pennsylvania!
Click on any of the icons below to get connected to PA Bucket List on social media.
---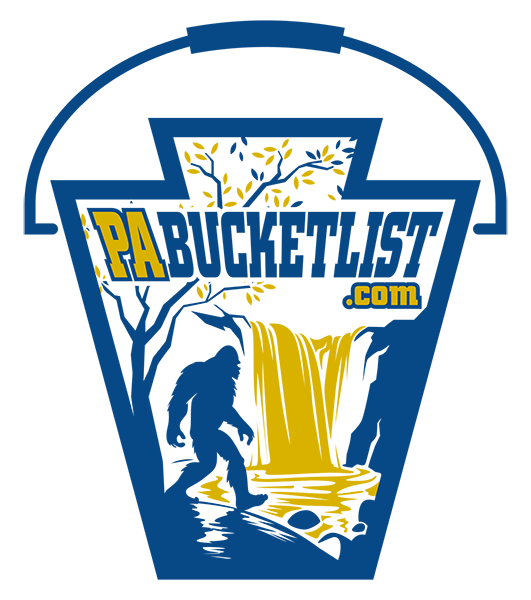 Pennsylvania's Best Travel Blog!