Sand Run Falls is a magnificent 25 foot tall waterfall located along the Mid State Trail in Tioga County, Pennsylvania.
And while most books, websites, and hiking apps (think All Trails) advise you to to get to Sand Run Falls via a 6-7 mile loop hike, I'm going to show you a much shorter, simpler route!
Along the way I'll also point out 3 other nearby waterfalls that are often overlooked, but absolutely worth seeing.
---
How to Find Sand Run Falls in the Tioga State Forest
From the intersection of Arnot Road and Landrus Road on the outskirts of Arnot, travel 3.4 miles west on Landrus Road.
Please note – this is a dirt state forest road and doubles as a snowmobile trail in the winter.
If navigating by GPS, the parking area for this hike is located at coordinates 41.65315, -77.19309.
The trailhead is marked by a tree that is "unofficially" blazed with orange and blue paint.
The parking area, along Landrus Road next to the trailhead, is large enough to accomodate 4-5 vehicles.
Hiking to the Falls
From the trailhead at Landrus Road, follow the obvious trail downhill approximately 200 yards to this shallow wet crossing of Lick Creek (the creek that you've been driving parallel to on Landrus Road).
Cross Lick Creek and you'll now find yourself hiking parallel to Babb Creek, along an obvious and well-worn trail.
Parts of the trail look like you are literally hiking on coal, a fitting tribute to the area's coal mining heritage.
Continue to follow the trail for 0.46 miles, crossing (or circumventing) the occasional boggy area.
Roughly 1/2 a mile after crossing Lick Creek, you will arrive at the top of an unnamed but very photogenic little waterfall.
An obvious footpath breaks off from the main trail to take you to the bottom of this waterfall.
THe GPS coordinates for this unnamed waterfall are 41.66085, -77.19396.
Standing at the base of this waterfall, you will literally have one foot in Babb Creek.
From the base of this waterfall, you can either continue up the right side of Babb Creek towards Sand Run Falls, or you can scamper back up to the top of this one and continue along the unnamed trail, which will intersect with the Mid State Trail in just a few yards.
If you elect to hike up the side of Babb Creek, it's a mere 75 yards until Sand Run Falls comes into view.
If you instead choose to follow the Mid State Trail, you arrive at the top of Sand Run Falls in approximately 200 yards.
The GPS coordinates for Sand Run Falls are 41.66209, -77.19345.
Photographing Sand Run Falls
The are lots of options for shooting Sand Run Falls.
And if you're lucky, you'll have an orange-clad fisherman show up to give your photos scale!
The fall are surrounded by hemlocks and a virtual amphitheatre of stone.
Nearby moss-covered, gnarled tree roots make for an interesting foreground subject.
The long, elaborate drops on Sand Run Falls make it ideal for long exposure photography, which I'm partial to.
And the campsite near the base of Sand Run Falls has to be one of the best in all of Tioga County.
A rope handrail next to the campsite helps you get to the top of Sand Run Falls and the Mid State Trail.
From there you can follow the Mid State Trail a little further to explore a few additional waterfalls.
---
Babb Creek Falls
Babb Creek Falls is 220 yards upstream from where Sand Run Falls enters Babb Creek.
And while you could just hike up the right side of Babb Creek, the Mid State Trail will keep your feet drier and brings you out at the same place.
The GPS coordinates for Babb Creek Falls are 41.66304, -77.19529.
On a recent visit, I watched the same orange-clad fisherman I photographed at Sand Run Falls pull 2 nice trout out of the pool below Babb Creek Falls in a matter of minutes.
And while I wouldn't call it a waterfall, there's another nice waterslide just upstream from Babb Creek Falls.
Rattlesnake Run Falls
One more waterfall that deserves your attention while in the area is Rattlesnake Run Falls.
Rattlesnake Run Falls can be easily accessed by crossing Babb Creek just above Babb Creek Falls and hiking upstream on Rattlesnake Run for 100 yards (refer to the map shown earlier if you're not clear on this).
The GPS coordinates for Rattlesnake Run Falls are 41.66351, -77.19637.
The Return Hike
The return hike to the parking area on Landrus Road is a simple matter of following the Mid State Trail back towards and then across the top of Sand Run Falls.
200 yards past Sand Run Falls, you'll continue straight on the unmarked trail back to Landrus Road, rather than following the Mid State Trail as it veers left towards Arnot Road.
The entire loop hike to and from Sand Run Falls via the trail from Landrus Road is approximately 1.5 miles, considerably shorter than the 6-7 mile loop hike more commonly suggested and written about.
When you add in the 3 nearby waterfalls, that makes this particular hike to Sand Run Falls one of the best bang-for-your-buck waterfall hikes in Tioga County!
---
Nearby Attractions
Looking for more nearby waterfalls?
Nickle Run Falls is located 3 miles south of Sand Run Falls, along a spur of the Mid State Trail.
---
Also sure to check out my list of 30 Must-See Waterfalls in Tioga County!
---
If you're searching for scenic overlooks of the PA Grand Canyon, then Colton Point State Park is a great place to start!.
---
Did you enjoy this article?
If so, be sure to like and follow PA Bucket List on Facebook, Instagram, and/or Pinterest to stay up-to-date on my latest write-ups.
Click on any of the icons below to get connected to PA Bucket List on social media!
---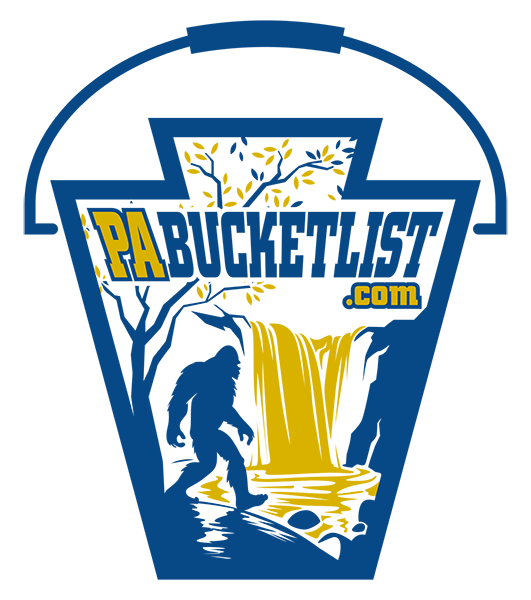 Pennsylvania's Best Travel Blog!