Hersheypark is PA's largest and most-visited theme park, located in a town that bills itself as "the sweetest place on Earth"!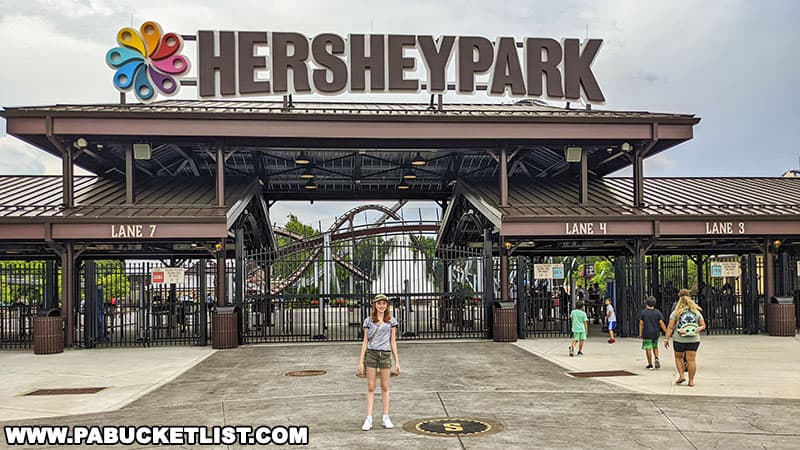 Spanning more than 120 acres and containing more than 70 rides (including 14 roller coasters), Hersheypark is the largest theme park in North America NOT located in Florida or California.
Of course the reason both the town and the park have instant name recognition is due to Milton Hershey and his milk chocolate factory, founded here in 1903.
Milton Hershey made milk chocolate for the masses, the foundation of a business empire that is still going strong to this day.
Included in his vison for his company town was Hershey Park, a "picnic and pleasure ground" for his employees.
That modest initial park has now grown to include a zoo, a waterpark, and a plethora of dining and shopping options.
These areas within and immediately adjacent to Hersheypark each operate on slightly different schedules, so I'm going to mention each one in the order that most people visiting Hersheypark for the first time would encounter them.
If you'd like to see the complete Hersheypark 2023 Hours of Operation, click the button below.
---
Hershey's Chocolate World
For me, a trip to Hersheypark always starts at Hershey's Chocolate World.
Located outside the gates to Hersheypark and FREE to visit, Chocolate World offers a dizzying array of Hershey-branded products, souvenirs, and candy.
The sheer amount of candy and candy-inspired products is almost overwhelming, a tribute to the more than 90 brands now under the Hershey Company's umbrella.
My favorite reason for visiting Chocolate World first (and often last as well, on my way out of the park) is the Hershey's Chocolate Tour!
This slow-speed ride is FREE to enjoy, and takes you through the process of making milk chocolate, from acquiring the raw ingredients to creating the finished products.
Animatronic cows will clue you in to one of the main reasons why Milton Hershey chose this area to build his factory…
Access to lots of fresh milk!
The tour proceeds through the simulated "factory" and gives you an overview of how the raw ingredients are combined to create Hershey's famous candies.
From Hershey's Bars to the iconic Hershey's Kisses, you'll get an idea for how the products are made, packaged, and shipped on the Hershey's Chocolate Tour.
The tour concludes with a trip through a Willy Wonka-like tunnel of lights and a free mini-Hershey's Chocolate Bar as you exit the ride.
---
Chocolatetown
Chocolatetown is the newest area at Hersheypark, located immediately next to the entrance to the park and featuring more dining and shopping options.
The rule of thumb here seems to be if it's big enough to emblazon with a Hershey-related logo, you can find it for sale in Chocolatetown!
Diecast cars and trucks, clothes, games, plush toys, jewelry – the variety of Hershey-themed "stuff" available in Chocolatetown is seemingly endless.
Chocolatetown is also home to several rides, including Candymonium, the tallest, fastest, and longest roller coaster at Hersheypark.
The park's carousel can be found in Chocolatetown as well.
---
Hersheypark
From the moment you walk through the gates of Hersheypark, roller coasters dominate the skyline.
That's not to say roller coasters are the ONLY rides at Hersheypark, as you'll find plenty of other amusement park favorites, like this giant Ferris Wheel.
But if you ARE a roller coaster fanatic, you'll get your money's worth at Hersheypark.
The Jolly Rancher Remix seemed to be a particularly popular coaster on my most recent visit.
The iconic Kissing Tower takes riders up 250 feet in an enclosed cabin, where they are treated to panoramic views of the park and town through Hershey's Kisses-shaped windows.
In addition to rides, you'll find many of the classic midway games you've come to expect at an amusement park, like ring-toss.
And there are lots of Hershey-themed photo ops scattered throughout the park, for the all-important selfie or TikTok video.
---
The Boardwalk at Hersheypark
The Boardwalk is an 11-acre water park inside Hersheypark.
The Boardwalk is open Memorial Day Weekend to Labor Day.
East Coast Waterworks at the Boardwalk features 7 slides, 2 crawl tunnels, a 1,000-gallon tipping bucket, and nearly 600 interactive water toys.
Tidal Force at the Boardwalk is essentially a water coaster.
Riders travel up a 100-foot incline before diving downhill at speeds exceeding 50 mph!
---
ZooAmerica
ZooAmerica is home to more than 200 animals, and admission to this 11-acre zoo is included with your admission to Hersheypark.
The animals at ZooAmerica come from 5 different regions of North America.
This gila monster lives in one of the indoor enclosures that simulates the American southwest.
Whereas this antelope lives in a large outdoor enclosure meant to simulate Big Sky Country.
---
Final Thoughts
Hersheypark is a massive theme park, and trying to see it all in one day is really pushing it, especially if enjoying the Boardwalk water park is part of your plans.
It's also one of the pricier amusement parks in Pennsylvania, but then again it's essentially four parks in one.
Tickets purchased online are approximately 25% less expensive than tickets purchased at the gate; you can check the most current pricing and promotions on the Hersheypark OFFICIAL WEBSITE.
Like many Pennsylvanians, I grew up going here, and now I'm taking my own kid to Hersheypark.
For thrill-seekers in particular, it's hard to find a better bang for your buck than Hersheypark – PA's largest theme park!
---
Related Attractions
Knoebels Amusement Park near Elysburg, Pennsylvania is consistently ranked as one of the best amusement parks in the United States.
A big part of why Knoebels is so popular is that it offers free parking and free park admission.
---
Idlewild Park is Pennsylvania's longest-operating amusement park!
Idlewild Park as been named "Best Childrens' Park" by Amusement Today, and "Best Park for Families" by the National Amusement Park Historical Association.
---
DelGrosso's Amusement Park has been a central PA tradition for more than 100 years!
Like Knoebels, parking and park admission are FREE at DelGrosso's!
---
Nearby Attractions
Hershey Gardens is 23 acres of themed gardens, statues, ponds, and botanical beauty.
---
Indian Echo Caverns is a beautiful "show cave" located 3 miles west of Hershey in Dauphin County.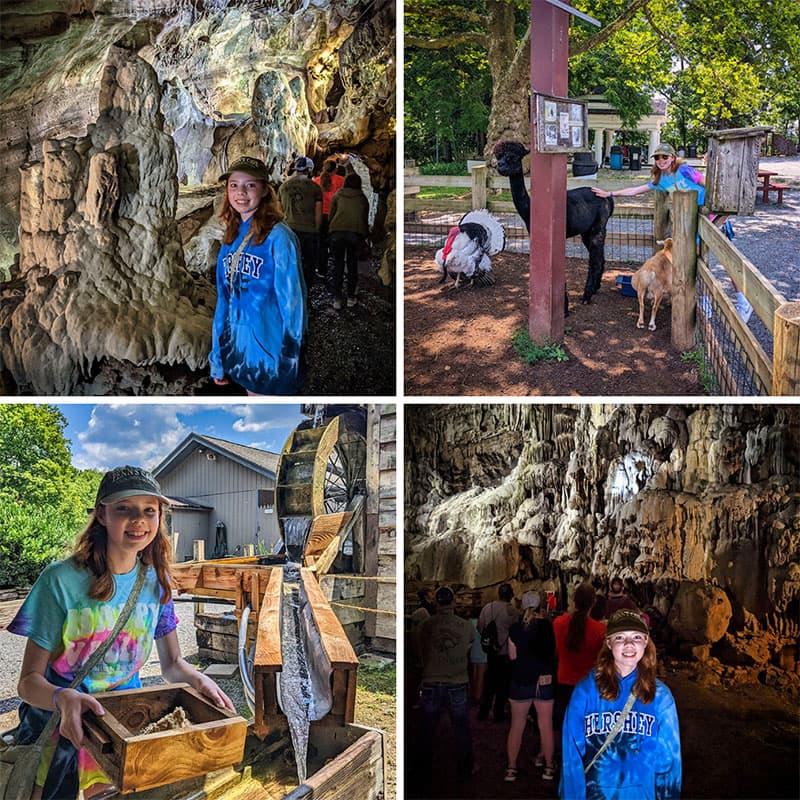 ---
The AACA Museum in Hershey, PA is consistently ranked as one of the top automotive and transportation museums in the United States!
---
Did you enjoy this article?
If so, be sure to like and follow PA Bucket List on Facebook, Instagram, and/or Pinterest to learn more about the best things to see and do in Pennsylvania!
Click on any of the icons below to get connected to PA Bucket List on social media.
---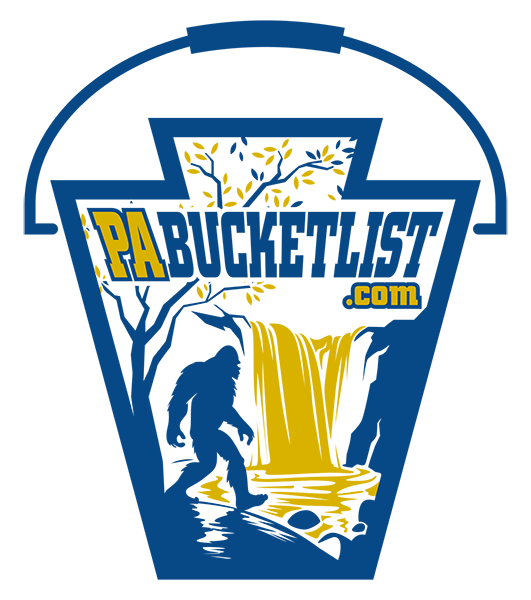 Pennsylvania's Best Travel Blog!