The historic Round Barn near Gettysburg is truly one of the most interesting and beautiful barns in Pennsylvania!
Located approximately 8 miles west of downtown Gettysburg, the Round Barn has been a tourist attraction from the time it was first completed in 1914.
Now home to a terrific farm market and event space, the Round Barn near Gettysburg is a must-see when passing through Adams County.
---
How to Find the Round Barn Near Gettysburg
The Round Barn is located at 298 Cashtown Rd, Biglerville, PA 17307.
If navigating by GPS coordinates use 39.901288, -77.349645 to find the Round Barn along Cashtown Road.
---
History of the Round Barn
Round barns were popular in the United States between 1880 and 1920.
The Shakers, who built the first round barns, believed the circle to be the most perfect shape for a barn because, in part, the devil couldn't trap you in a corner!
Round barns were cheaper to construct than similar-sized square or rectangular barns because they required less materials, and more structurally sound than a typical square or rectangular barn.
The Round Barn near Gettysburg was built in 1914.
The barn was constructed around a central silo measuring 60 feet high and 12 feet wide.
The circumference of the barn is 282 feet, with a diameter of nearly 90 feet.
Located just off the Lincoln Highway, the unusualness of the Round Barn has made it a tourist attraction for over 100 years.
---
What You'll See at the Round Barn
The downstairs portion of the Round Barn is home to a farm market.
In addition to locally-grown fruits and vegetables, you'll find a wide assortment of canned goods.
Locally roasted coffee is another specialty item you'll find at the Round Barn farm market.
In addition to edible items, you'll find an assortment of Amish-made crafts and decorations.
There's even a wide assortment of Round Barn souvenirs, ranging from hats to t-shirts to coffee mugs.
---
The Upper Floor of the Round Barn
The upstairs portion of the Round Barn is used as an event space, and can be rented out for weddings, parties, etc.
But if you're just curious as to what it looks like (like I was), you can simply walk upstairs on most weekdays.
Here you can see what a unique event setting this barn really is.
It's hard to look up at the roof and not marvel at the ingenuity and craftsmanship that went into building the Round Barn.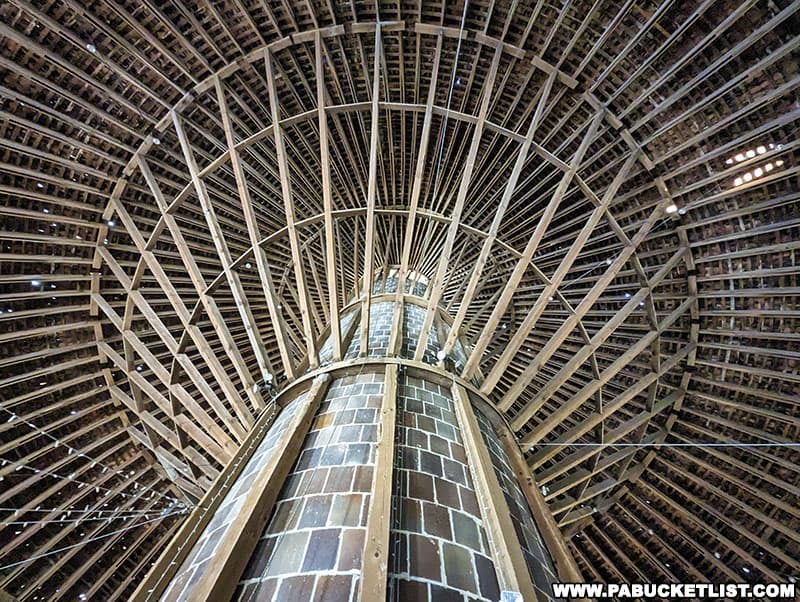 ---
Final Thoughts on Visiting the Round Barn Near Gettysburg
The historic Round Barn and Farm Market is a great place to check out when visiting the Gettysburg area.
Whether you're looking for fresh fruit, or looking to tie the knot, this historic barn makes for a great backdrop.
Like many other farm markets, the Round Barn closes in late November and reopens in mid-April; for the most current hours of operation, please visit the Round Barn's OFFICIAL WEBSITE.
---
Nearby Attractions
The Soldiers' National Cemetery in Gettysburg is some of the most historic and hallowed ground in Pennsylvania.
---
Sachs Covered Bridge near Gettysburg was crossed by both Union AND Confederate troops during the Battle of Gettysburg.
---
Mister Ed's Elephant Museum and Candy Emporium, located 5 miles west of the Round Barn, just may be the best elephant-themed roadside attraction in Pennsylvania!
---
The Christmas Haus near Gettysburg is a one-of-a-kind marketplace for German-made Christmas ornaments, decorations, and accessories!
---
Did you enjoy this article?
If so, be sure to like and follow PA Bucket List on Facebook, Instagram, and/or Pinterest to learn more about the best things to see and do in Pennsylvania!
Click on any of the icons below to get connected to PA Bucket List on social media.
---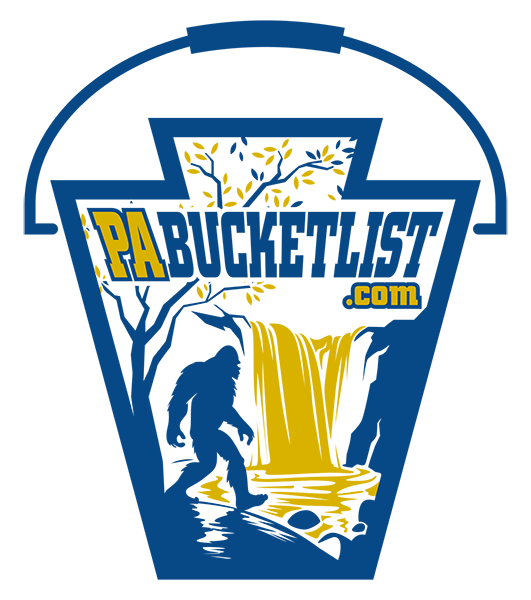 Pennsylvania's Best Travel Blog!