If you're looking for information about visiting the York County Historical Society Museum, you're in the right place!
Since 1958, the York County Historical Society Museum has used artifacts and exhibits to highlight the region's rich heritage and historical significance.
Don't confuse this museum with the York County Agricultural and Industrial Museum!
Although both museums are located in York and both operate under the umbrella of the York County History Center, they are separate museums with separate collections.
---
What You'll See at the York County Historical Society Museum
York County has a long and colorful history, and the Historical Society Museum provides a interesting overview of many of the highlights.
The museum is broken down into a series of galleries that focus on different subjects like the arts, culture, or historic people and events.
You'll see examples of locally-crafted furniture.
18th and 19th century pottery.
And farming tools used by the early European settlers in the region.
I found the museum's collection of "tall case clocks", AKA "grandfather clocks", quite interesting.
Prior to my visit to this museum, I had no idea York County was an early center of clockmaking in America.
The cigar-making exhibit was also informative.
I learned that in the years immediately prior to the Great Depression, York Countians produced 20% of all the cigars sold in the United States.
The Street of Shops exhibit is literally laid out like and early 1800s streetscape, representing the businesses and homes of York during that time period.
Among other businesses represented here is an apothecary, precursor to the modern CVS.
And a print shop, precursor to Twitter.
You'll see examples of how the upper class lived in York County during this time period.
And how children played in the latter half of the 1800s.
There are exhibits dedicated to famous former residents.
And exhibits dedicated to historic local buildings that you can still tour, like the Golden Plough Tavern.
All in all, the York County Historical Society Museum provides a nice introduction to the heritage and historical significance of the region.
If you combine your visit here with a trip to the nearby York County Agricultural and Industrial Museum (as I did on this visit), you'll come away with a greater appreciation for the role York County played in the development not just of Pennsylvania, but of our Nation as well.
---
Hours and Directions
The York County Historical Society Museum is open Tuesday – Saturday from 10 am – 4 pm.
The museum is located at 250 East Market Street, York, PA 17403, inside a building that retains its original showroom tile floor from its first life as an automobile dealership.
Admission prices are: Adults- $15, Students (Age 6-17) – $7, and Children 5 and Under – FREE.
---
Nearby Attractions
The York County Agricultural and Industrial Museum is housed in a former factory complex in downtown York, and features thousands of artifacts and exhibits highlighting York County's contributions to the areas of agriculture, transportation, and manufacturing.
---
York, PA and the First National Thanksgiving dives into the fascinating backstory of this Revolutionary War-era event, which had nothing to do with Pilgrims and turkeys!
---
The Haines Shoe House near York is one of PA's most recognizable roadside attractions, and now it's a vacation rental home!
In fact, this is where I spent the night when visiting the York County Historical Society Museum.
---
Did you enjoy this article?
If so, be sure to like and follow PA Bucket List on Facebook, Instagram, and/or Pinterest to learn more about the best things to see and do in Pennsylvania!
Click on any of the icons below to get connected to PA Bucket List on social media.
---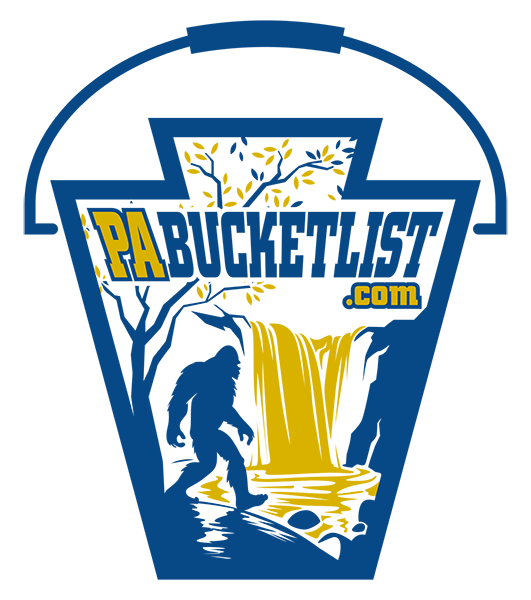 Pennsylvania's Best Travel Blog!