Bilger's Rocks is part of a 170-acre community park, open to the public and located just minutes from Curwensville in central Clearfield County.
Billed by the Bilger's Rocks Association (the group that owns and maintains the park) as "Pennsylvania's Best Rock Outcropping", this 300 million year-old natural "rock city" is a must-see for fans of geology and all things megalithic!
---
Bilger's Rocks FAQs
What is the street address for Bilger's Rocks?
1921 Bilger's Rocks Rd
Grampian, PA 16838

Can I navigate to Bilger's Rocks using GPS coordinates?
Yes – use GPS coordinates 40.99329, -78.59315 to navigate to the parking lot at Bilger's Rocks.

What are the giant rock formations at Bilger's Rocks made out of?
Sandstone.

Who is Bilger's Rocks named after?
The original European settler on the property, Jacob Bilger.

How old is the "rock city" at Bilger's Rocks?
Over 300 million years old.
So old, in fact, that the Pangaea "supercontinent" was still intact at the time!

Are there trails to follow at Bilger's Rocks?
Yes – there are numerous trails you can follow to explore the "rock city" portion of the park, as well as numerous other trails on the 170-acre property.

What else is there to do at Bilger's Rocks?
Camping, picnicking, bird-watching, and mountain-biking, to name a few.
There is also a stage and large covered picnic pavilion that can be rented.

What are the hours at Bilger's Rocks park?
Year round from dawn until dusk.

---
Visiting Bilger's Rocks
The 20-acre boulder field that makes up Bilger's Rocks is a result of tectonic forces, gravity, and millions of years of erosion and freeze-thaw cycles.
A maze of passageways, caves, canyons, and overhangs, kids of all ages love exploring Bilger's Rocks!
Although there are specific trails you can follow, it's fun to wander around and explore Bilger's Rocks freestyle as well.
Unique Features at Bilger's Rocks
Near the Bilger's Rocks Road entrance to the boulder field, you'll find a carving from 1921 featuring a globe and the phrase "The World is Looking to Us", a sentiment that echoed the United States' stature in the world after WWI.
Many plants and trees have established themselves in the nooks and crannies between the boulders at Bilger's Rocks, leading to some interesting root formations.
Bilger's Rocks is also home to a fascinating array of ice formations in the winter.
Bilger's Run flows through the park, to the east of the boulder field.
Hiking at Bilger's Rocks
Bilger's Rocks makes a great hiking trip any time of the year.
The rocks can certainly be more slippery in the winter, but the tradeoff is that you will often have the place to yourself!
Not only are there trails between the boulders, but through the forest and along the stream that runs through this 170-acre property as well.
I can't recommend hiking at Bilger's Rocks highly enough – one visit and you'll see why!
---
Nearby Attractions
McGees Mills Covered Bridge is 12 miles away, and is the only remining covered bridge in Clearfield County.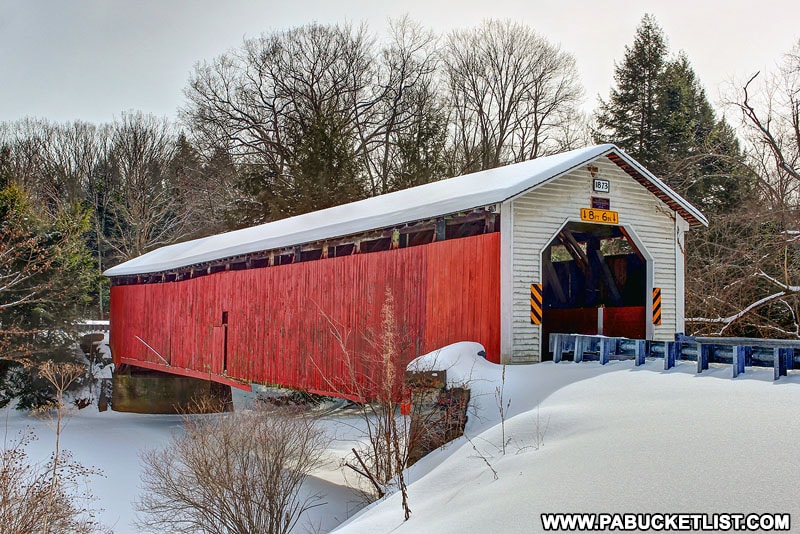 ---
The Saint Severin Old Log Church in Clearfield County is a well-preserved example of mid-19th century "frontier" architecture.
---
Black Moshannon State Park is a fantastic year-round state park located in neighboring Centre County.
---
Did you enjoy this article?
If so, be sure to like and follow PA Bucket List on Facebook, Instagram, and/or Pinterest to stay up-to-date on my latest write-ups.
Click on any of the icons below to get connected to PA Bucket List on social media!
---
Pennsylvania's Best Travel Blog!