There's a reason hikers jokingly refer to Pennsylvania as Rocksylvania – PA is home to some fantastic rock formations!
---
What follows is a list of 17 of the best Pennsylvania rock formations that you can explore.
Some are incredibly tall.
Others are amazingly wide.
But ALL make for memorable day trips!
So enjoy this list of 17 must-see Pennsylvania rock formations, and use the blue text links to get directions and plan your own day trips as well!
---
1. Bilger's Rocks
Bilger's Rocks is part of a 170-acre community park, open to the public and located just minutes from Curwensville in central Clearfield County.
Billed by the Bilger's Rocks Association (the group that owns and maintains the park) as "Pennsylvania's Best Rock Outcropping", this 300 million year-old natural "rock city" is a must-see for fans of geology and all things megalithic!
Although there are specific trails you can follow, it's fun to wander around and explore Bilger's Rocks freestyle as well.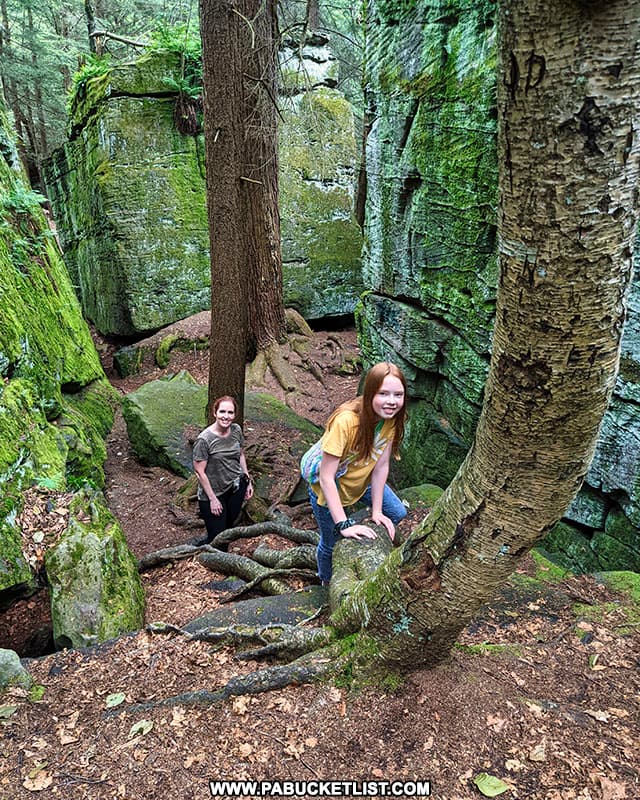 ---
2. Beartown Rocks
Beartown Rocks in the Clear Creek State Forest features an exceptional scenic overlook perched high atop a "rock city" dating back to the last Ice Age!
Beartown Rocks is essentially a roadside attraction, meaning you can park right next to it and take a leisurely stroll through this "rock city" in Jefferson County.
There is no "official" trail through Beartown Rocks, you can simply make your way through the rock city as you see fit.
---
3. Fred Woods Trail Rock City
The "rock city" along the Fred Woods Trail in Cameron County is a labyrinth of moss-covered canyons and crevices formed by gigantic boulders.
Equally massive hemlocks seem to defy Nature as they grow out of and up the sides of the rock formations.
People have been coming to see these sights along what is now the Fred Woods Trail for many, many years, as evidenced by rock carvings dating back 120 years!
---
4. The Boulder Field at Hickory Run State Park
The Boulder Field at Hickory Run State Park is touted as the best example of a boulder landscape in the eastern United States.
The Boulder Field is 400-feet wide, 1,800-feet long, and 10 to 12-feet deep.
The Boulder Field at Hickory Run State Park was designated as a National Natural Landmark in 1967.
---
5. Moyer's Rock
Moyer's Rock is a massive rock formation at Lehigh Gorge State Park in Carbon County.
From the top of Moyer's Rock, you can look out over the Lehigh River and the Lehigh Gorge Rail Trail.
While below you can literally walk THROUGH Moyer's Rock via the abandoned Turn Hole Tunnel, built in 1866.
---
6. Jakes Rocks
Jakes Rocks is located in the Warren County portion of the Allegheny National Forest.
Hiking through the boulder field known as Jakes Rocks leads to a fabulous view of the Allegheny Reservoir.
The trail to Jakes Rocks Overlook is not blazed, but is well-worn and easy to follow.
---
7. Rimrock Overlook
Rimrock Overlook in Warren County offers visitors outstanding views of Kinzua Bay and the Allegheny National Forest which surrounds it.
One unique feature of Rimrock Overlook is that you can follow a staircase down through the rocks that form the overlook!
The passageway through the rocks is narrow, but there is a handrail to help you navigate the steps.
---
8. Chimney Rocks
Chimney Rocks is an impressive rock formation with several associated scenic overlooks in Blair County.
Chimney Rocks derives its name from the tall, chimney-shaped limestone pillars on top of this mountain overlooking Hollidaysburg.
According to local legend, the flat spot on top of one of the limestone "chimneys" was used as a seat/lookout by the local Native American tribal chief, earning it the name "the Chief's Seat".
---
9. Balanced Rock
A fascinating geologic anomaly caused by thousands of years of erosion, Balanced Rock seems to defy gravity as it hangs above the Trough Creek Gorge in Huntingdon County.
Once part of a cliff, Balanced Rock is the last remnant of that layer of bedrock, while the rest of that cliff slid into the gorge created by Great Trough Creek.
When viewed from the Trough Creek Drive, Balanced Rock seems to levitate above the trees below!
---
10. Beam Rocks
Beam Rocks is one of the largest rock outcroppings and most scenic mountain vistas in the Laurel Highlands of western Pennsylvania!
Located in the Forbes State Forest near the Westmoreland / Somerset County line, it offers a fantastic 180° view from high above the treetops and the Laurel Highlands Hiking Trail below.
In between several of the enormous boulders at Beam Rocks are crevices large enough to walk through.
---
11. Wolf Rocks in the Forbes State Forest
Wolf Rocks is another large rock formation and overlook in the Forbes State Forest.
Wolf Rocks offers a 180 degree view of Linn Run State Park and Westmoreland County.
The rocks that make up Wolf Rocks provide plenty of places to sit and take in the view.
---
12. Laurel Caverns
Laurel Caverns is billed as "Pennsylvania's Largest Cave", and home to to some of PA's best UNDERGROUND rock formations!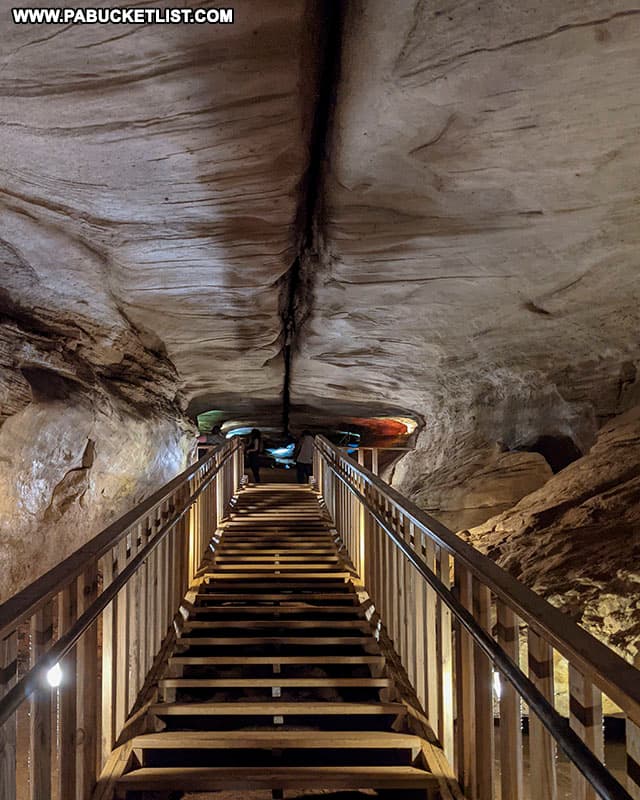 First discovered by Native Americans thousands of years ago, Laurel Caverns has been a popular "show cave" for many decades now.
Laurel Caverns is a sandstone cave (possibly the largest in the world), and therefore you won't see any stalactites here, as you would in a limestone cave.
But there is an underground waterfall!
---
13. Baughman Rock
Baughman Rock at Ohiopyle State Park is a mountaintop rock formation high above the town of Ohiopyle.
Baughman Rock is also one of the most spectacular mountain vistas in the Laurel Highlands region.
Baughman Rock offers tremendous bang for your buck – miles of views just a few yards from a roadside parking area.
---
14. Baughman Rocks
Baughman Rocks (not to be confused with Baughman Rock) is a fascinating rock formation located on Mount Davis, the highest point in Pennsylvania.
Baughman Rocks has a rather macabre history associated with it, which you can read about on an informational sign nearby.
Upon closer inspection you can certainly see how a body could "disappear" in these deep crevices between the boulders.
---
15. Indian Wells
Indian Wells is an exceptional rock formation and scenic vista located right along the Mid State Trail near the Centre-Huntingdon county line.
Indian Wells is nearly 130 yards wide.
And while it's beautiful year-round, the views from Indian Wells in October are some of the finest in Centre County.
---
16. Ticklish Rock
Ticklish Rock is a gravity-defying sandstone pillar on a forested plateau in Sullivan County.
Resembling an upright hammer, this natural anomaly is an example of differential weathering.
The name "Ticklish Rock" is a reference to the rumor that the rock will wiggle if you push on the pedestal – I have not tried that and DO NOT encourage you to do so either!
---
17. Wolf Rocks in the Gallitzin State Forest
Wolf Rocks is a beautiful geological formation located along the orange-blazed John P. Saylor Trail in the Somerset County portion of the Gallitzin State Forest.
Wolf Rocks is an oblong-shaped formation of boulders that seem to jut up from the Earth to heights as great as 30 feet above the surrounding forest.
Use caution as you explore the top of Wolf Rocks, especially if you choose to step over some of the smaller crevasses.
---
So there you have it – 17 must-see Pennsylvania rock formations!
I hope you found some new spots to explore here, and feel free to share some of YOUR favorite PA rock formations in the comments below.
---
Related Articles
If you're looking for more PA natural attractions to explore, check out 20 Must-See Pennsylvania Waterfalls.
---
Or maybe scenic overlooks are more your style – check out 75 of the Best Scenic Overlooks in PA.
---
Did you enjoy this article?
If so, be sure to like and follow PA Bucket List on Facebook, Instagram, and/or Pinterest to learn more about the best things to see and do in Pennsylvania!
Click on any of the icons below to get connected to PA Bucket List on social media.
---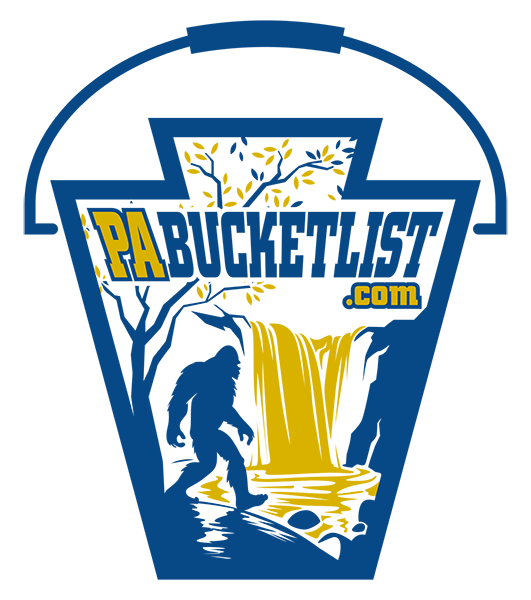 Pennsylvania's Best Travel Blog!