The Fred Woods Trail in the Elk State Forest is a 4.57 mile-long hike that takes you past two fantastic vistas, as well as one of Pennsylvania's finest rock formations.
---
How to Find the Fred Woods Trail
The Fred Woods Trail is located near the small town of Driftwood in Cameron County.
From Route 555 in Driftwood, turn onto Mason Hill Road and proceed 4 miles uphill on this rugged forest road.
The drive to the trail head may be the most difficult part of hiking the Fred Woods Trail.
It may look any other forest road at first, but the further up the mountain you get, the narrower and rockier it becomes.
And although I'm sure people do it, I personally cannot recommend driving this road in a standard passenger car – truck or SUV with some decent ground clearance only would be my advice.
Approximately 1.75 miles up Mason Hill Road from Route 555, you'll come to a Y intersection.
To get to the Fred Woods Trail you'll want to stay to the left, but the road to the right is a 400 yard-long drive that dead-ends at an incredible vista – Bucktail Overlook, also known locally as the "Top of the World".
---
Bucktail Overlook
Bucktail Overlook is named in honor of the Bucktail Regiment, a volunteer infantry regiment composed of men from this region who fought bravely for the Union in the Civil War.
You may even have noticed a statue dedicated to the Bucktail Regiment in "downtown" Driftwood.
The views from Bucktail Overlook are spectacular, particularly when valley fog forms below in the early morning hours.
The fields around Bucktail Overlook are PA Game Commission food plots, which means there's always a chance of seeing deer, elk, and other wildlife here as well.
Whether you check it out before or after hiking the Fred Woods Trail, you don't want to pass up a chance to explore Bucktail Overlook as well.
---
Arriving at the Fred Woods Trail
Approximately 2 miles past the Y intersection at Bucktail Overlook, you'll find the Fred Woods Trail parking area on the right side of Mason Hill Road at GPS coordinates 41.36286, -78.18318.
On the opposite side of Mason Hill Road, you'll see an informational kiosk, and the trail head next to that.
---
Who Was Fred Woods?
This trail is named in honor of Fred Woods, a Forestry Foreman fatally injured in an accident while working on nearby State Forest land in 1975.
In addition to learning about Fred Woods and the trail named in his honor, this is a good place to pick up a trail map, assuming there are some available the day you visit.
To the right of the kiosk, you'll see the trailhead, and this 0.76 mile section leads you to the loop portion of the trail.
---
Hiking the Fred Woods Loop
As the main section of the Fred Woods Trail is a 3.05 mile loop, it really makes no difference in which direction you hike it.
The entire trail is well-blazed with yellow markers, and is well-maintained as well.
I will say if you hike it clockwise (when facing the Fred Woods Trail sign below) the first part of your hike will be rockier and more undulating, whereas if you hike it counter-clockwise, the first part of your hike will be smoother and you'll get to some of the "good stuff" sooner.
So if you want to get the more challenging portion out of the way first, hike it clockwise, if you want instant gratification, hike it counter-clockwise.
I prefer the counter-clockwise route, so I'll describe the hike that way.
---
Rock Formations along the Fred Woods Trail
Hiking counter-clockwise from the start of the loop portion of the Fred Woods Trail, you come to the incredible "rock city" along the Fred Woods Trail in approximately 0.75 miles.
Here gigantic boulders form moss-covered canyons and crevices that rival nearby Bilger's Rocks in Clearfield County.
Equally massive hemlocks seem to defy Nature as they grow out of and up the sides of the rock formations.
The rock formations along the Fred Woods Trail would be a worthy hiking destination on their own merits, but here they are just one of several sights to be seen.
And people have been coming to see these sights for many, many years, as evidenced by rock carvings dating back 120 years!
Although a trail sign along the main stretch of the Fred Woods Trail indicates there is a Rock Trail, this is really more of a self-guided, wander-amongst-the-boulders spot.
Once you've had your fill, hop back on the main trail and continue on towards Water Plug Vista.
---
Water Plug Vista along the Fred Woods Trail
A few minutes after leaving the "rock city" portion of the trail and resuming the loop hike, you encounter Water Plug Vista at GPS coordinates 41.35422, -78.20418.
This vista offers an exceptional view of Bennett Branch of Sinnemahoning Creek and Route 555 alongside it.
This is a pleasant rest spot, and I've had good luck getting cell reception here, if you need to check in with anyone.
Continuing counter-clockwise past Water Plug Vista, the next significant point of interest will be Huckleberry Vista, another 0.75 miles down the trail.
---
Huckleberry Vista along the Fred Woods Trail
Huckleberry Vista, located at GPS coordinates 41.34563, -78.20258, also looks out over Bennett Branch of Sinnemahoning Creek and Route 555, although in a more southerly directions.
Huckleberry Vista makes another good rest spot before completing the Fred Woods Trail, roughly 1 mile back to finish the loop, and then 0.76 miles back to the parking area along Mason Hill Road.
---
Nearby Attractions
The 20 Best Scenic Overlooks in PA Elk Country will introduce you to even more amazing views in this rugged part of Pennsylvania.
---
If elk viewing is what brings you to this region, be sure to check out The 15 Best Elk Viewing Destinations in Pennsylvania.
---
Sinnemahoning State Park encompasses 1,910 acres of magnificent scenery and outstanding wildlife habitat, and spans from Cameron County in the south to Potter County in the north.
---
Kettle Creek State Park in neighboring Clinton County is home to an nearly 1,800 acre lake and several nearby vistas.
---
The 5 Best Roadside Attractions in the Quehanna Wild Area will show you some of the best points of interest in this nearby wilderness region.
---
For something totally different, check out the abandoned nuclear jet engine bunkers in the Quehanna Wild Area, remnants of a secretive Cold War-era base.
---
Exploring the Ridge Road Vistas in the Elk State Forest will introduce you to Pennsylvania's most scenic State Forest road, featuring 6 world-class ROADSIDE vistas along a 3 mile stretch of road.
---
The ruins of Austin Dam in Potter County are remnants of the second-deadliest flood in Pennsylvania history.
---
The abandoned Bayless Paper Mill is another fascinating part of the Austin Dam Memorial Park in Potter County.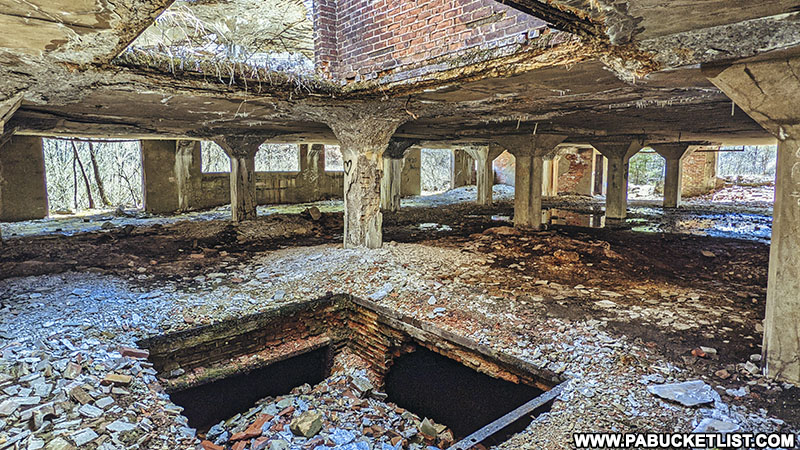 ---
The Ultimate Clearfield County Road Trip maps out a 109 mile adventure to see the best natural and man-made attractions in neighboring Clearfield County!
---
Beartown Rocks in Jefferson County features an exceptional scenic overlook perched high atop a "rock city" dating back to the last Ice Age!
---
If you want to see what happens when a tornado collides with one of the world's tallest railroad bridges, be sure to check out Kinzua Bridge State Park in McKean County.
---
Did you enjoy this article?
If so, be sure to like and follow PA Bucket List on Facebook, Instagram, and/or Pinterest to stay up-to-date on my latest write-ups.
Click on any of the icons below to get connected to PA Bucket List on social media!
---
Pennsylvania's Best Travel Blog!