If you're looking for the best elk viewing destinations in Pennsylvania, you're in the right place!
Pennsylvania is home to the largest free roaming elk herd in the northeast United States (currently estimated at a herd of approximately 1,400), and visiting Pennsylvania elk region to catch a glimpse of these majestic creatures has become an annual tradition for many people.
But with that herd of 1,400 elk spread out over 6 counties (Elk, Potter, Clinton, Cameron, Clearfield, and Centre counties), knowing exactly WHERE to look for the elk is a bit of a challenge, especially if you are unfamiliar with the area.
So what I've done here is provide you with maps and directions to 15 spots in those 6 counties where I have personally encountered and photographed elk over the past half-dozen years or so.
While there are certainly no guarantees when looking for wildlife, these spots have proven to be fairly reliable haunts for segments the Pennsylvania elk herd, in my experience.
I'll start out with 6 locations in Benezette and Elk County, the unofficial "Elk Capitol of Pennsylvania", and then move outward to the neighboring counties.
I'll also point out some interesting roadside attractions along the way, because aside from the elk, it's also a beautifully wild part of the Keystone State.
---
Elk Viewing Tips and FAQs
Before I launch into the list of 15 destinations, I wanted to provide you with some general elk viewing tips that will increase the likelihood you will encounter these magnificent creatures, and that the encounter will be safe for both you and the elk.
What is the best time to see elk?
During most of the year, the best time to see elk is at dusk and dawn. During the rut (mating period) in September and October, the elk are more active throughout the day as well, which is why this is the most popular time of year for people to visit to PA Elk Country.

Where is the best place to see elk?
Elk are large animals that eat a LOT of food, so the best place to see them is where there is an abundance of food. Many of the viewing areas I have included on my list of 15 are next to "food plots" planted especially for elk and other wildlife.
Is it safe to approach or feed the elk?
Short answer – no! Elk are wild animals, and while they may look tame, it is dangerous (and illegal) to feed the elk or otherwise try to approach them too closely. 100 yards is the recommended minimum distance to keep between you and the elk.

---
The Best Elk Viewing Locations in Elk County
The first 6 elk viewing destinations I'm going to talk about are all located in Elk County, which is where most first-time visitors PA Elk Country start out.
The first 5 are all in and around Benezette, the 6th is a bit further away (more on that one in a bit).
A Few Words About Benezette
The concept of a town built around the elk tourism industry may seem quaint (or bizarre), but it works for Benezette, which is the unofficial "Elk Capitol of PA".
Want to grab a great meal and an adult beverage in an elk-themed hotel/restaurant?
Then the Benezette Hotel is your spot.
How about a great cup of coffee or an ice cream cone (or both!)?
The Elk Life Store has that covered.
Even the local gas station and general store has tons of elk-related merchandise for sale.
So you get the drift – elk tourism is big business in Benezette, and I always enjoy patronizing the local businesses that keep this small town going.
---
1. Elk Country Visitor Center
Located 1 mile from "downtown" Benezette, the Elk Country Visitor Center is an immersive introduction into all things PA elk!
Inside the lodge-like Visitor Center, you'll find LOTS of educational displays and information about all facets of elk life and elk herd management in Pennsylvania.
Outside the Visitor Center, 3 separate food plots and viewing areas offer visitors an excellent chance to observe real live elk doing real elk things!
You can read my in-depth write-up on the Elk Country Visitor Center HERE, to get a better understanding of the vast number of things there are to see and do there while visiting PA Elk Country.
---
2. Winslow Hill
1 mile further up Winslow Hill Road, you'll find the second-most popular elk viewing destination in Benezette – Winslow Hill.
Several massive food plots dominate the scenery here, and provide ample grazing for the elk that usually fill these fields in the early morning and late afternoon.
Even when no elk are present, the views from Winslow Hill are outstanding.
---
3. Woodring Farm Viewing Area
Located 0.45 miles east of Winslow Hill, Woodring Farm offers the chance to see elk at two roadside food plots, as well as a nature trail and a scenic overlook.
The tall red pines along the Woodring Farm Nature Trail are a great place to be at sunrise!
Any time of year you're apt to see elk feeding in the field below the scenic overlook at Woodring Farm.
An interesting side note – on several occasions while hiking along the Woodring Farm Trail, I've encountered black squirrels.
So keep an eye out for them as well!
---
4. Dents Run Viewing Area
Approximately 0.8 miles east of Woodring Farm, you'll find Dents Run Viewing Area along Winslow Hill Road.
Dents Run Elk Viewing Area features a small picnic area, a pavillion, and some benches, all overlooking a large food plot.
Typically the elk you'll see here are further away than many other viewing areas, so a pair of binoculars is a good idea if you're going to spend time at Dents Run Elk Viewing Area.
---
5. Moshannon State Forest Viewing Area
Another reliable elk viewing area in Benezette is the Moshannon State Forest Viewing Area, located directly behind (but across the river from) the Benezett Store.
A large gravel parking lot is located next to the bridge over Sinnemahoning Creek, behind the Benezett Store.
A 5 minute walk along a trail through the woods brings you out on the edge of this large food plot.
---
6. Beaver Run Dam Viewing Area
Located along the Quehanna Highway in Elk County, approximately 30 minutes from Benezette, the Beaver Run Dam Wildlife Viewing Area features a viewing blind on the edge of a man-made dam.
The views from the blind are excellent, and not only do you have the chance to see elk in the area, but it's a great spot for bird watching as well.
Osprey, ducks, woodpeckers – I've seen and photographed many interesting species of birds at the Beaver Run Dam Wildlife Viewing Area.
On the opposite side of the Quehanna Highway, you'll find Table Falls.
Conditions have to be right (rainy) for this waterfall to be flowing well, but if you catch it at its peak, it's a splendid little waterfall!
For a more detailed map and directions to Table Falls, click HERE.
---
The Best Elk Viewing Locations in Cameron County
The next 5 elk viewing locations I'm going to talk about are all located in Cameron County.
---
7. Hicks Run Wildlife Viewing Area
Hicks Run Wildlife Viewing Area is located along Route 555 near the Cameron/Elk county line
This is one of my favorite roadside elk viewing areas in Cameron County.
I like to say Hicks Run has one of the prettiest parking lots in PA Elk Country!
A large viewing blind looks out over a massive food plot that is almost always a good bet to see elk near dusk or dawn.
Even if the elk aren't out, the scenery surrounding the Hicks Run Wildlife Viewing Area is outstanding!
---
8. Miller Run Wildlife Viewing Area
Miller Run Wildlife Viewing Area is another roadside elk viewing area along Route 555, southeast of Hicks Run Viewing Area.
The view from near the parking area is of a large field on the opposite side of Sinnemahoning Creek.
An unmarked trail off the lower-back edge of the parking lot leads downhill, across an old railroad bed, to the banks of the creek itself.
If you're lucky, you'll see elk congregated in the field opposite the viewing area in the early morning and late afternoon.
An interesting roadside attraction between Miller Run Viewing Area and Driftwood is this Tom Mix plaque, dedicated to the locally-born film star of the early 1900s, Tom Mix.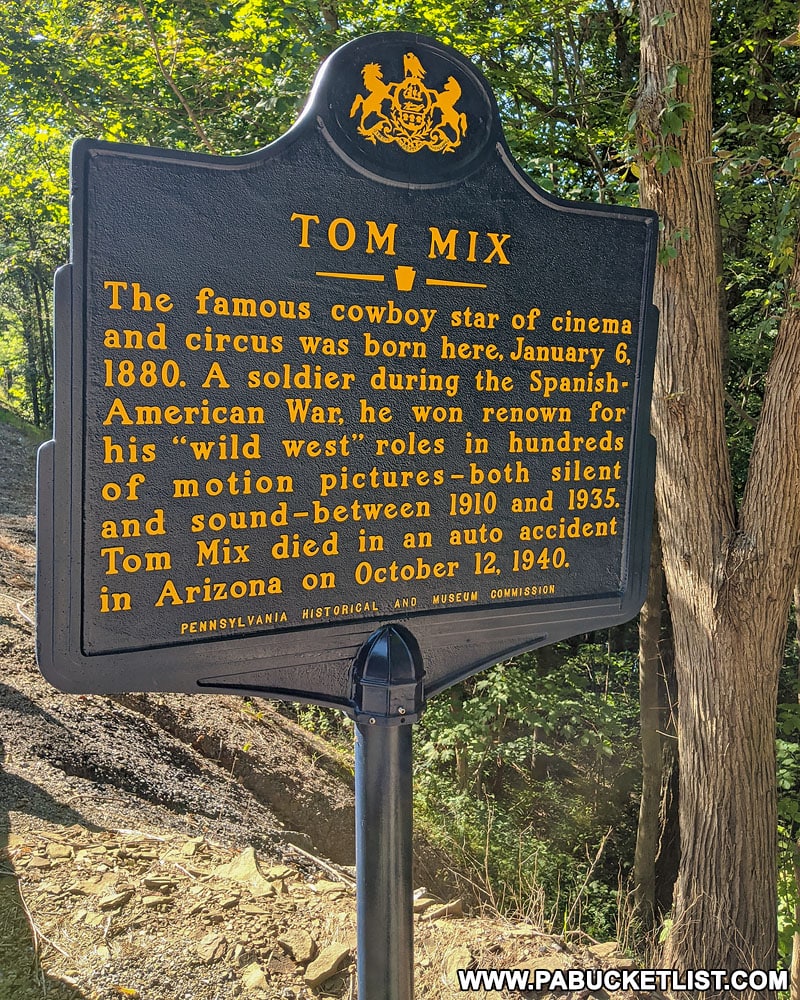 You'll see it at a pull-off along Route 555.
9. Bucktail Overlook
Bucktail Overlook, off of Mason Hill Road is sometimes locally referred to as the Top of the World, and that's exactly how you'll feel when you're standing there!
The large food plots which dominate the mountaintop here are often surrounded in the mornings by dense valley fog that forms over the various branches of Sinnemahoning Creek.
Another spot you'll be glad you checked out, even if you don't cross paths with any elk.
---
And speaking of views you'll be glad you checked out, the parking lot of Saint James Church in Driftwood offers another stellar view of the Sinnemahoning Creek valley, from below rather than above as at Bucktail Overlook.
---
10. Square Timber Wild Area
The Square Timber Wild Area is an 8,461 acre undeveloped portion of the Elk State Forest, and provides one of your best chances for a truly "wild" elk encounter.
You can access the Square Timber Wild Area from a few points, one of the easiest being Ridge Road.
And while there are various scenic vistas along Ridge Road, if you want to explore the Wild Area itself, you're looking at off-trail hiking and making your own way, which appeals to many folks looking for a less "commercial" elk viewing experience.
---
11. Hoover Farm Wildlife Viewing Area
Hoover Farm Wildlife Viewing Area is located along the Quehanna Highway at its intersection with Wykoff Run Road in Cameron County, near the Clearfield county line.
A large viewing blind offers a sheltered view of the food plot at Hoover Farm where elk, deeer, and a variety of wild birds are regularly seen.
---
Elk Viewing Areas Spanning Multiple Counties
The last 4 elk viewing areas I'm going to talk about span multiple counties in PA Elk Country.
12. Sinnemahoning State Park
Sinnemahoning State Park is a long, skinny, 1,910 acre state park spanning Potter and Cameron counties along the First Fork of Sinnemahoning Creek.
And while elk can be found anywhere in the park on any given day, I've seen them most often congregated near the spillway of Stevenson Dam at the southern tip of the park.
Here the large grassy areas below the dam act like a magnet for elk, especially in the winter.
---
13. Sproul State Forest
Covering 476 square miles, the Sproul State Forest is the largest in the PA State Forest system.
And that means there are PLENTY of places to locate elk year-round.
In the western part of the Sproul State Forest, the area around Round Island Run Falls is fertile ground for encountering elk while hiking to a picturesque 3-tiered waterfall.
---
Keating Mountain Road is another spot where I've encountered elk, as it winds it's way up (or down) the mountain between Keating and several roadside scenic overlooks.
Keep an eye out for elk anywhere along this stretch of mountain forest road.
---
The adjacent Russel P. Letterman and Burns Run Wild Areas in Clinton County offer a truly "wild" elk viewing experience similar to the Square Timber Wild Area in Cameron County.
Although there are roadside (along Route 144) vistas in both wild areas, you're more likely to see elk by blazing your own way through the forest.
---
In the Centre County portion of the Sproul State Forest, both the Yost Run Falls and Fields Ridge Road areas provide good opportunities to see elk.
Yost Run Falls is a great hiking destination in its own right.
While Fields Ridge Road winds its way 6 miles through the forest, dead-ending at a magnificent overlook.
You're liable to see elk at any point along Fields Ridge Road, so stay alert!
---
14. Quehanna Wild Area
The Quehanna Wild Area is a 50,000 acre expanse covering parts of Cameron, Clearfield, and Elk Counties.
Numerous food plots are scattered throughout Quehanna, and the multitude of trails that criss-cross it all have the potential to lead to elk sightings.
One of my favorite trails to look for elk is the Kunes Camp Trail in the eastern part of the Quehanna Wild Area.
The Kunes Camp Trail is an easy, relatively flat, 1 mile hike through open woods (making it easy to spot trailside elk and other wildlife), ending up at an abandoned hunting camp built between two massive boulders.
Another favorite hike of mine in this area is the hike to the abandoned nuclear jet engine testing bunkers, the remnants of a secretive Cold War-era base that once operated here.
Aside from being a fascinating part of the history of this area, the clearings where the bunkers now sit silent are also a potential spot to catch a glimpse of the local elk population.
You'll find the bunkers (there are 2 of them) just off the Quehanna Highway, and you can read a complete write-up on them HERE.
---
15. State Game Lands 100
State Game Lands 100 comprises 21,054 acres spread across Centre and Clearfield counties.
In Centre County, German Settlement Road is a frequent section of SGL100 where elk are present at dusk and dawn.
While in Clearfield County, the section of SGL100 near Keewaydin is another frequently-productive elk viewing area.
---
So there you have it!
15 locations, scatted among 6 counties, all with the potential to catch a glimpse of the Pennsylvania elk herd!
That's not to say there aren't other great elk viewing areas in PA elk country, because there are MANY!
But this list gives you a nice sampling of different areas and different types, ranging from roadside viewing blinds to off trail wilderness spots.
Wherever you decide to venture in PA elk country, be sure to heed the rules and suggestions I discussed at the beginning of the write-up, so that you'll have a safe and enjoyable PA elk viewing experience!
---
More Elk Photos?!
If you'd like to see more than 50 of my favorite PA elk photos, be sure to check out my gallery HERE!
---
Nearby Attractions
Pennsylvania Elk Country is home to some incredible views, and you'll find the best ROADSIDE ones in my write-up "The 20 Best Scenic Overlooks in PA Elk Country".
---
Looking for a more nearby, mid-day diversions when the elk are typically least active?
Why not explore "The 5 Best Roadside Attractions in the Quehanna Wild Area"?
75 square miles of unpopulated mountains, streams, forest roads, and trails – it's the perfect place to explore some unique natural wonders AND possibly cross paths with an elk!
---
 The Little Chapel in the Woods in Elk County is a great roadside attraction near Benezette.
---
Decker's Chapel in Elk County is the smallest church in Pennsylvania, and one of the smallest churches in the entire United States!
---
The Cross on the Hill in Elk County is both an inspiring roadside attraction and a gorgeous scenic overlook!
---
Kinzua Bridge State Park in McKean County is home to what was once the longest and tallest railroad bridge in the world!
---
Exploring the Ridge Road Vistas in the Elk State Forest will introduce you to Pennsylvania's most scenic State Forest road, featuring 6 world-class ROADSIDE vistas along a 3 mile stretch of road.
---
Did you enjoy this article?
If so, be sure to like and follow PA Bucket List on Facebook, Instagram, and/or Pinterest to stay up-to-date on my latest write-ups about the best things to see and do in Pennsylvania!
Click on any of the icons below to get connected to PA Bucket List on social media.
---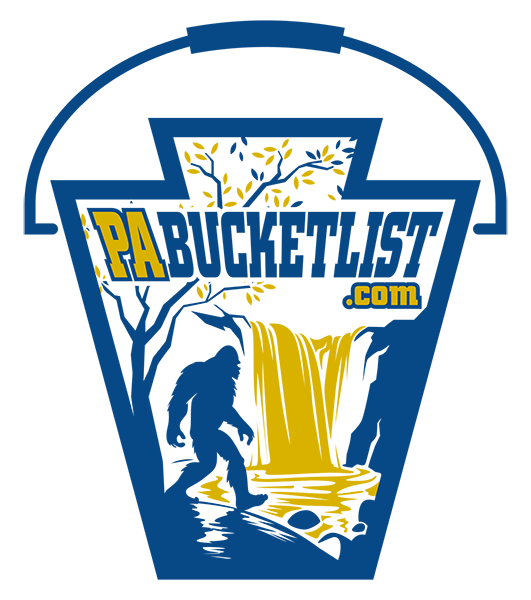 Pennsylvania's Best Travel Blog!