Cameron County, founded in 1860, is home to many amazing attractions, both natural and man-made.
And as Pennsylvania's least-populous county, it has certainly perfected the art of "social distancing"!
From hiking trails and waterfalls to historic monuments and amazing ruins, here are 11 of the best things to see and do in Cameron County!
---
1. Hike the Fred Woods Trail
The Fred Woods Trail in the Cameron County portion of the Elk State Forest is a 4.57 mile-long hike that takes you past two fantastic vistas, as well as one of Pennsylvania's finest rock formations.
The rock city along the Fred Woods Trail would be a worthy hiking destination on its own merits, but here it's just one of several sights to be seen along this ruggedly beautiful trail.
Water Plug Vista along the Fred Woods Trail offers an exceptional view of Bennett Branch of Sinnemahoning Creek and Route 555.
---
2. Visit Bucktail Overlook
Bucktail Overlook, also locally known as Mason Hill or The Top of the World, is a roadside vista high above Driftwood, Cameron County, in the Elk State Forest.
Bucktail Overlook is named in honor of the Bucktail Regiment, a volunteer infantry regiment composed of men from this region who fought bravely for the Union in the Civil War.
Bucktail Overlook is a fantastic spot to watch the morning fog burn off, and also to spot elk feasting in the food plot planted near the parking area.
---
3. Explore Sinnemahoning State Park
Sinnemahoning State Park is a long, narrow park that includes lands on both sides of First Fork Sinnemahoning Creek.
The Sinnemahoning State Park office is a palatial structure reminiscent of a wilderness lodge.
Inside, you'll find numerous educational exhibits, detailing the history and wildlife of the area.
Sinnemahoning State Park is an outstanding fall foliage destination.
And the 40 Maples Day Use Area is a beautiful spot for a streamside picnic.
---
4. Visit Wykoff Run Falls
Wykoff Run Falls is a popular roadside waterfall in Cameron County, located midway between the Quehanna Highway and the village of Sinnemahoning along Wykoff Run Road.
Wykoff Run Falls is not a large waterfall by any means – probably 6 feet tall max.
Even in the winter months, the roadside location of Wykoff Run Falls makes it readily accessible.
---
5. Explore the Abandoned Nuclear Jet Engine Testing Bunkers
The abandoned nuclear jet engine bunkers in the Cameron County portion of the Quehanna Wild Area offer a glimpse into the Cold War past of Pennsylvania.
The bunkers are a product of a secretive 1950s program that sought to develop nuclear-powered jet engines for the United States Air Force, so that fighter planes and bombers could stay airborne indefinitely, without refueling.
The Curtiss-Wright Corporation, at the time the largest aircraft manufacturer in the United States, was awarded a contract to develop and test nuclear-powered jet engines.
They selected this remote parcel of land in Cameron County where the project could be worked on in relative secrecy, and without endangering a large population center should the project go awry.
But by 1960, the Air Force had cancelled the contract and the nuclear jet engine testing bunkers were literally abandoned, left to be slowly reabsorbed by the forest.
---
6. Hike to Sinnemahoning Canyon Vista
Sinnemahoning Canyon Vista is a gorgeous off-trail scenic overlook in the Bucktail State Park Natural Area in Cameron County.
A pair of nearby vistas make this four mile out-and-back hike well worth the effort, as the views are spectacular!
---
7. Visit the Tom Mix Historical Marker
Tom Mix was a Cameron County native and Hollywood's first Western star.
He was born January 6, 1880 in Mix Run, near present day Route 555.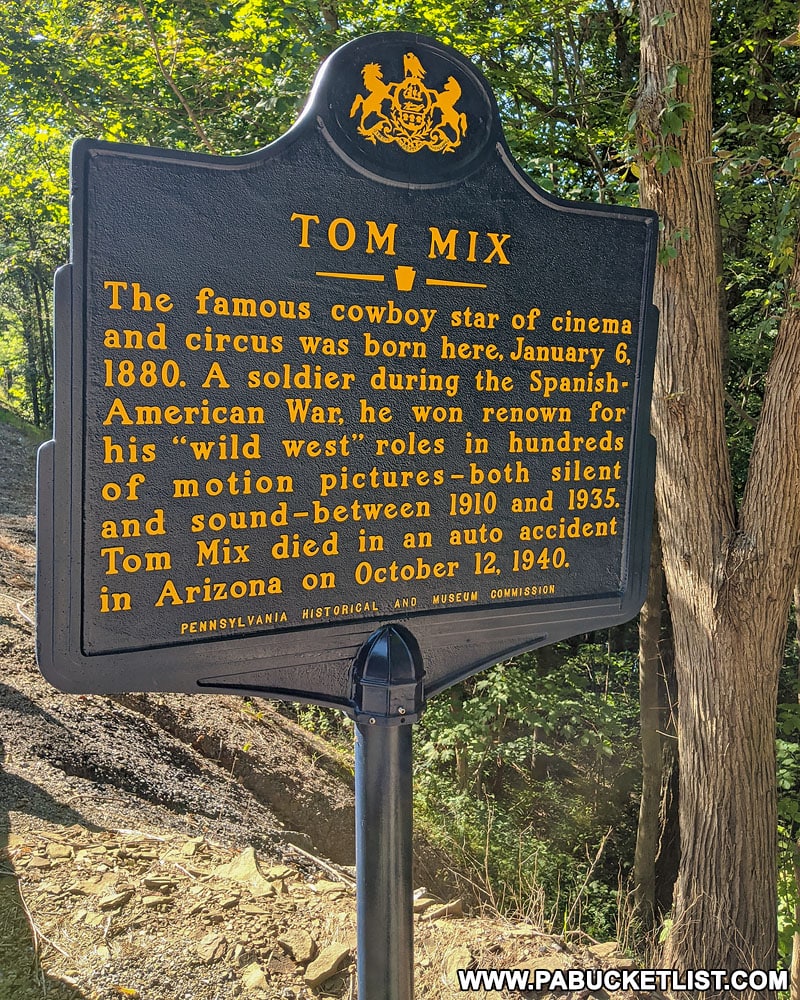 Tom Mix helped define the Western genre in the early days of the cinema, and he reportedly made over $6 million (equivalent to $113 million in 2022) during his 26-year film career.
The Tom Mix roadside plaque is located along Route 555, between Driftwood and Hicks Run.
---
8. Explore the Ridge Road Vistas
Ridge Road in Cameron County is the most scenic State Forest road in Pennsylvania!
Featuring 6 world-class vistas along a 3 mile stretch of road, it's like a mini-version of the famous Skyline Drive in Virginia.
Even the scenery in between the scenic overlooks in exceptional.
While there are PLENTY of scenic State Forest roads in PA, I've yet to come across one that rivaled Ridge Road for the sheer number of vistas per mile.
---
9. Visit the Elk Herd
Many of the best elk viewing areas in Pennsylvania are located in Cameron County.
Seeing these majestic creatures in the wild is an experience you just can't get in any other region of the state.
You'll find directions to some of my favorite spots to observe the elk in Cameron County in my article The 15 Best Elk Viewing Destinations in Pennsylvania.
---
10. Visit the Bucktail Regiment Memorial
Located in the center of the square in Driftwood on Route 555 is a memorial to the Bucktail Regiment, who answered President Lincoln's call for volunteers during the Civil War.
---
11. Experience the 100 Mile Yard Sale
The 100 Mile Yard Sale is PA's longest yard sale, and it takes place every July in Cameron, Clearfield, Elk, and Centre counties.
This event is to flea market fanatics and bargain hunters what the Super Bowl is to football fans – part spectacle, part competition, and tons of fun!
---
So there you have it – 11 of the best things to see and do in Cameron County, PA's least populous county!
---
Related Attractions
9 Must-See Attractions in Elk County is your guide to some of the best things to see and do in Cameron County's neighbor to the west.
---
13 Must-See Attractions in Clinton County is your guide to some of the best things to see and do in Cameron County's neighbor to the east.
---
Did you enjoy this article?
If so, be sure to like and follow PA Bucket List on Facebook, Instagram, and/or Pinterest to stay up-to-date on my latest write-ups about the best things to see and do in Pennsylvania!
Click on any of the icons below to get connected to PA Bucket List on social media.
---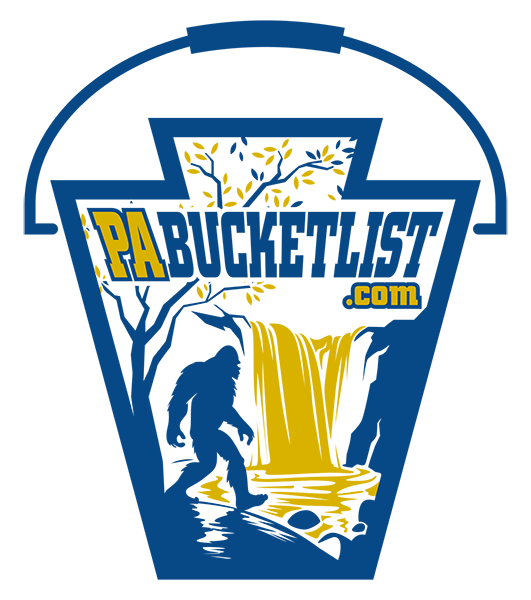 Pennsylvania's Best Travel Blog!