Clearfield County is home to both amazing natural beauty and eclectic man-made attractions!
What I've assembled for you here is a road trip to six of the best things to see and do in Clearfield County.
Simply click on the blue text links to view maps/directions to each destination on this 109 mile road trip.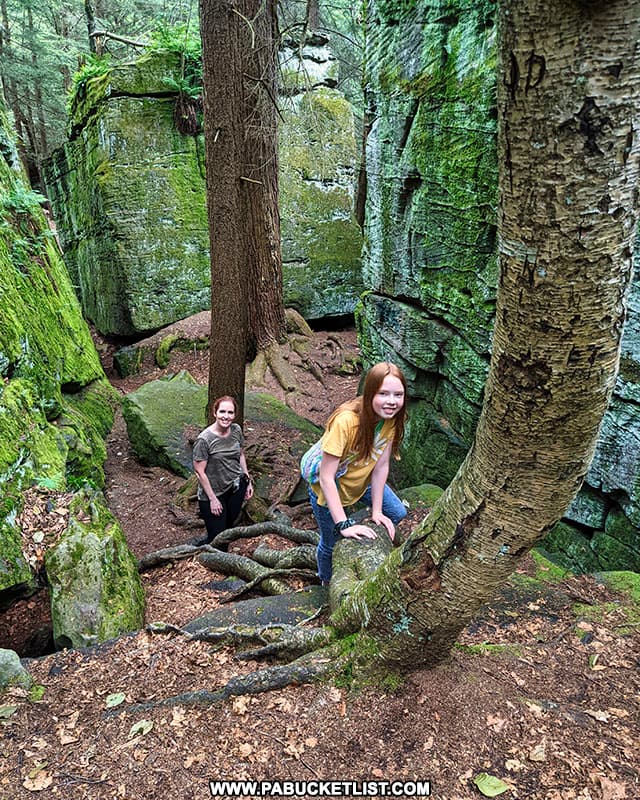 ---
1. The Grice Museum in Clearfield
We'll start this road trip in downtown Clearfield, at the Grice Museum.
The Grice Museum is perhaps the most eclectic "cars and critters" museum you'll ever step foot inside!
Here you'll find nearly 70 classic cars on display, along with hundreds of taxidermy mounts of wild game animals from around the globe.
---
2. Bilger's Rocks
Bilger's Rocks is part of a 170-acre community park, open to the public and located just minutes from Curwensville in central Clearfield County.
Billed by the Bilger's Rocks Association (the group that owns and maintains the park) as "Pennsylvania's Best Rock Outcropping", this 300 million year-old natural "rock city" is a must-see for fans of geology and all things megalithic!
Bilger's Rocks is free to visit, and open year-round from dawn until dusk.
---
3. McGees Mills Covered Bridge
McGees Mills Covered Bridge is the last remaining historic covered bridge in Clearfield County.
McGees Mills Covered Bridge was built in 1873 by Thomas McGee.
McGees Mills Covered Bridge is 116 feet long and is still open to vehicular traffic.
---
4. Doolittle Station
Doolittle Station in DuBois is an eclectic mix of restaurants, museums, a brewery, and a bed and breakfast, all housed in historic train cars!
And if that's not enough, there's also ice cream, mini golf, and dinosaurs!
There's even a three-tiered, 66 foot-long, HO-scale model train layout housed inside a vintage train car.
---
5. Parker Dam State Park
Parker Dam State Park is a 968-acre expanse in Clearfield County featuring a tranquil lake, a beach area, scenic vistas, and miles of hiking trails.
One fairly unique feature at Parker Dam State Park is a series of large stepping stones that allow you to cross Laurel Run below the spillway on Parker Lake.
The Trail of New Giants leads to 2 vistas that offer terrific views of Parker Lake.
---
6. Saint Severin Old Log Church
The Saint Severin Old Log Church in Clearfield County is a well-preserved example of mid-19th century "frontier" architecture.
The Saint Severin Old Log Church was last used around 1880, when a larger church was built nearby.
Projecting an image that is both holy yet austere, Saint Severin is an interesting trip back in time and well worth a visit.
---
So there you have it – six exceptional destinations on one unforgettable Clearfield County road trip!
And if you've got a suggestion for some additional "must-see" spots in Clearfield County, feel free to mention them in the comments section below!
---
Related Attractions
Who's up for an epic 358 mile round-trip road trip to see the best waterfalls near Pittsburgh?!
---
Or does a road trip to see the best abandoned places in PA intrigue you?
---
Perhaps you'd enjoy a road trip to see the best roadside waterfalls in Pennsylvania?
---
Or maybe seeing the tallest waterfalls in Pennsylvania has been on your "bucket list"?
---
10 Great PA Backroads Adventures not only lead to interesting destinations, but also take you down scenic roads that are themselves sights to be savored.
---
13 Must-See Roadside Attractions Along Interstate 80 may surprise you by how many cool things there are to see and do along this 311 mile stretch of asphalt and concrete that DON'T involve a Sheetz parking lot!
---
Did you enjoy this article?
If so, be sure to like and follow PA Bucket List on Facebook, Instagram, and/or Pinterest to stay up-to-date on my latest write-ups about the best things to see and do in Pennsylvania.
Click on any of the icons below to get connected to PA Bucket List on social media!
---
Pennsylvania's Best Travel Blog!